Preps underway in Georgia, South Carolina for tidal flooding
Events such as the annual Veterans Day Parade in Charleston maybe impacted by the weather.
Communities from Georgia through the Lowcountry of South Carolina are monitoring tide levels closely and say they'll be ready to take action if floodwaters reach high levels.
Forecasters say a combination of astronomical tides and gusty winds associated with a developing nor'easter off the coast of the Southeast will contribute to the flooding.
The National Weather Service expects gauges near Tybee Island, Georgia, and Charleston, South Carolina, to reach major flood status on Saturday morning.
Meteorologists say tides in some areas could reach their highest levels since Hurricane Irma back in 2017.
MAJOR COASTAL FLOODING EXPECTED IN SOUTH CAROLINA, GEORGIA AS COASTAL STORM DEVELOPS NEAR SOUTHEAST
Savannah-area impacts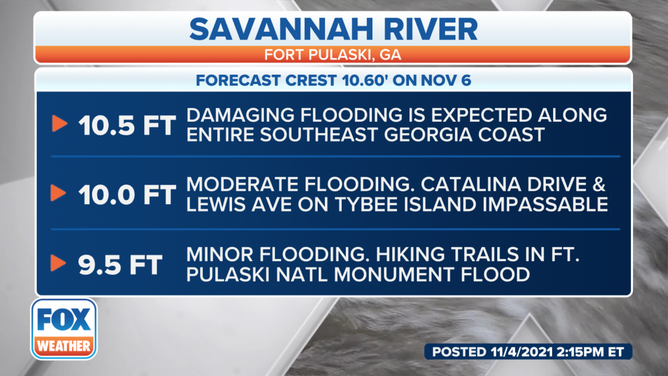 Chatham County Emergency Management is watching the main thoroughfare from Tybee Island to the mainland closely.
During previous significant storms, Highway 80 has flooded, stranding residents on the island.
"They've made some improvements to Highway 80, and we just haven't had anything like this since they've made those improvements, and we're not quite sure what's going to happen, but we will be monitoring it," said Catherine Glasby, the Public Information Director for Chatham County.
Glasby said crews haven't reported seeing any problems but will continue to monitor flood-prone areas through the event.
Current forecasts show tide levels could rise to around 10.5 feet on Saturday morning. 
The expected level is about two feet under tidal levels seen during Hurricane Irma back in 2017.
Charleston-area impacts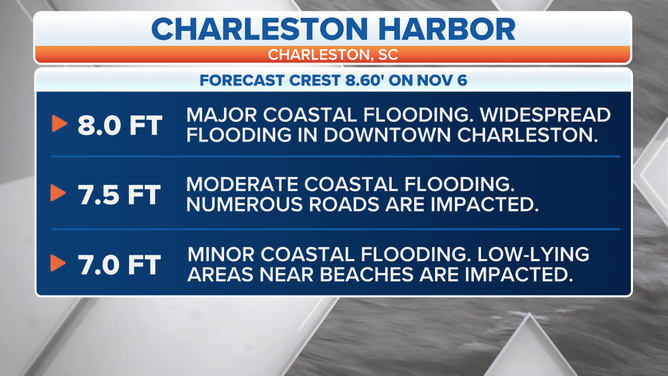 Officials in Charleston expect to see widespread street flooding during periods of high tide.
The latest forecast from the NWS shows tide levels could reach 8.6 feet on Saturday morning in downtown Charleston.
That's about a foot lower than when Hurricane Matthew impacted the region back in 2016.
"With high tides of this magnitude, it's critically important for motorists to use extreme caution when traveling in areas of known flooding. As always, public safety is our top priority, so city crews will continue working to prepare for the expected flooding and respond by closing any roadways that become impassable," said Shannon Scaff, Charleston's Emergency Management Director.
The City of Charleston Police Department says they'll have officers where needed to block off flooded roadways.
Police say they'll also be working with organizers of the city's annual Veterans Day parade to make sure spectators and participants can stay clear of the floodwaters.
The parade's timing closely coincides with high tides on Saturday morning.