National Weather Service revamps flood alerts
Meteorologists hope that the reduction of alert products will cut down on confusion during significant weather events.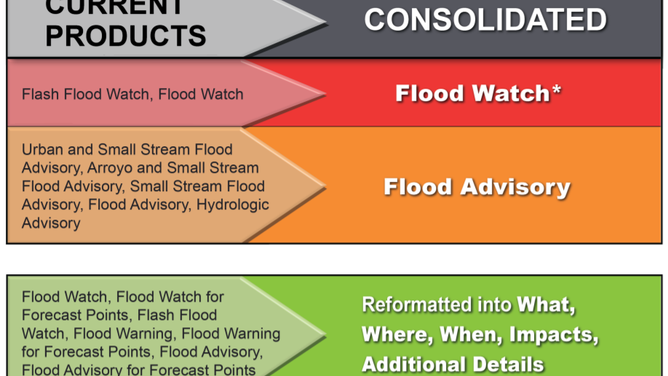 Starting Thursday, National Weather Service offices across the country could begin issuing revamped flood alerts to reduce confusion amongst the myriad of products issued during heavy rainfall events.
The consolidation of the products stems from a multi-year review, which found the alerts to be confusing, especially during times of severe weather.
Under the new organization, products such as Urban and Small Stream Flood Advisories, Arroyo and Small Stream Flood Advisories, Small Stream Flood Advisories, Flood Advisories and Hydrologic Advisories will be consolidated into a Flood Advisory.
Changes will also come about to flood watches. When heavy rains threaten, meteorologists will now put impacted areas under a simplified Flood Watch. 
The NWS says the only times Flash Flood Watches will be issued will be for dam or levee failures, ice jams and debris flows associated with burn scars and landslide-prone areas. 
The revamp of the flood alerts are part of a Hazard Simplification Project that will continue through at least 2024. 
The NWS says the project aims to communicate hazardous events better and reduce the confusion between advisories, watches, and warnings.
The agency says they'll eventually eliminate all advisories and replace the alerts with easy-to-understand headlines during the next several years.
"All Watches and Warnings that are issued in today's system will continue to be issued in exactly the same manner," a agency FAQ said.
The agency anticipates holding educational events, feedback webinars, and conducting outreach before dropping advisories for easier to read headlines.