Denver weather whiplash: From 90 degrees to snowfall in two days
Denver could see upwards of 5 inches of snow by Saturday.
While the South and East heat up with record-high temperatures, a late-season chill is expected to evolve toward the end of the week.
Friday will see the coldest air with some locations, like Denver, feeling like December as highs drop as much as 40 degrees over a 24-hour period. The Mile High City even has a chance for measurable snow on both Friday and Saturday.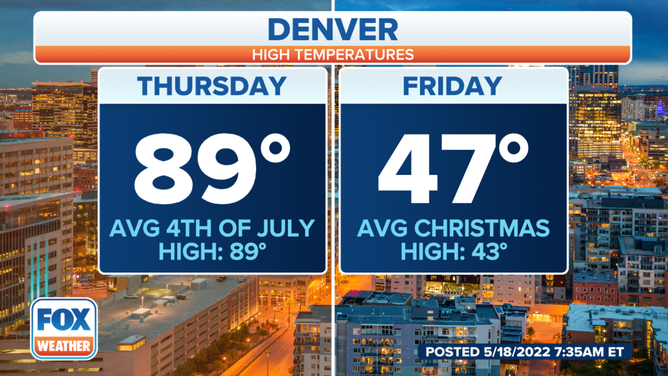 HOW TO WATCH FOX WEATHER ON TV
The National Weather Service in Boulder, Colorado, said a classic Colorado "fire and ice" forecast is on tap. Thursday will be hot, dry and windy with fire weather concerns. Then, a near-record-cold air mass arrives Friday bringing a chance of snow.  
Winter Storm Alerts were posted for a good portion of northern Colorado. 
(FOX Weather)
---
Denver, included in a Winter Storm Watch, could see upwards of 5 inches of snow through Saturday. 
(FOX Weather)
---
The Mile High City has a chance to make the top 10 list for latest snowfall. 
And the Centennial State won't be the only one with a drastic change. A widespread freeze could occur across parts of the Northern Plains on Saturday morning.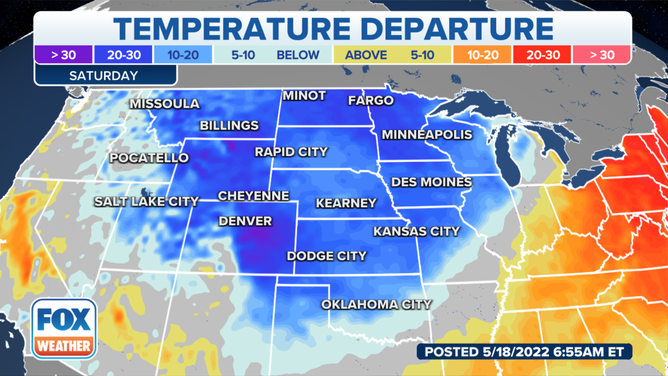 HERE'S WHEN YOU CAN EXPECT THE FINAL FREEZE OF THE SEASON
On Thursday, the cool air will sink south, leading to a temperature divide across the country with most of the Northwest well below average. 
Idaho, Montana, Colorado and North Dakota will be first up to feel the chill, with the cooler air dipping into the Central Plains and even the Midwest to end the week.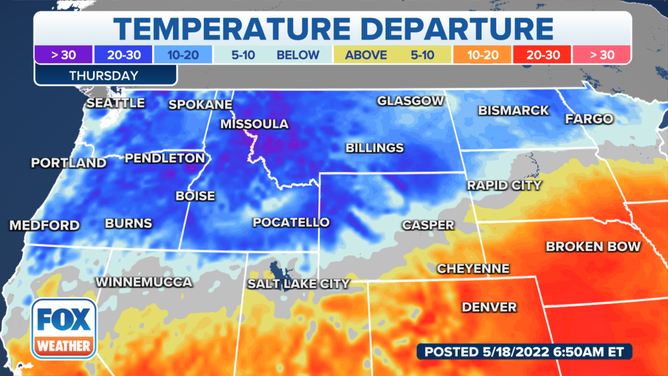 The cool air will continue to slowly shift south and east on Friday and Saturday with below-average temperatures from Detroit to Denver.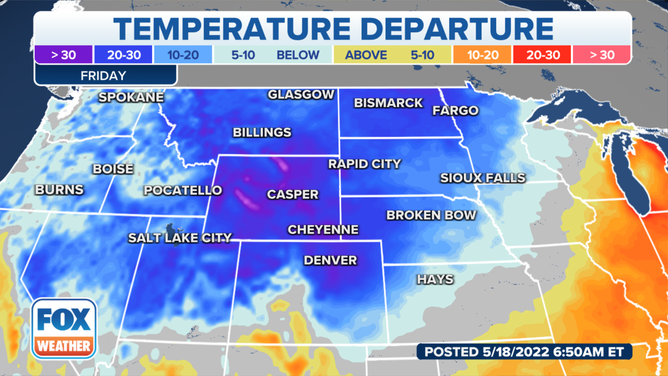 Cities like Denver, Cheyenne, Wyoming, North Platte, Nebraska, and Sioux City, Iowa, will be sitting in temperatures ranging from the lower 80s to the mid-90s on Thursday, but what a difference a day makes. In 24 hours, temperatures will take the plunge.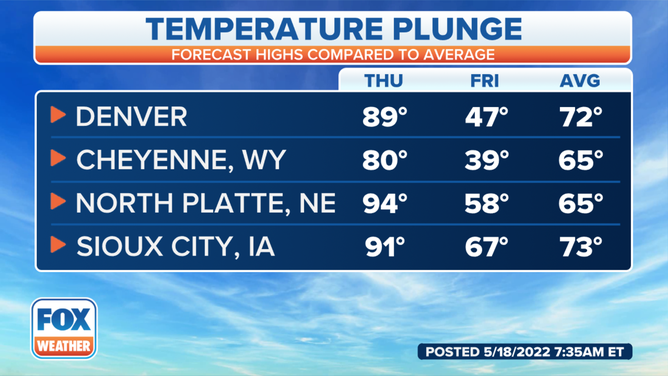 CLICK HERE TO GET THE FOX WEATHER UPDATE PODCAST
Be sure to download the FOX Weather app for the latest forecast and weather alerts for your exact location, plus the 24/7 livestream of America's Weather Team.