Wicked hot: Parts of the Ohio Valley, Northeast to see first 90-degree days this weekend
Places from the Carolinas and mid-Atlantic to the Northeast and New England will feel the heat by Saturday
The South continues to sizzle with temperatures reaching 100 degrees in parts of Texas and the Southwest, but as the week continues, that heat will advance east, bringing record heat to parts of the Ohio Valley and the Northeast.
In fact, many areas will see temperatures between 20 and 30 degrees above average for this time of year.
HOW TO WATCH FOX WEATHER ON TV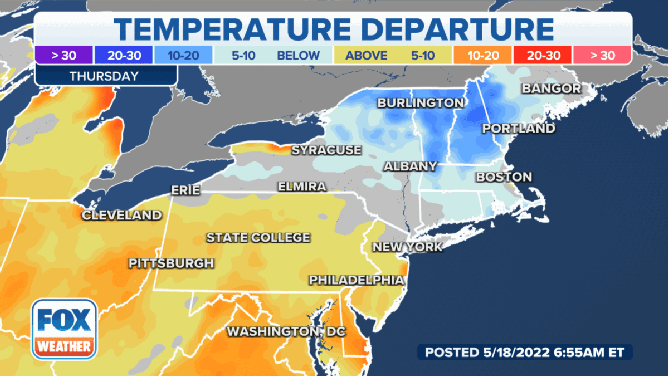 The Northeast and northern New England will remain below average on Thursday, while the Ohio and Tennessee valleys, as well as the mid-Atlantic, will begin to feel the heat rise.
The Northeast and New England will get in on the action by Friday, with temperatures rising to about 10 degrees above average. To the west, temperatures will be 20 to 30 degrees warmer than average.
STYLISH VS. PROTECTION: WHAT TO KNOW WHEN CHOOSING YOUR NEXT PAIR OF SUNGLASSES
Then, on Saturday, the heat will really be cranking, and most of the region will be well above average. That changes on Sunday, though, as the temperatures begin to return to average in the Ohio and Tennessee valleys but will still be hot in parts of the mid-Atlantic, Northeast and New England.
Here's a closer look at what the weekend has in store for millions of Americans across the region.
Friday
The South has been breaking record-high temperatures for more than a week, but as the warm air moves off to the east, records in the Ohio and Tennessee valleys and parts of the mid-Atlantic are expected to be broken on Friday.
HOW TO TELL THE DIFFERENCE BETWEEN HEAT EXHAUSTION AND HEATSTROKE
Fayetteville, North Carolina, could hit the century mark on Friday, and Charlotte is expected to hit 97 degrees.
In Columbia, South Carolina, temperatures are expected to approach 100 degrees but should be slightly below that with a forecast high temperature of 98 degrees.
A wider look shows temperatures will still be slightly cooler in parts of New England that sit closer to the coast.
Boston, for example, will get to a high temperature of 77 degrees, and Bangor, Maine, will top off at around 68 degrees.
HOW EXTREME HEAT CAN AFFECT AIR TRAVEL
But off to the west, it's a different story.
Pittsburgh and Washington should reach a high temperature of 93 degrees.
Buffalo, New York, and Burlington, Vermont, will get into the lower to mid-80s.
Saturday
Check out all the record-high temperatures in jeopardy on Saturday.
CLICK HERE TO GET THE FOX WEATHER UPDATE PODCAST
Places from the Carolinas and mid-Atlantic to the Northeast and New England will feel the heat, so if you're one of the millions of people affected by the heat, make a plan to ensure you stay cool this weekend.
Richmond, Virginia, Washington and Philadelphia will all get very close to hitting 100 degrees on Saturday, with 90-degree temperatures also being felt in Worcester, Massachusetts, and Binghamton, New York.
More 90-degree temperatures are expected from Pittsburgh to Boston. And while the interior Northeast and northern New England will also be hot on Saturday, areas closer to the shore will remain cool.
For example, Bangor will only get to a high temperature of around 78 degrees.