Lake-effect snow could dump up to 2 feet in Great Lakes snowbelts
Up to 2 feet of snow could pile up in a narrow band east of Lake Ontario through Monday evening
An arctic air invasion over the Northeast has triggered the development of heavy lake-effect snow across the Great Lakes snowbelts from Michigan to New York.
The National Weather Service has issued Winter Storm Warnings for the eastern Upper Peninsula of Michigan, while Winter Weather Advisories are posted in the western U.P. of Michigan and in northern Lower Michigan.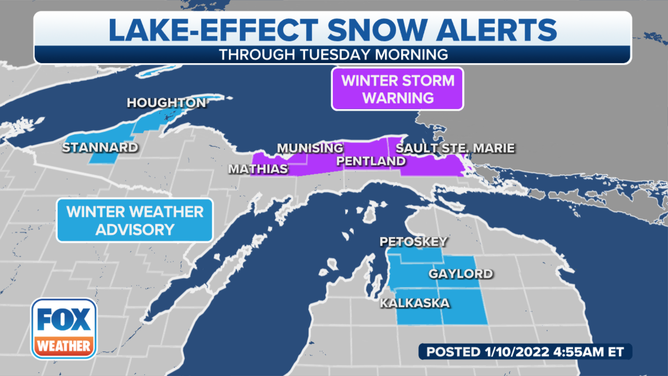 To the east, the NWS has issued Lake-Effect Snow Warnings for parts of central New York, while Winter Weather Advisories are in effect for portions of western New York, northwestern Pennsylvania and northeastern Ohio.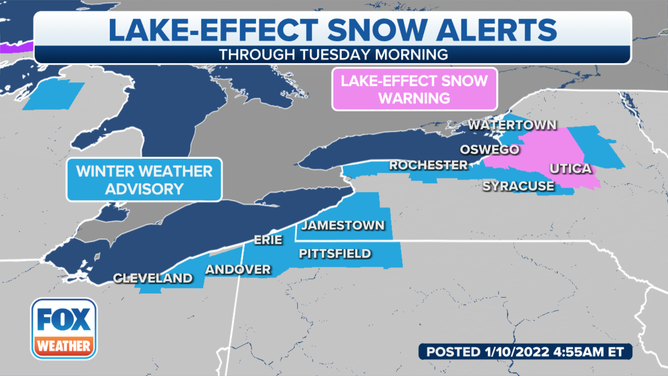 State Route 28 in the U.P. of Michigan was closed Monday morning between Harvey and Munising because blowing and drifting snow were causing whiteout conditions, making it too dangerous for motorists to proceed safely.
An additional 1 to 3 inches of snowfall is predicted for the Michigan snowbelts through Monday evening before the snow tapers off Monday night.
WHAT YOU SHOULD KNOW ABOUT BLOWING, DRIFTING SNOW
The heaviest snow on Monday will target areas to the east of Lake Ontario in central New York, where snowfall rates of 1 to 3 inches per hour are likely through Monday evening. The NWS office in Buffalo said there's even a risk of thundersnow in the core of this lake-effect snowband.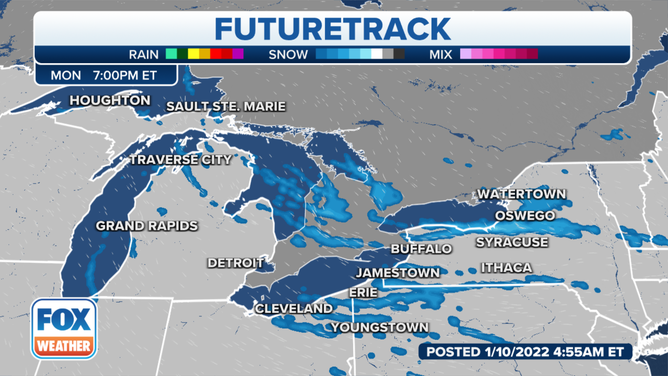 Interstate 81 to the north of Syracuse, New York, was closed for a time Monday morning after a tractor-trailer jackknifed on the snow-covered highway. New York State Police said this portion of the interstate has since been reopened.
An arctic front will move across the Great Lakes region Monday night, shifting the snow to the south shore of the lakes overnight.
Up to 2 feet of snow could pile up in a narrow band east of Lake Ontario through Monday evening. Wind gusts to 40 mph will also result in blowing and drifting snow and near-whiteout conditions at times.
ARCTIC INVASION BRINGS COLDEST AIR IN 3 YEARS TO NORTHEAST
Outside of the heavy lake bands, 2 to 6 inches of snow is expected from the lake-effect snow showers off Lake Erie in western New York, northwestern Pennsylvania and northeastern Ohio.