Increased fire threat for parts of Plains, Southwest to continue into summer
Year-to-date, the US has seen 20% above the 10-year average for acres burned
The threat for increased fire danger weather across large chunks of the nation is expected to continue into the summer, according to a recent outlook issued by the National Interagency Fire Center.
The agency highlighted areas of the Southwest, Rockies and Plains for potentially seeing the continued increased risk of fires into July.
Forecasters said a La Niña weather pattern remains in charge, which generally means less rainfall than usual across parts of the Plains and the South.
HOW TO WATCH FOX WEATHER ON TV
The combination of dead vegetation from the drought, low relative humidity values and windy conditions can lead to ideal conditions for fires to rapidly grow out of control.
Experts say when relative humidity values are low, the air around dying and dead vegetation takes moisture from the plants, which leads to fuels for the fires to burn through.
When large areas lose moisture to the air, fire activity can become erratic and rapidly grow.

If winds are high in the same areas where fires exist, firefighters warn conditions could be perfect for firestorms.
When fire activity is expected to be significant, National Weather Service meteorologists will issue Red Flag Warnings, or Fire Weather Watches, alerting residents to the enhanced risks.
The NWS says they typically issue a Fire Weather Watch for an area when extreme fire behavior could exist during the next 72 hours and issue a Red Flag Warning when the fire danger is expected to occur within the next 24 hours.
Meteorologists say during these times, residents are urged to extreme caution because the smallest of sparks could start a major wildfire.
HOW TO BEST PREPARE YOUR HOMES FOR WILDFIRES
More than half the country is dealing with drought conditions that range from abnormally dry to exceptional.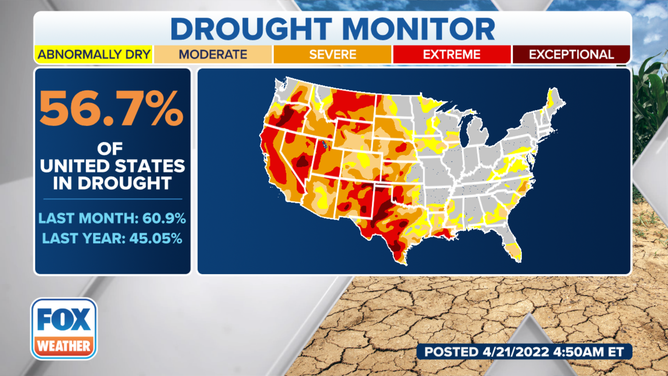 Kiley Moran, a spokesperson for the Texas A&M Forest Service, said what is making the fire season worse this year is the amount of vegetation that serves as fuel for the wildfires to burn.
More rainfall than average across the Lone Star State and into the Plains over the spring and summer of 2021 produced plenty of undergrowth, which has since dried out and now can quickly burn.
With La Niña expected to continue well into the summer and potentially into the fall, there does not appear to be any significant drought relief in sight for areas that are dealing with a substantial rainfall deficit.
Already in 2022, more than 800,000 acres have burned, which is around 20 percent more than average.