Ice jam in rural Alaska still flooding towns along the Yukon River
Runoff due to warming temperatures combined with an above-normal snowpack is causing water levels to rise on many rivers. Along the Yukon River, high waters are flooding when blocked by lingering ice jams.
FAIRBANKS, Alaska – Alaska Gov. Mike Dunleavy declared a disaster in several communities as a massive ice jam continues flooding along the Yukon River.
The National Weather Service in Fairbanks said warmer temperatures across the eastern Interior, combined with an above-normal snowpack in the higher elevations, have caused a significant increase in snowmelt.
"Runoff into rivers south of the Brooks Range is causing water levels to rise and (ice) breakup to begin on many rivers," the NWS said in a Special Weather Statement. "Local ice jams may form and result in elevated water levels."

According to the NWS, ice jams can develop near river bends, mouths of tributaries, points where the river slope decreases, downstream of dams and upstream of bridges or obstructions. Water that is held back can cause flooding upstream. And if there's a break, flooding is possible downstream.
Flood Warnings are in effect for the Yukon River at Stevens Village until 8 p.m. local time on Tuesday. The NWS said that flooding in low-lying areas near Stevens Village was occurring, with water rapidly rising and moving over the riverbank.
"Many of the cabins in Stevens Village could be surrounded by water and possibly flood," the NWS said. "Moderate to major flooding is possible. Large blocks of ice could push onshore."
The NWS added that the water will remain high until the ice jam releases. The agency says it takes, on average, three to five consecutive days with temperatures in the 40s to typically create enough melting to cause the ice breakup on rivers and streams.
EXPLAINING FLOOD ALERTS ISSUED BY THE NATIONAL WEATHER SERVICE
Flood Watches remain in effect through Tuesday evening for the Yukon River from the Dalton Highway Bridge to Rampart. The NWS said a surge of ice and water was moving down the Yukon River through the Rampart Canyon and may be stopped and jam as it meets ice already in the canyon.
"This surge of water is expected to move from the Yukon River Bridge to Rampart on Tuesday," the NWS said. "Flooding is not expected in Rampart."
Located downstream from Rampart is the community of Tanana, where a Flood Watch has been issued from 6 p.m. local time through Wednesday afternoon. The NWS said the breakup front is moving past Tanana this afternoon, with an approximately 120-mile run of bank-to-bank ice chunks and pans approaching Tanana from Rampart Canyon.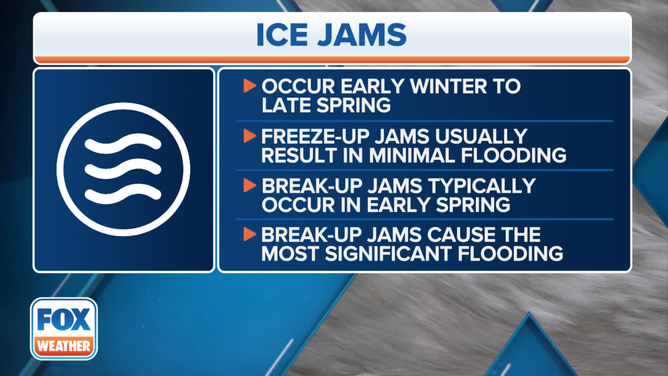 Dunleavy's disaster declaration covers the towns of Eagle, Circle, Glennallen and Crooked Creek.