Hurricane Idalia creates staggering $64 million loss to Florida's timber industry, report shows
The preliminary assessment conducted by the Florida Department of Agriculture and Consumer Services revealed that the storm caused damage to 289,096 acres of timber, resulting in an estimated loss of $64,751,255 in value.
TALLAHASSEE, Fla. – Florida state officials have reported that the state's timber industry suffered a major blow due to the effects of Hurricane Idalia.
Idalia originated in the eastern Pacific Ocean, moved through Central America, and gained strength in the western Caribbean Sea. It hit land as a Category 3 hurricane in the Big Bend region of Florida, on Aug. 30 with maximum sustained winds of 125 mph and storm surges ranging from 3 to 10 feet.
The preliminary assessment conducted by the Florida Department of Agriculture and Consumer Services revealed that the storm caused damage to 289,096 acres of timber, resulting in an estimated loss of $64,751,255 in value.
"For this part of the state in particular – which relies heavily on the timber industry – more than $64 million worth of damaged timber shows just how devastating Hurricane Idalia was, and this does not take into account any potential future harm or disease that could come to remaining timber stands," said Florida Commissioner of Agriculture Wilton Simpson.
The Florida Forest Service said they collected 792 survey points in the six-county area closest to Idalia's path, including Dixie, Hamilton, Lafayette, Madison, Suwannee and Taylor counties.
LOSSES FROM HURRICANE IDALIA COULD REACH $20 BILLION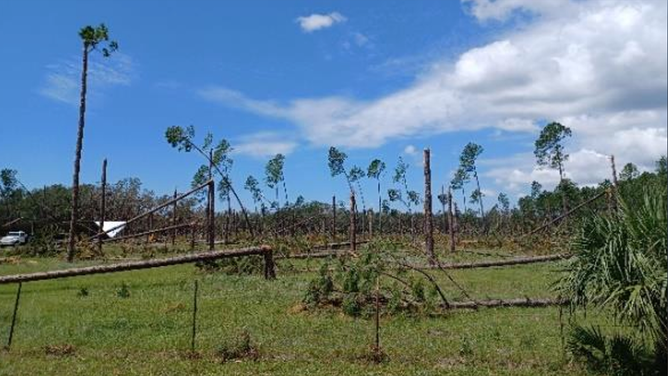 According to the report, pine trees suffered the most damage at $42.6 million. Hardwood saw $11 million in damage, mixed pine-hardwood had $8.1 million and cypress sustained $2.2 million.
Surveyors also noted that Idalia caused significant damage to mature live oaks, which are usually resistant to wind. Many lost scaffold branches or main trunks, with extensive damage observed on large trees. No exact number of damaged or lost trees has been determined.
"Due to the decades-long investment between the time of planting to harvesting, these communities will not only need immediate support but also long-term solutions to recover," Simpson said.
HURRICANE IDALIA LEAVES MARKS ON FLORIDA'S COASTLINE THAT ARE VISIBLE FROM SPACE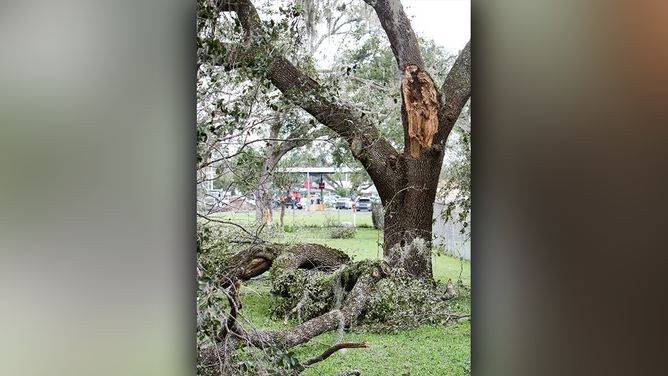 The pattern of timber damage caused by Idalia was different and unique from other storms that have impacted Florida over the last several years, Florida forestry officials said. Unlike the consistent patterns of timber damage from previous hurricanes like Michael in 2018, Sally in 2020 and Ian in 2022, Idalia's damage within the designated impact zones showed a high level of variability. Multiple areas suffered significant damage, with some unexpected locations experiencing moderate to severe destruction. Isolated pockets of catastrophic damage were also present due to tornados and downdrafts.
IDALIA DEVASTATES GEORGIA PECAN ORCHARDS, CROP LOSS EXPECTED HEADING INTO FALL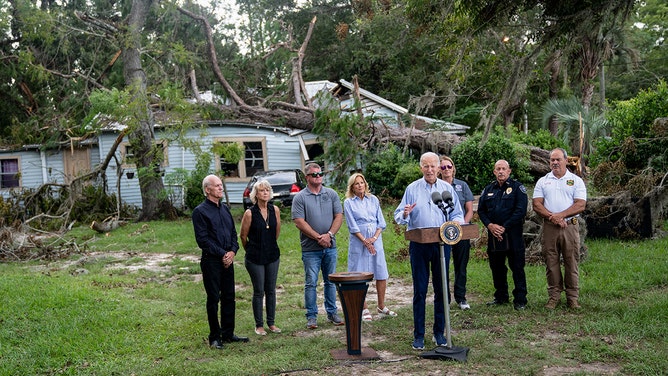 Flooding, saltwater intrusion on Florida's pines
This rapidly moving storm created an 8.9-foot storm surge at Cedar Key and a 4.6-foot surge in Tampa's East Bay, according to the Florida Forest Service. Also, due to the storm's pace across Florida, rainfall amounts were lesser around the landfall area than experienced in other states.
HURRICANE IDALIA STRANDED MANATEES INLAND, THREATENING HEALTH OF THE SEA COWS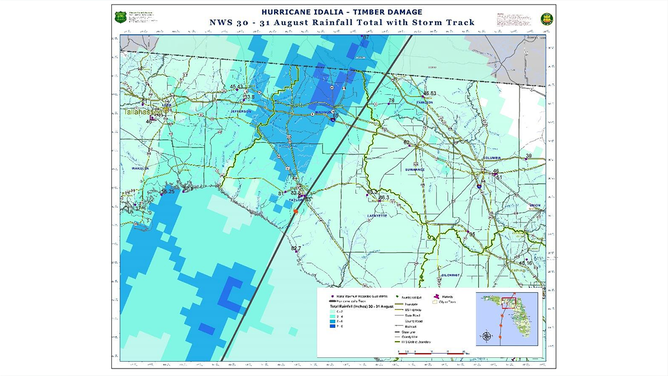 While the assessment primarily focused on wind damage to timber, pine forests in coastal and upland areas were also vulnerable to flooding and saltwater intrusion, which can cause severe damage and mortality. It can take months or years for the negative effects to become apparent, according to the Florida Forest Service.
Idalia was a quick-moving storm that didn't bring much rain, except for in Desoto County, where 7.11 inches were recorded, according to the agency. Radar showed similar amounts of rainfall in parts of Madison County. The coastline experienced a significant storm surge, which resulted in widespread flooding.
FLORIDA VETERAN LOSES HOME IN FIRE WHILE SURROUNDED BY FLOODWATER FROM IDALIA
Urban, community forests impacted
Idalia made landfall within a predominately rural region of Florida. However, there were several communities and cities located within the impact area, and the extreme wind and storm surge associated with this storm led to the widespread destruction of their tree canopies, according to the Florida Forest Service.
Continued tree mortality due to storm damage can be expected for months and years to come, Florida forestry officials said. In areas where trees are absent or reduced, there will be higher temperatures, more stormwater runoff and lower air quality, among other problems caused by sudden deforestation.
The Florida Department of Agriculture and Consumer Services said they are still working to complete a comprehensive damage assessment for agriculture that includes crop and animal losses as well as damage to agricultural infrastructure, like barns, fences and irrigation systems.