Hurricane Idalia stranded manatees inland, threatening health of the sea cows
There are only 7,500 manatees in Florida. They are listed as threatened under the Endangered Species Act.
Major Hurricane Idalia forced many to flee their homes in the Treasure Coast and Big Bend region of Florida. The Category 3 storm displaced manatees as well. One group is asking the public to check inland areas for trapped manatees.
"It was a terrible storm in the sense that it moved a lot of water on shore, tremendous flooding," aquatic biologist and executive director of the Save the Manatee Club, Patrick Rose told FOX Weather. "Manatees are pretty well adapted to deal with that. But at the same time, they move inland and get trapped as the water recedes. And we have several instances where we have manatees trapped right now."
Storm surge sent manatees inland
He said even the marginal sea level rise seen in Southwest Florida, almost 300 miles south of where Idalia made landfall, sent the animals inland. His group is monitoring and organizing a rescue for four stranded manatees in one creek right now.
FLORIDA BEACHGOERS WATCH IN AWE AS AT LEAST 12 PEOPLE USE STRETCHER TO RESCUE STRANDED MANATEE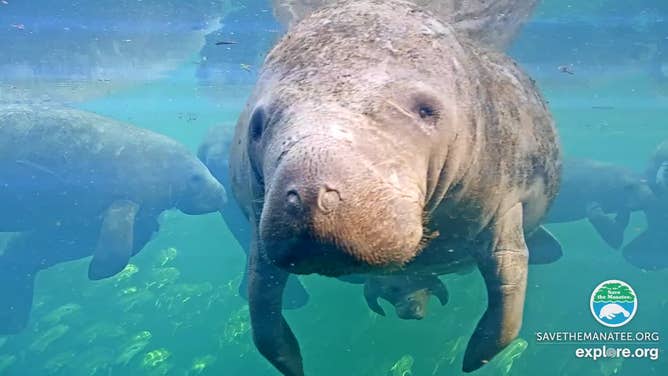 "When the storm surges come in, it raises the water level many feet, and it can actually cause manatees to go away and land an area that they would not normally inhabit. And when the water recedes, they can become trapped in those areas," Rose said.
"It's not the high water that causes problems for manatees, but it's actually the water leaving an area which is part of their natural habitat and stranding them," he continued.
He points to rescues after a hurricane in 2016 where rescuers had to pull manatees from golf course ponds. He said many of those ponds, not connected to coastal waters, trapped manatees more than once.
'OH MY GOSH!': CURIOUS GOLDEN RETRIEVER IN ALABAMA SPOOKS MANATEES AND HERSELF
In most cases, he hopes the to release healthy gentle giants directly back into the wild. For example, manatees may be stuck on one side of a weir or dam and need to be transported to the other side. Some manatees will be placed in facilities to be nursed back to health before they can be safely released.
Violent hurricanes like Idalia can tire out manatees or separate the young from their mothers.
"It can be very stressful. And a young calf who's just not very strong can easily be separated from its mother," Rose said. "So it's especially important to look out for calves after the hurricane has passed and make sure that they're not left stranded in that waterway because they couldn't survive as a young calf."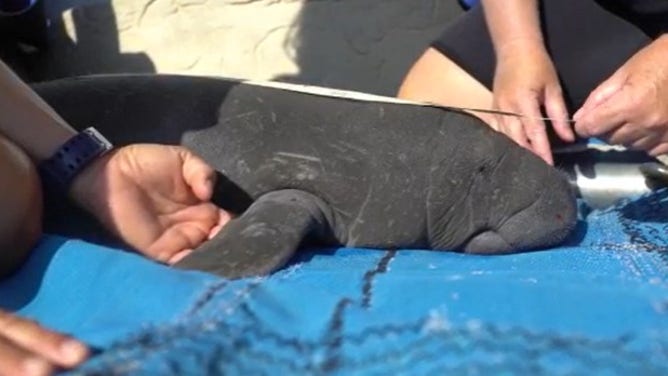 Red tide threat
The danger for the sea cow continues after the hurricane and trappings, too. 
"I think that the biggest long-term problem they face, though, are from harmful algal blooms, from too much fertilizer, too many leaking septic tanks and improperly treated wastewater," Rose said.
Floodwaters wash pesticides, chemicals and nutrients into the water. The waste feeds harmful algae which blooms, like red tide is toxic to and can kill mammals, fish, shellfish and birds. The blooms kill seagrass, too, which is the majority of a manatee's diet.
HOW HURRICANE IAN IMPACTED FLORIDA MANATEES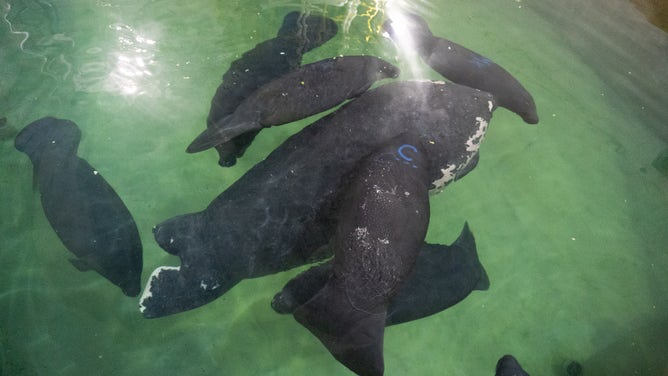 The relative of the elephant grows on average to 10 feet long and weighs 1,200 pounds, according to NOAA. They eat a lot of grass.
Harmful algae blooms killed about 1,500 manatees in the past two-and-a-half years, Rose said.
The Florida Fish and Wildlife Conservation Commission reported that at least 800 died in 2022. The number was about 8% higher than normal. A massive die-off occurred in 2021 when a record 1,100 died.
The FWC estimates that only 7,500 manatees exist in the Sunshine State. The species is listed as threatened under the Endangered Species Act.