Hurricane Hunter stranded on Block Island as Ophelia kicks up high surf along New England coast
New England is in for a much calmer day Wednesday, but Ophelia's remnants are expected to move back up the coast and bring more rain and wind to the region this weekend.
BLOCK ISLAND, R.I. – High surf and strong winds have led to many issues in New England over the past several days, including in Rhode Island, where officials were forced to cancel ferry service to Block Island, stranding visitors to the popular tourist destination.
The Block Island Ferry is the primary mode of transportation to and from the island, but because conditions were too poor to enter and exit Old Harbor safely, service was canceled for four days.
That wasn't good news for the thousands of tourists remaining on the island, hoping to soak up the remaining days of summer before the remnants of Tropical Storm Ophelia had other plans.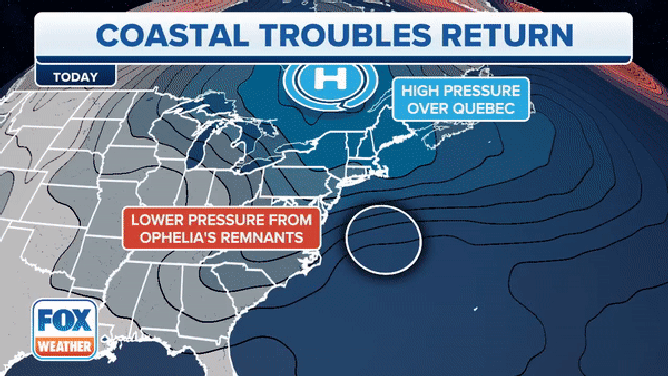 One of those trapped on the island was Hurricane Hunter and active duty service member with NOAA's Commissioned Officer Corps Capt. Jason Mansour.
He said his family has just been waiting patiently for conditions to improve.
"It's interesting that my family is on leave right now and are being impacted by the remnants of Tropical Storm Ophelia," he said. "You guessed it - surf, wind, and rain the last four days. And they've interrupted service on the ferries for a good reason – to keep people safe and property safe. So, we're just being patient (for) when the winds and seas come down, and we're ready to go when they are."
While it's been a rough few days, Mansour said his family's spirits remain high.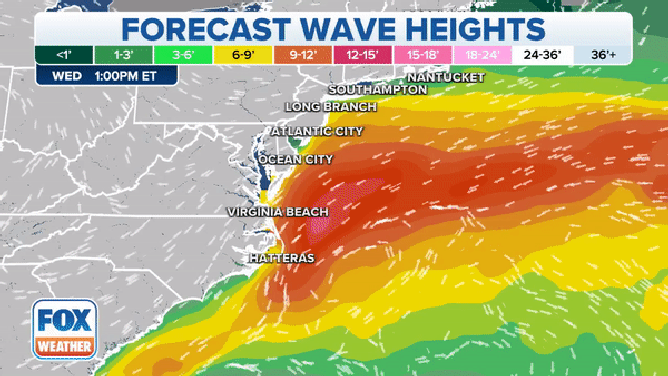 "I cannot recommend Block Island enough," Mansour said. "The community is rallying around … those tourists and locals that are here right now. There's great food, great company, and lots of stuff to do. So, Block Island is still a place to be with or without ferry service."
Mansour said some airplanes were able to get to and from Block Island, but ferry service is what most people take to get to the island, which sits about 9 miles to the south of mainland Rhode Island.
When Mansour spoke with FOX Weather on Tuesday night, a decision had not yet been made regarding service to and from the island. So, he said he hoped to return to the mainland on Wednesday or Thursday.
Ferry service resumed Wednesday.
COAST GUARD RESCUES 5 BOATERS FROM OUTER BANKS DURING OPHELIA
Mansour said he flew through Hurricane Lee a few weeks ago from the time the system was a tropical storm through its time as a major hurricane as it started its trek to the north near the East Coast of the U.S.
He said he wasn't expecting work to follow him on what was supposed to be a peaceful vacation with his family, but they're making the most of it.
"I'm blessed to have my wife and two young sons – 7 and 4 years old," Mansour said. "Even with the rain and the wind, my boys are out there clamming, finding clams, flying kites. I definitely appreciate people's disruption to their lives, but, for my family, we can't control it, so we roll with it. It's that simple."