High Wind Watch issued for Boston as New England braces for damaging winds
Wind gusts of up to 60 mph are expected in parts of Connecticut, Massachusetts and Rhode Island starting Thursday night
BOSTON – Parts of New England could see damaging winds starting Thursday night with a storm system that is traversing the country this week.
The storm is forecast to produce both wintry weather and severe weather as it moves across the Plains, the South and the Midwest, before moving into the Northeast.
The National Weather Service has issued a High Wind Watch for coastal sections of Connecticut, Massachusetts, Rhode Island and Long Island from Thursday evening to Friday morning.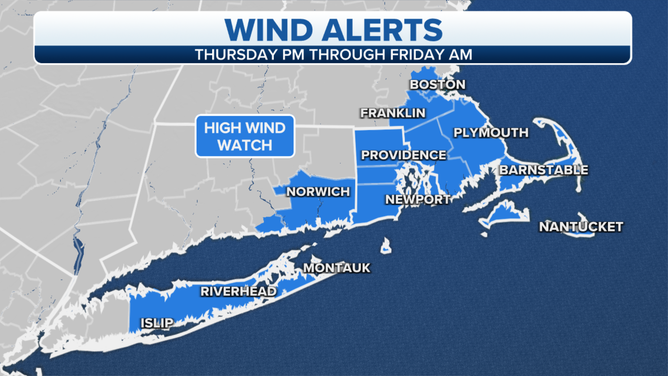 This watch includes the cities of New London in Connecticut, Providence and Newport in Rhode Island and Nantucket, Plymouth and Boston in Massachusetts. Cape Cod, Martha's Vineyard and Nantucket are also included in the watch.
BATTEN DOWN THE HATCHES: WHAT YOU SHOULD KNOW ABOUT HIGH WIND WARNINGS
Forecasters are warning of sustained winds between 25 and 35 mph, with gusts as high as 60 mph. Winds of that speed can blow down trees and power lines. They will also make travel difficult, especially for high-profile vehicles.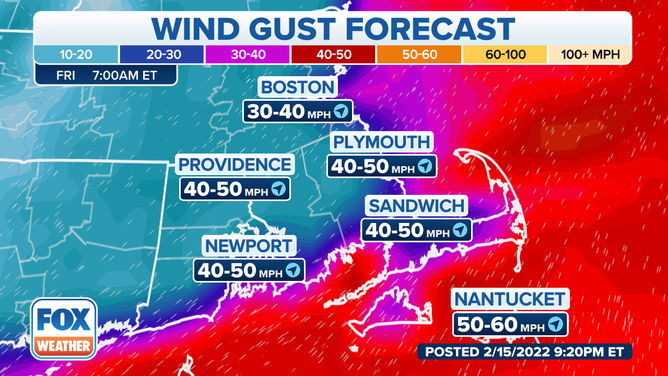 The worst of the winds are expected overnight Thursday through early Friday.
In addition to the high winds, rain is expected in New England from Thursday night into Friday morning.