Wind-whipped fires destroy nearly 600 homes near Boulder, Colorado
Boulder County officials believe the fires were started by downed power lines and blown transformers knocked out by high winds
BOULDER, Colo. - Nearly 600 homes have been destroyed and tens of thousands of people were forced to evacuate after several grass fires exploded in size near Boulder, Colorado and ripped through entire communities amid wind gusts of 75 mph or more.
There are three active fire locations, according to emergency management officials. The Middle Fork Fire at North Foothills Highway and Middle Fork Road and the Marshall Fire has two areas near South Cherryvale Road and Marshall Drive.
LIVE UPDATES: Evacuations underway in Colorado for fast-moving fires
Officials said the Marshall Fire is up to 1,600 acres and has burned nearly 600 homes as of Thursday evening. In Superior, a Target Store, a Marriott Hotel and other businesses were among the structures consumed by the blaze.  Gov. Jared Polis has declared a state of emergency.
"Here in December, who would have thought we would be fighting a grassland fire?" Polis said later on Thursday.
Winds and the rapid-fire have knocked out power to over 50,000 people in Colorado on Thursday evening. More than 20,000 in Boulder County were without power, including those in Superior and Louisville trying to evacuate. FOX 31 in Denver reports that the wildfires have impacted an energy company's natural gas infrastructure, so to decrease the strain on the system, the company is putting in place controlled electrical outages in several counties. 
Boulder County officials believe the fires were started by downed power lines and blown transformers knocked out by high winds. Strong gusts from Larimer and Boulder counties exceeded 75 mph. Boulder's official observation was recorded at 75 mph gust while a gauge at the National Center for Atmospheric Research measured a 90 mph gust. Farther west toward the foothills west of Avarda, a wind gauge measured a gust of 115 mph.
'Life-threatening situation'
The Boulder County Sheriff's Office began receiving reports early on Thursday of several fires spotted near North Broadway and another near North Foothills and Middle Fork.
The entire town of Superior was told to evacuate on Thursday afternoon, and the evacuation point was located at the North Boulder Recreation Center. The South Boulder Recreation Center lost power and is closed to evacuees.
The situation in Superior deteriorated rapidly as a video shows Costco shoppers running to evacuate as smoke filled the air.
Soon after Superior, the entire city of Louisville, with a population of about 20,000 people, was also ordered to evacuate immediately.
"Life threatening situation in Superior and Louisville areas! Fast-moving fires are in the area. Gather more information and please be prepared to evacuate immediately," the NWS Boulder advised.
Hours after the incident began, mandatory evection orders were expanded to areas south of U.S. 36, including the Interlocken community in Broomfield. Surrounding neighborhoods are being told to stand by and be prepared to leave.
"We were not expecting this at all today," said AJ Lauer, who had to grab her family and evacuate her neighborhood. She said she was out on a hike and running errands in Boulder when the fire started. 
"When I drove back and as soon as I got on the highway it was clear there was a fire," she told FOX Weather. "Video doesn't capture how creepy it was. You can't really capture the full depth of the variety of scary colors that were happening in front of me…it was very, very scary."
View the latest evacuation zone below:
After receiving reports of power outages delaying evacuees who could not open their garage doors to leave, the Office of Emergency Management reminded people to pull the red emergency handle on garage doors to quickly get out.
The Boulder Office of Emergency Management said residents who see fire should immediately evacuate and go northeast. Three evacuation centers are open at the North Boulder Recreation Center and the Longpoint Senior Center on Longs Peak Avenue in Longmont and the Lafayette YMCA.
National Guard members are en route to help overnight with evacuations.
Polis took to Twitter on Thursday afternoon while crews battled the flames.
"Prayers for the thousands of families evacuating from the fires in Superior and Boulder County," he said on Twitter. "Fast winds are spreading flames quickly and all aircraft are grounded."
Boulder County has started a fund to help the community recover after the fire. Donations can be made online, at this link.

High winds and dry conditions conspire for dangerous fire conditions
According to the National Weather Service's Storm Prediction Center, Elevated fire weather conditions were present in the High Plans on Thursday afternoon, including eastern Colorado, eastern New Mexico and West Texas. High wind warnings were in effect for much of the day but were canceled Thursday evening. 
Dry conditions in eastern Colorado with dew points in the single digits and freezing temperatures could cause flames to spread rapidly. The strongest winds below 6,000 feet are expected near the base of the foothills from Boulder north to Fort Collins to the Wyoming border.
The Colorado Department of Transportation is reporting multiple road closures due to fire and wind. U.S. 36 (Boulder Turnpike) are closed in both directions at Nolan Drive near Lyons.
Winds to taper Thursday night, then snow arrives
Gusting winds have tapered off Thursday night and snow is in the forecast Friday, both could help firefighting efforts.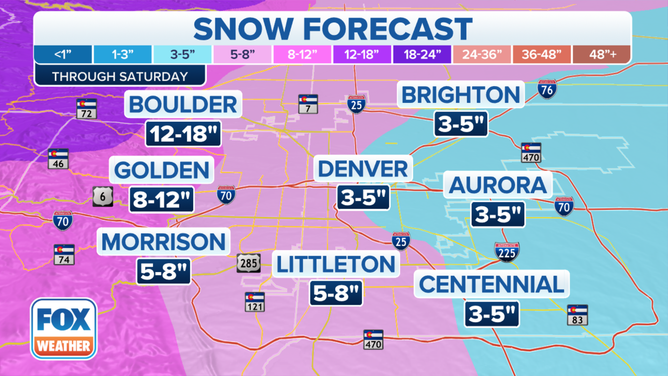 The Boulder area is expecting over a foot of snow starting Thursday night and lasting into Saturday.