Hawaii 'Kona low' prompts blizzard conditions, high winds and flooding rains
The last time Hawaii was under a Blizzard Warning was in March 2018
HONOLULU, Hawaii -- A storm percolating in the central Pacific Ocean near Hawaii is not only producing heavy rains and the potential for flash flooding to the islands, but also heavy snows and 100-mph winds on the mountain peaks on the Big Island, prompting a rare Blizzard Warning for the tropical state.
A Flood Watch is in effect for all the Hawaiian islands through Monday afternoon. 
The storm, known locally as a "Kona low," could persist into early the early workweek.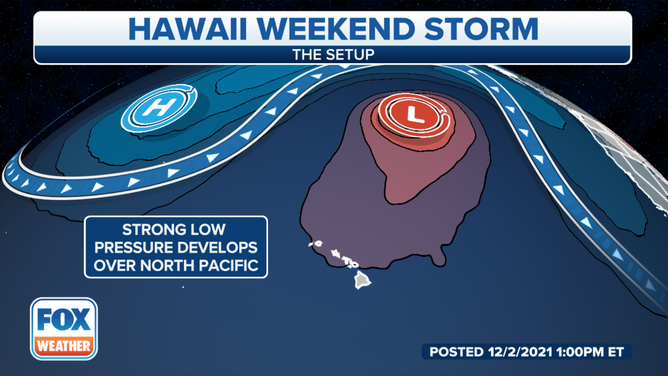 The Big Island and Maui have the most significant risk for flooding, with several inches of rain possible, but heavy rain has the potential to cause flooding problems on the islands of Oahu and Kauai as well.

"Significant flooding may occur due to the overflow of streams and drainage," the NWS office in Honolulu wrote in its Flood Watch. "Roads in several areas may be closed, along with property damage in urban or low-lying spots due to runoff. Landslides may also occur in areas with steep terrain."
EXPLAINING FLOOD ALERTS ISSUED BY THE NATIONAL WEATHER SERVICE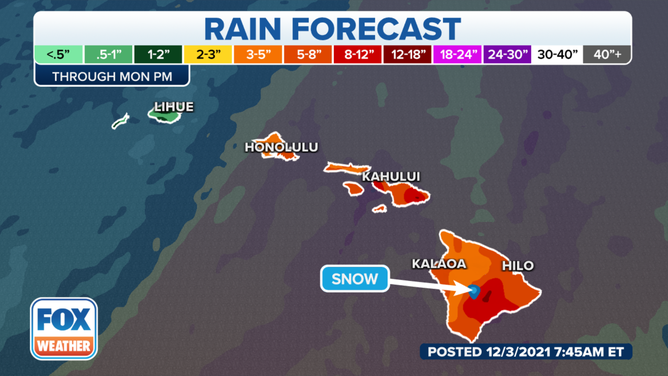 On the Big Island, up atop Mauna Loa and Mauna Kea above 8,000 feet, Blizzard Warnings – yes, you read that right – and High Wind Warnings are in effect from Friday evening through Sunday morning (Blizzard Warnings) and Monday morning (High Wind Warnings).
The storm is expected to bring heavy snow to the mountain summits, with total accumulations of a foot or more.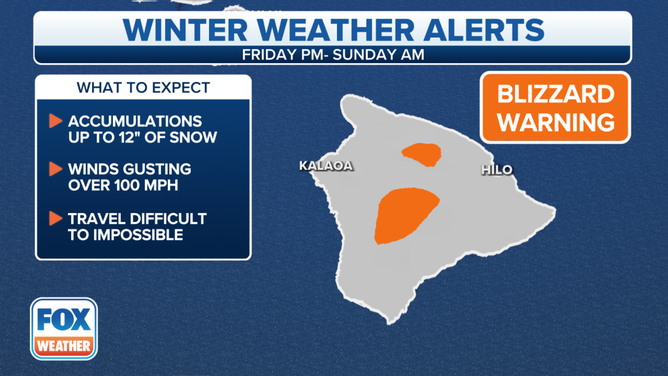 Interestingly, snow is common over these Big Island summits every year.
The NWS office in Honolulu issued Winter Storm Warnings an average of three times per year over the 10-year period ending in 2020. During those same 10 years, Blizzard Warnings were issued five times, most recently in March 2018.
LEARN: Among Surest Weather Bet in America: Predict Rain in this Hawaiian Town in July
A Blizzard Warning was last issued in the United States three weeks ago by the NWS office in Aberdeen, South Dakota.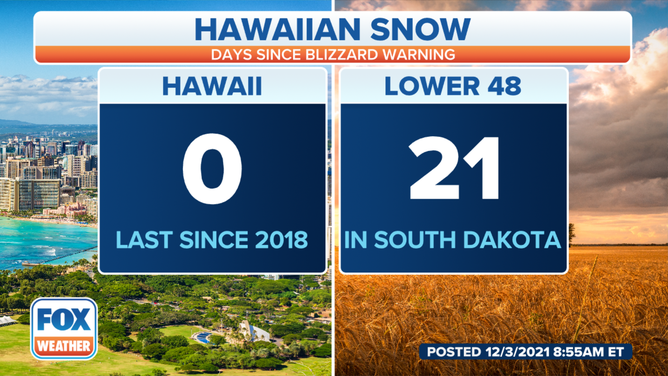 The dry side becomes the wet side
The term "Kona" comes from the Hawaiian word for "leeward," according to NASA.
Typically, the persistent trade winds in Hawaii blow from the northeast. But these storms bring a southwestern wind, reversing the flow and bringing heavy rain to the usually drier, rain-shadowed areas of the leeward side of the various mountains in the island chain.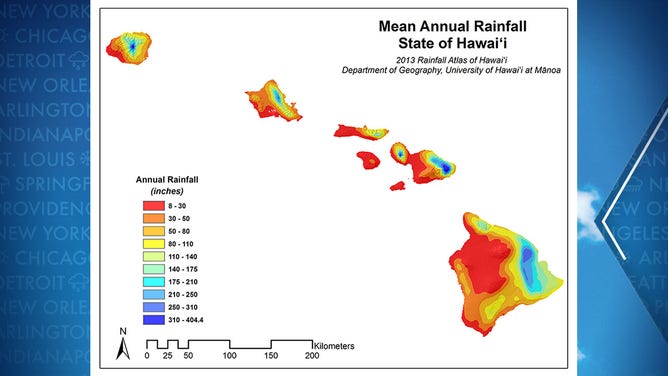 These so-called Kona storms are most common from October to April in Hawaii and get their power from cold centers instead of the warm centers that fuel hurricanes and tropical storms. Yet the storms still tap into abundant warm, tropical moisture that slams into the dramatic topography of the islands to squeeze out several inches of rainfall.
The storms are also capable of high winds, hail and thunderstorms, in addition to the winter fury atop the volcanic peaks.