'We just started hearing our house just being ripped apart': How one couple survived an EF-3 tornado in Texas
Gay Bumpas of Jacksboro stands defiant amid the destruction left behind
"Within 10 to 15 seconds after we got in the bathtub, we just started hearing our house just being ripped apart," said Gay Bumpas, who survived a tornado that tore through Jacksboro, Texas, on Monday.  
"It felt like it was going to suck us out of the bathroom."
As Bumpas recalled, when she and her husband sheltered from the tornado, she stood with her house resting in shambles behind her — roof peeled off, walls crumbling, rooms gone.
1 DEAD, AT LEAST 26 INJURED IN TEXAS DURING MONDAY'S SEVERE WEATHER OUTBREAK
"We think some of our stuff may be across the road," she said.
"I think we were really fortunate, even though our house is complete — I mean, the furniture's broken and torn up. But as far as I know, I'm not really missing anything."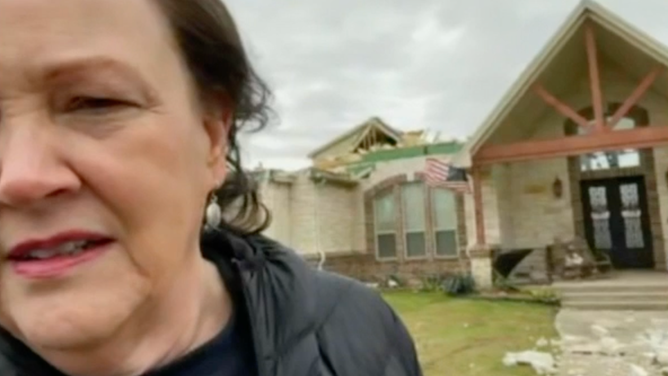 Everything she owned was found. She even laughed about her trailer that became stuck in a tree.
She also noted how she could clearly see the tornado's path through her neighborhood.
"We have a couple of houses right across the road to our west that did not get hit, and they look normal," she said.
Bumpas's home was right in the tornado's path.

TEXAS GOVERNOR SIGNS DISASTER DECLARATION FOR 16 COUNTIES AFTER MONDAY'S SEVERE WEATHER
But hanging on what remained of her front door was an American flag, flying proudly and intact in the storm's residual winds.
Like the flag hung on her home, Bumpas stands defiant amid the destruction surrounding her.
"We feel very fortunate to be alive," she smiled. "We're thankful. We thank God for saving us."