Freezing rain wreaks havoc in Pacific Northwest, snarls air traffic at Seattle's airport
Winter Storm Warnings are in effect for Portland and Seattle and surrounding areas of northwestern Oregon and western Washington, highlighting the risk of significant freezing rain.
SEATTLE – A rare Pacific Northwest ice storm is wreaked havoc Friday, briefly shutting down Seattle's airport and major transit systems while knocking out power to tens of thousands of customers.
The region saw hours of freezing rain, leaving a glaze of ice over everything, in parts of Seattle and Portland.
Sea-Tac Airport closed its runways just after 5 a.m. due to ice on the runway, airport officials announced, though crews were able to reopen one runway and resume limited operations just before 7 a.m. as observers reported 0.30 inches of ice accretion in the area.
Still, Alaska Airlines canceled all flights through noon out of both Seattle and Portland and urged all in Seattle to head home as there will be no rebooking options for days due to extended weather issues, according to FOX 13 Seattle. Bellingham, Washington's airport announced it was closing Friday morning as well. 
King County Metro, which provides bus service across the Seattle area, and Sound Transit announced they were suspending service due to icy roads, and Washington State Ferries announced service was suspended along their Seattle-to-Bremerton route and limited service on other routes. Even Seattle's monorail service has been suspended.

According to the Washington State Patrol, a several-mile-long stretch of Interstate 90 was closed between Bellevue and Snoqualmie for a period Friday morning due to ice-covered roads. The freeway has since reopened. 
"It's really rough out there. Ice everywhere," the Washington State Department of Transportation tweeted, adding there were too many collisions and spin outs to report. "Lots of crashes, lots of closures… Highly recommend if you don't have to travel, stay off the roads."
But even walking around town was difficult. Seattle Fire officials said they have responded to a large number of calls for slips and falls on icy sidewalks and roads.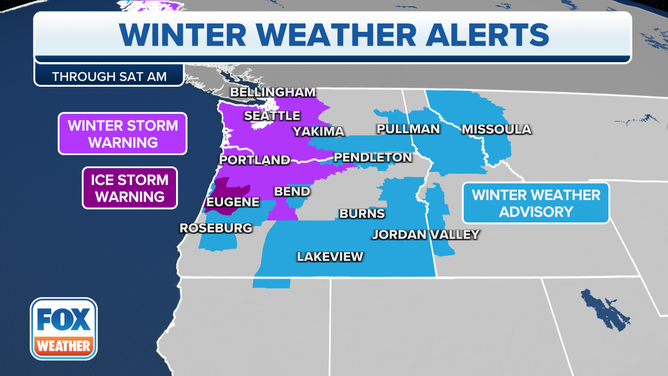 In the Portland and Willamette Valley area, crews were busy clearing wrecks from slick roads and downed trees and power lines from the combination of ice and wind. Gusts around the Portland metro area reached 35-45 mph but touched 55 mph farther east near the Columbia River Gorge outflow.
Inside the Gorge, winds were even stronger, with an 87 mph peak gust recorded at Corbett High School, according to the National Weather Service.
Portland International Airport remained open through the morning but many flights had experienced delays or cancelations, the airport said. 
Winter Storm Warnings remained in effect across Western Washington, and much of northwestern Oregon for freezing rain to continue into the midday or early afternoon hours. Ice accretions are expected to reach 0.2 to 0.4 inches in the Portland area, with around a tenth- to quarter-inch likely in the Seattle and western Washington areas.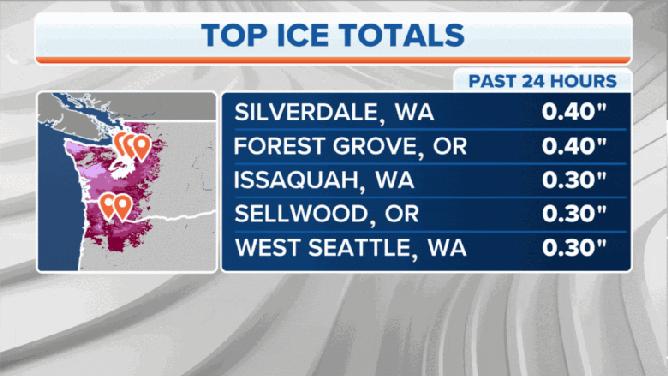 Ice accretions of one-quarter to one-half inch are considered "disruptive," with numerous power outages and some tree damage expected as roads become very slick. Once accretions hit one-half inch or more, a potentially crippling event is underway, creating widespread power outages, tree falls, and dangerous travel conditions.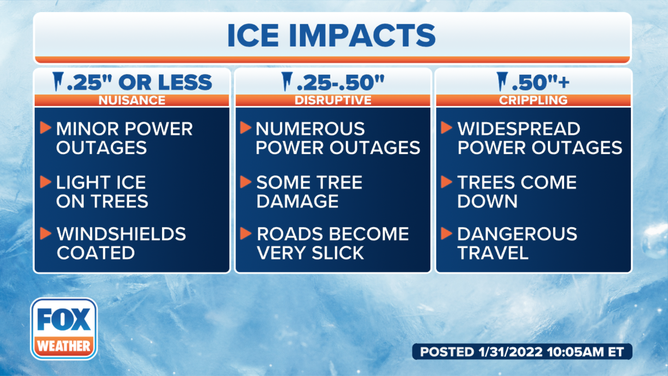 Ice Storm Warnings were in effect for the Eugene and Corvallis areas in Oregon, where accretions could reach that ominous half-inch measurement.
About 13,000 were without power in Washington as of 6:30 a.m. PST Friday with a little more than 11,000 without power in Oregon, according to PowerOutage.us.
Temperatures in northern Oregon and western Washington were in the 20s Friday morning – the third morning with sub-freezing temperatures in the region as a dense arctic air mass settled in.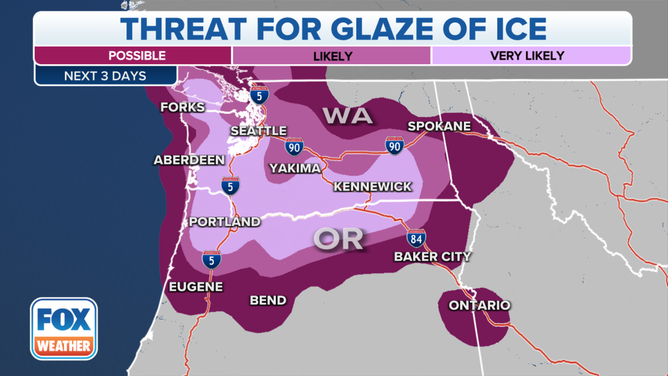 However, a weather system pushing through the Northwest Friday is a much milder storm rolling in off the Pacific Ocean – a more traditional wintertime event for the region bringing air that would typically push temperatures well into the 40s, if not the 50s.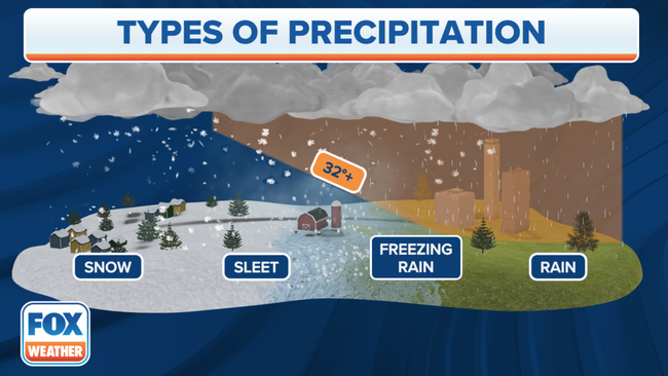 With cold air currently locked at the surface, a battle between the warm air intrusion and the stubborn freezing air at the surface will take place over several hours, with a prolonged period of sleet and freezing rain and significant accretions possible.
"Ice is sometimes worse than snow – especially when it comes to traveling on the roads," said FOX Weather meteorologist Britta Merwin.
Ice accretions could even last into Saturday in the Columbia Gorge and eastern Willamette Valley, with ice accretions in the Gorge reaching nearly 1 inch. 
CHRISTMAS WEEK BLIZZARD TRACKER: WINTER WEATHER ALERTS, FLIGHT DELAYS AND CANCELLATIONS
Eventually, the warm air will win the battle, and freezing rain will gradually turn to plain rain late Friday as temperatures warm into the 40s.
Once the cold air scours out, the weather pattern will flip, with above-average high temperatures reaching into the upper 40s and 50s Christmas weekend and the following week with rising snow levels and heavy rains.
WINTER BREAK: U.S. TO SEE SIGNIFICANTLY WARMER TEMPS FOLLOWING FRIGID CHRISTMAS BLIZZARD
Unique setup keeps Portland susceptible to extended ice storms
The lurking subzero or near-zero temperatures on the eastern side of the Cascades create a strong area of high pressure due to the high density of cold air. Meanwhile, as the deep low pressure approaches the coast from the approaching storm, an intense difference in pressure will draw strong easterly winds through the gaps in the Cascades. 
Such gaps include the Fraser River Valley in British Columbia and major passes such as Snoqualmie Pass in Washington.
The greatest conduit for channeling arctic air from the east into the coastal valleys is along the Columbia River Gorge that straddles the Washington-Oregon border and spills into the eastern Portland suburbs. 
Gusts through the gorge can reach 50 to 70 mph, with peak gusts roaring up past 100 mph in some of the strongest events. On Thursday, Crown Point along the Gorge recorded an easterly wind gust of 86 mph.
Those winds will not only blast the eastern Portland areas with gusts over 50 mph but also act like an icy blow-dryer, continuously spilling modified arctic air into the lower elevations of the Willamette Valley.
As the relentless warm Pacific rains fall into this frozen layer of air trapped near the ground, it freezes on contact creating freezing rain. 
Depending on the depth of the cold air east of the mountains and the strength and speed of the approaching storm, the howling easterly winds can last for hours, if not days, leading to thick ice accretions that cripple the Portland area region with widespread and extended power outages as trees and power lines buckle under the weight of the ice, leaving streets impassable.