Freezing rain possible across New York, Philadelphia, Washington metro areas Wednesday morning
Just as the mid-Atlantic states dig out from Monday's snowstorm, freezing rain moves in Wednesday morning
A light glaze of freezing rain is threatening parts of the mid-Atlantic and Northeast Wednesday morning right after the first winter storm of the season that dropped over a foot of snow on the mid-Atlantic states moved out.
The National Weather Service issued Winter Weather Advisories for freezing rain for Wednesday morning for 10 states from Richmond, Virginia, to southern Maine.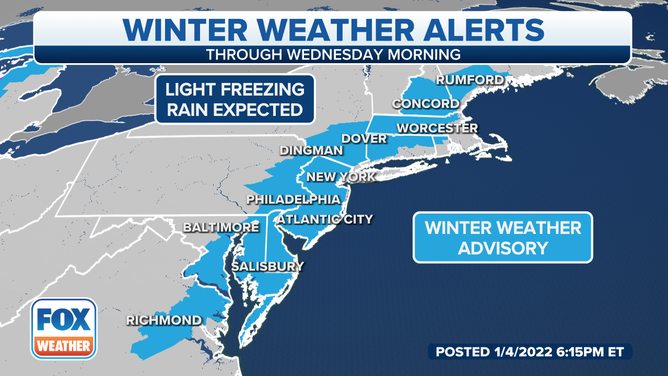 FOX Weather meteorologists said Wednesday morning brings a chance for light freezing rain and freezing drizzle, which will quickly turn pavements, sidewalks, bridges and overpasses icy. The glaze of ice will make walking and driving treacherous.
SNOW, SLEET, FREEZING RAIN AND HAIL: WHAT IS THE DIFFERENCE? 
The areas expecting light freezing rain include portions of Maryland, Delaware, New Jersey, eastern Pennsylvania, southeastern New York, Connecticut, northern Rhode Island, Massachusetts, southern New Hampshire and southern Maine.
Travel continues to be difficult in areas with snow on the ground. Interstate 95 through Virginia finally reopened Tuesday night after being closed for nearly a day due to snow, ice and accidents. Virginia Department of Transportation officials are still asking drivers to avoid the corridor and postpone any non-essential travel.
VDOT: 'COMPLETELY UNACCEPTABLE' FOR DRIVERS TO BE STRANDED FOR HOURS ON THE INTERSTATE
Any snow that melted Tuesday will freeze overnight as temperatures dip into the 20s and teens, making for slippery travel. Add to that the freezing rain and untreated roads may again become impassable.
Temperatures warm through the afternoon, and the light freezing rain will taper off, making afternoon travel safer.
The next shot at winter weather for the mid-Atlantic and Northeast comes late Thursday.
NORTHEAST, MID-ATLANTIC GEARING UP FOR POSSIBLE NOR'EASTER LATER THIS WEEK