Northeast, mid-Atlantic gearing up for possible nor'easter later this week
A strong low-pressure center is expected to move across the Southeast this week, then turn up the Eastern Seaboard on Thursday and Friday as a potential nor'easter
NEW YORK – Right on the heels of a snowstorm in the mid-Atlantic Monday, forecast charts indicate the potential for another storm that could bring additional snowfall to the mid-Atlantic and the season's first significant snowfall to coastal New England.
A robust low-pressure center is expected to move across the mid-South, bringing a few inches of snow Wednesday night into Thursday.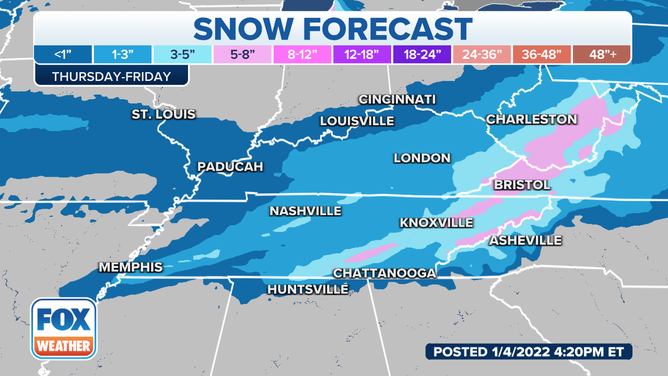 The low is expected to turn up the Eastern Seaboard on Thursday and Friday as a potential nor'easter.
LEARN: What is a nor'easter?
Snow would spread into the Northeast Thursday night and peak Friday morning.
The snow could be heavy at times and bring strong winds, making for likely travel impacts.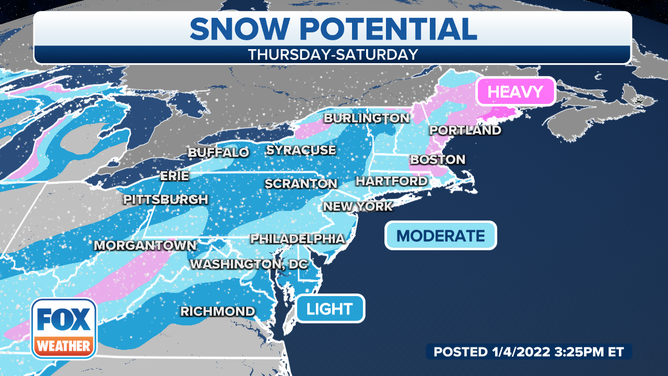 It's still too early to determine exactly how much snow will fall and where, but areas along the Interstate 95 corridor from Washington to Boston should be prepared for a possible impactful snow event.
Learn: Medical experts warn shoveling snow can be dangerous to your health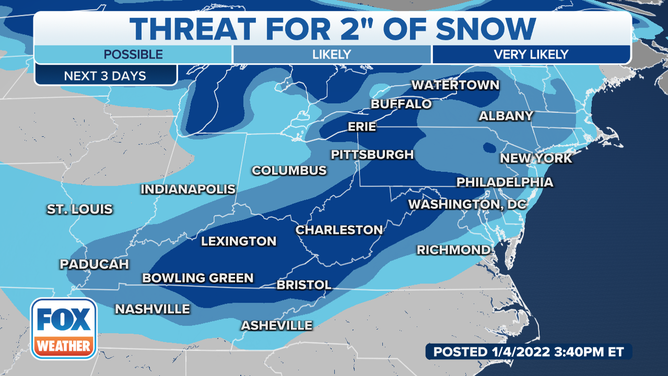 Washington already received 6 to 8 inches of snow with Monday's storm, with totals exceeding a foot in parts of New Jersey.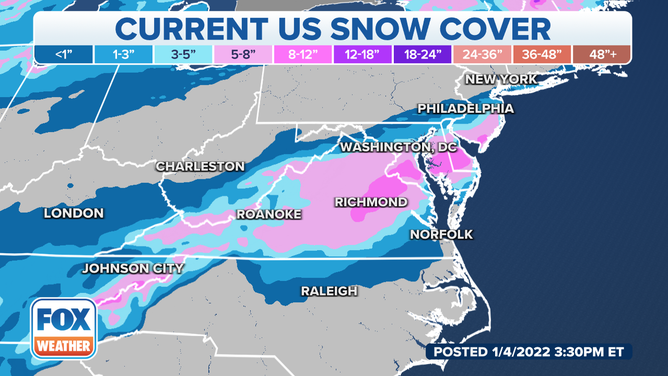 Ocean City, New Jersey, reported 14 inches of snow.
But for New York, Boston and Hartford, Connecticut, aside from a fraction of an inch that fell in December, the storm could represent the season's first significant snowfall. Significant snowfall is possible in the Philadelphia area as well.
The storm's track is crucial to defining not only where any rain/snow line will generate but how much snow will fall and where. 
We'll be tracking the storm developments through the week and provide frequent updates here at FOX Weather as the forecast comes into greater focus.