Nearly 400,000 lose power during mid-Atlantic snowstorm
Travel conditions delaying restoration efforts in Virginia
The first winter storm of 2022 dropped more than a foot of snow in areas of the mid-Atlantic, including Virginia, where hundreds of thousands have lost power over the past two days.
According to Poweroutage.us, more than 260,000 customers in Virginia are without power Tuesday morning. Most of the outages are in northern Virginia. 
With more than 132,000 customers out, about half of the outages in Virginia are Dominion Energy customers.

Dominion Energy Communications representative Rayhan Daudani has been providing updates on social media as crews work to restore power.
"With 390,000 customers losing power at some point during the storm, this is one of the five worst winter storms in our history," Daudani said Tuesday. "Our men and women have already restored power to 250,000 during cold, wet conditions in less than 24 hours."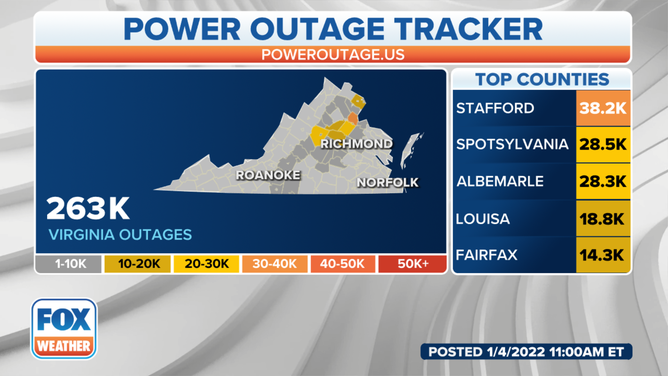 Snow and ice have delayed crews from getting to hard-to-reach areas.
"Travel conditions are still treacherous in places, and that is complicated our work," Daudani wrote. "Damage remains in more than 2,000 locations, and the hardest to reach areas will take time, so we may not get everyone back on today. We will not stop until the last customer is back on."
Hundreds of crashes have also been reported across Virginia since Monday morning due to hazardous road conditions. The Virginia Department of Transportation and state police warned drivers to stay off the roads beginning Monday when the inclement weather was forecast.
MORE: Truck driver believes lack of preparation led to chaos on I-95 in Virginia
The same system has left hundreds of drivers stranded on Interstate 95 for more than 12 hours in below-freezing temperatures. 
The majority of outages are customers with Dominion Energy. Central Virginia Electric Coop, Appalachian Power Company, and Rappahannock Electric Cooperative report significant outages. 
Rappahannock has more than 75,000 customers out as of Tuesday morning.
In Stafford County, where more than half of the county's 54,000 customers are without power, the National Weather Service reports nearly 15 inches of snow in the town of Glendie.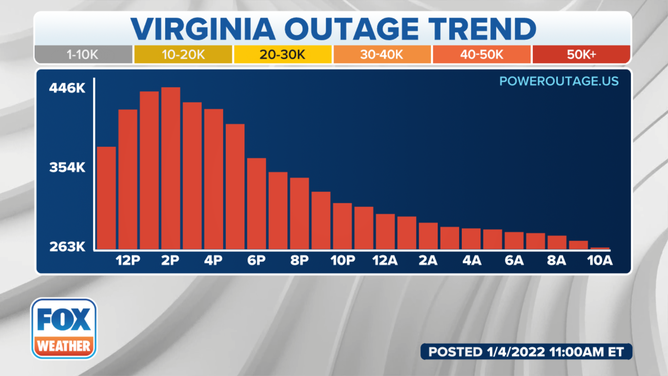 According to the NWS, Region National Airport in Washington, D.C., has received nearly 7 inches of snow. 
Conditions should improve later this week across Northern Virginia as temperatures warm up Tuesday afternoon to the upper 30s and then with a high near 50 on Wednesday.