Parts of Florida were colder than Alaska on Monday morning
Temperatures dropped into the 20s in many areas of Florida on Monday morning
Parts of Florida were colder than parts of Alaska on Monday morning as freeze alerts were issued across the Sunshine State.
A Freeze Watch was in effect for places like Jacksonville, Lake City, Gainesville and Ocala. All of southeastern Georgia was also included in the watch. The watch expired at 8 a.m.
The NWS in Jacksonville reported a low of 27 degrees at the Jacksonville International Airport and widespread frost covering Northeast Florida just after sunrise. 
FLORIDA MORNING FREEZE CREATES FROST COVERED LANDSCAPE
The forecast included subfreezing temperatures in the upper 20s Monday morning for North Florida. 
By 6 a.m., Central Florida had low temperatures in the mid-30s. The NWS in Melbourne reported a low of 34 degrees in Vero Beach.
In Jacksonville, the temperature dropped into the upper 20s. That low temperature was nearly 10 degrees colder than the low temperature in Anchorage, Alaska, on Monday morning.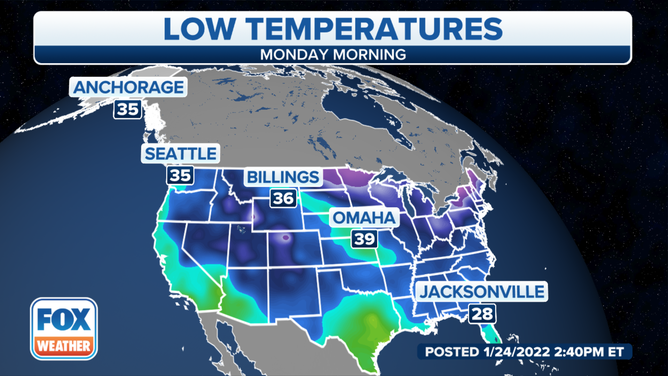 Freeze Warnings were issued, with places like Cedar Key, Crystal River, Brooksville and Wildwood dropping into the upper 20s Monday morning.
Frost Advisories were effect for a larger area, including Orlando. Temperatures were expected to dip to as low as 33 degrees in some spots.
Widespread frost was reported across the Central Florida region, including Volusia, Orange and Lake counties. The Orlando Executive Airport reported a low of 41 degrees, and Orlando International reported a low of 38 by 6 a.m.
WHEN DO IGUANAS FALL FROM TREES IN FLORIDA?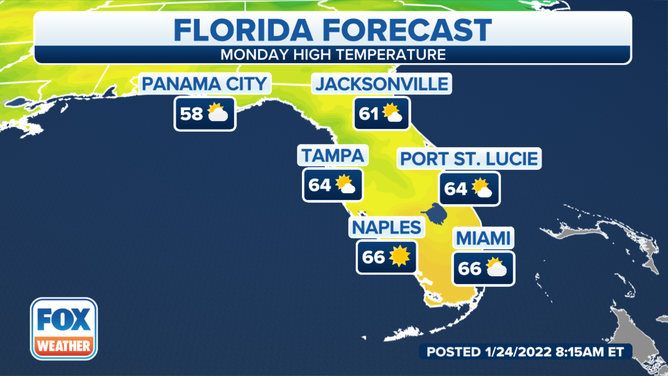 South Florida was also included in the frost advisory, with parts of inland Broward County reporting lows in the high 30s Monday morning. However, no reports of cold-stunned iguanas falling from trees had been reported as of late Monday morning.
After an icy start to the day, temperatures are forecast to rise into the 50s and 60s with plenty of sunshine.
Miami will likely be the warmest, with a temperature in the upper 60s.