Florida morning freeze creates frost covered landscape
Photos and video show widespread frost in North and Central Florida
Florida's coldest temperatures of the season brought with it widespread frost covering yards, cars and foliage in the Sunshine State Monday morning.
A freeze warning and frost advisory were in effect until 8 a.m. for southeast Georgia, inland northeast Florida and Lake and Volusia Counties. Overnight temperatures dropped into the 20s in Jacksonville, and several towns in Volusia County reported a low of 30 degrees, including Ormond Beach and DeLand.
Frost began forming after midnight in Melbourne on cars and the grass, according to the National Weather Service Office in Melbourne.

The freeze warning prompted Brevard County Emergency Management officials to open cold night shelters Sunday evening into Monday morning. By 6 a.m., temperatures across Central Florida just barely made it above 40 degrees but will continue to warm throughout the day into the 60s before another overnight plunge.
Further inland saw the most intense frost coverage. Elisha Pappacoda shared this photo with FOX 35 Orlando from Sorrento of the rare winter wonderland-like sight in the Sunshine State.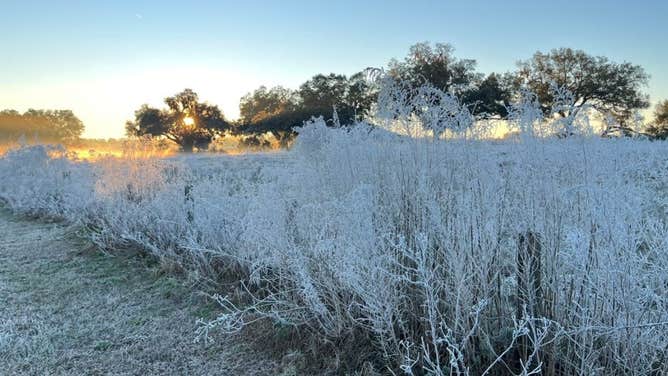 An icy glaze coated cars in Davenport with a low of 30 degrees before sunrise. FOX Weather Morning Meteorologist Jason Frazer said the video looked like something from New York rather than Florida.
The National Weather Service in Jacksonville shared photos of its frost-covered lawn Monday morning just after sunrise. The Jacksonville International Airport reported a low of 27 degrees.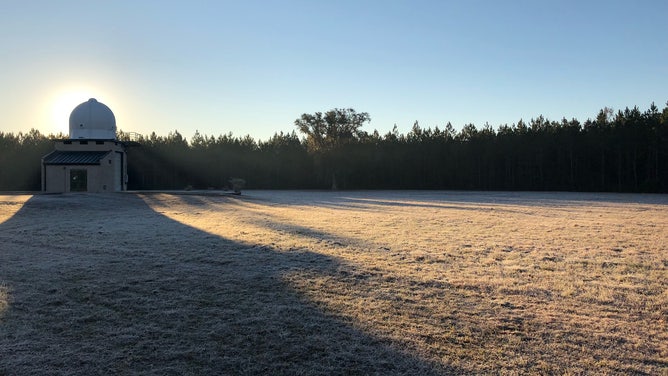 In the Tampa Bay area, the NWS reported a low of 26 degrees at 5 a.m. with widespread frost and fog. Areas further inland reported more frost on cars and grass.
WHEN DO IGUANAS FALL FROM TREES IN FLORIDA?
Patchy fog over Tampa Bay created this misty view captured by Mike's Weather Page.
South Florida was also included in the frost advisory, with parts of inland Broward County reporting lows in the high 30s Monday morning. However, no reports of cold-stunned iguanas falling from trees had been reported as of late Monday morning.
According to FOX Weather's forecast, Florida will remain under its cold spell before warming back up early next week.