Flooding in Disney, downed trees in New York and snow in New England: Monday's 3-season storm
Watch Disney park-goers wade through 'Hollywood Boulevard.'
LAKE BUENA VISTA, Fla. – Disney's Hollywood Studios was not the "happiest place on Earth" Monday evening. Heavy rain drenched tourists and flooded Hollywood Boulevard. Families pushed strollers while kids splashed through shin-deep water. 
The rain event was more reminiscent of a summer-like pattern of afternoon thunderstorms. The near record heat in the warm sector of the storm sent the Orlando high to 89 degrees Monday, just one degree off the record, setting up a sea breeze front. When the Atlantic sea breeze collided with the sea breeze from the Gulf Coast, thunderstorms erupted. 
Nearby Orlando recorded almost two inches of rain in just 3 hours. Rain is in the forecast every day for Orlando for the rest of the week.
SOUTHEAST BRACES FOR MORE HEAVY RAIN; COULD HELP FIREFIGHTING EFFORTS IN FLORIDA
While the Southeast saw flooding rains from the storm that brought significant weather from the Gulf Coast through Canada, it brought spring like severe thunderstorms to the Northeast. Philadelphia and New York City were both under Severe Thunderstorm Warnings. 
Wind gusts over 60 mph knocked trees onto power lines, roads and buildings. New Jersey Transit crews headed to work early to clear trees off train tracks near Maplewood, New Jersey. 
The winds took out wires and damage a pole creating problems for morning commuters. The rail line is still closed.
Wind-whipped rains kept many residents awake late into the night in Queens, New York. Heavy rain and lightening didn't subside until after midnight. Winds gusted 20-30 mph until midday Tuesday. 
The storm brought all winter to Northern New England. 
Castle Hill, Maine residents woke up to a fresh, snowy coat across the landscape. The sunrise looked beautiful in the video, but you wouldn't have wanted to be outside with winds gusting 30-40 miles per hour.  Temperatures dropped below freezing which dropped wind chills to near zero.
More spring/winter like weather on the way
The next storm is just getting organized along the Gulf Coast and will deliver more rain, thunderstorms and snow from Florida to Maine. New York City will be on the winter side instead of spring with the next round.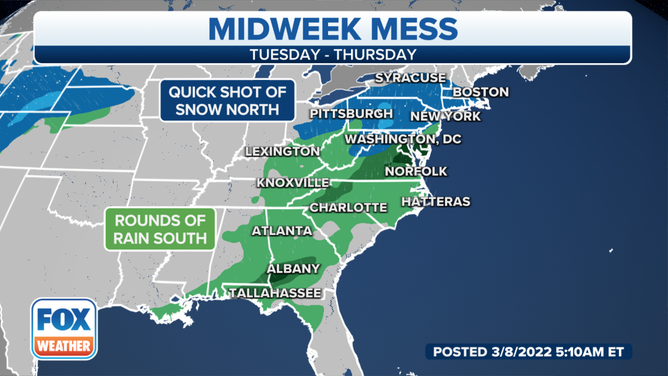 NEXT SNOWMAKER TAKES AIM AT MID-ATLANTIC, NORTHEAST ON WEDNESDAY
Keep watching FOX Weather for the latest storm information.