Flash flooding likely in Los Angeles area Wednesday as another 1 to 2 feet of snow buries Sierra Nevada
Between 1 and 3 inches of rain is forecast across much of Southern California
LOS ANGELES – Flash flooding is likely in parts of Southern California on Wednesday.
NOAA's Weather Prediction Center has hoisted a Slight Risk area for excessive rainfall from the Los Angeles metro area eastward to the Riverside area and southward into Orange County and northwestern San Diego County. A Marginal Risk is highlighted for the San Diego metro area.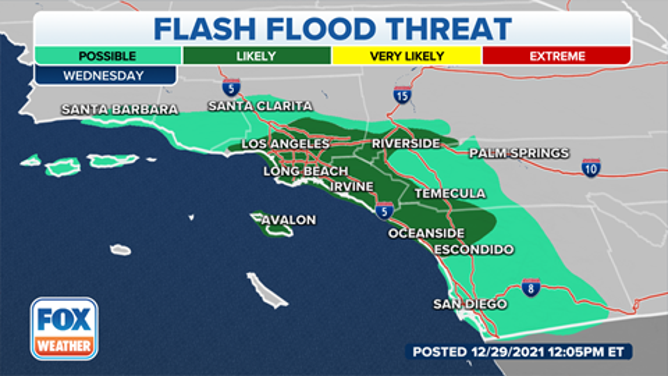 Flash Flood Watches have been issued by the National Weather Service for a large portion of Southern California, including the entire San Diego metro area.
EXPLAINING FLOOD ALERTS ISSUED BY THE NATIONAL WEATHER SERVICE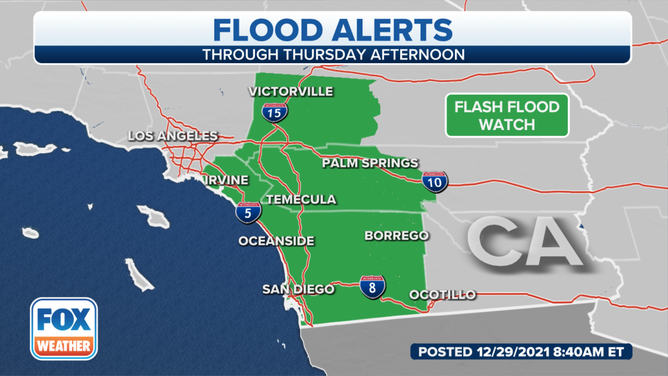 Between 1 and 3 inches of rain is forecast across much of Southern California through Friday morning, which has already been saturated by rain since the Christmas weekend.
The most likely spots for flash flooding will be in the upslope areas near mountain ranges.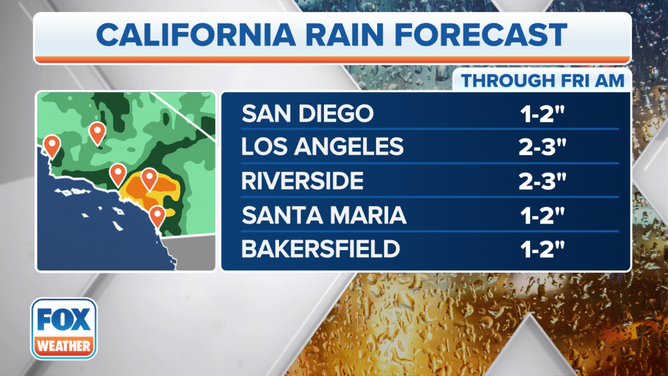 Meanwhile, heavy snow is expected in the highest elevations of California, including the Sierra Nevada.
RECORD DECEMBER SNOWFALL REPORTED AT UC BERKELEY CENTRAL SIERRA SNOW LAB
The highest snowfall totals are forecast from the southern Sierra Nevada and the Transverse Range of Southern California eastward to Utah's Wasatch and portions of the central Rockies.
Snow totals in the highest peaks of these regions will be measured in feet, which, when combined with whiteout conditions, will result in hazardous and, at times, near-impossible travel conditions through the mountains.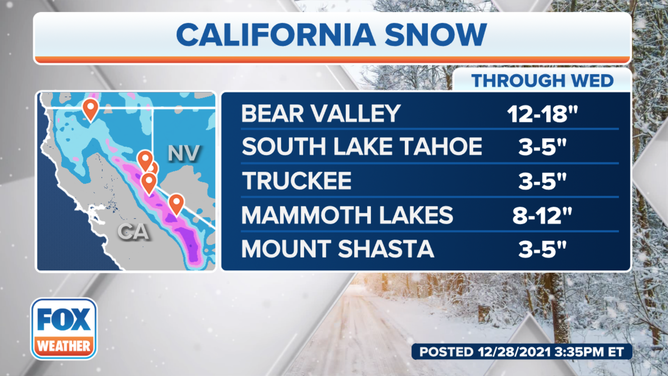 Donner Pass, in the Sierra Nevada, has already received more than 200 inches (over 16 feet) of snow this month, making it the snowiest December on record at that mountain pass.
Rain and mountain snow will continue to fall across the West through the end of the week.