Flash flooding emergency leaves widespread water damage in Massachusetts town
Officials said that intense rainfall from thunderstorms led to roadways being washed out and floodwaters entering homes and businesses in Leominster, Massachusetts.
LEOMINSTER, Mass. – Residents in Leominster, Massachusetts, are still cleaning up Wednesday after torrential rains led to widespread flash flooding issues in town Tuesday. 
The National Weather Service in Boston reported that 5-8 inches of rain fell, leading to forecasters issuing a flash flood emergency.  The torrential downpours led to washed-out roadways and floodwaters entering homes and businesses in Leominster.   
Leominster Mayor Dean Mazzarella took to social media posting several live walk-and-talk updates on the state of his flooded town, illustrating the widespread damage.
Some businesses have feet of water in their basements, he said. A car dealership in town reports significant damage to their business and a 6-foot sinkhole that has swallowed three cars.
Another sinkhole washed out a road and the foundation of a home along Pleasant Street. In town, one four-story building has partially collapsed as the swollen river undermined the foundation.
"This is just one of the many situations we're dealing with today," Mazzarella said.
The heavy rains put strain on some of the local dams. People in low-lying areas downstream of the Barret Park Pond Dam near Leominster were asked to leave Tuesday and head to a nearby middle school for shelter, according to Massachusetts state emergency officials. A second dam is also being monitored, but so far no issues had been reported. 
Around 30 people had to be rescued by boat when floodwaters swamped a mobile home park. 
"It was pretty hairy at times," Mazzarella said, adding that all made it safe. 

Along Hamilton Street, floodwaters burst through a railroad embankment, sending a torrent of water and debris across the street into nearby homes, trapping cars in feet deep of water and earth and leaving the train tracks in ruins.
"Everybody who walks up here says the same thing: 'What the heck?!?'" Mazzarella said.
As he walked along another part of town that had been flooded, he highlighted all the random debris that had been carried into town from someplace upstream, including a full dumpster now sitting near a grassy spot along what usually is a tranquil riverside bank.
"That dumpster was somewhere else. That dumpster was full, it came from somewhere else, and we don't know where it came from," Mazzarella said. "So the water dragged that from the river… when the river came above the crest."
Another 40-foot storage unit washed from origins unknown was found nestled stuck among the trees along the river bank.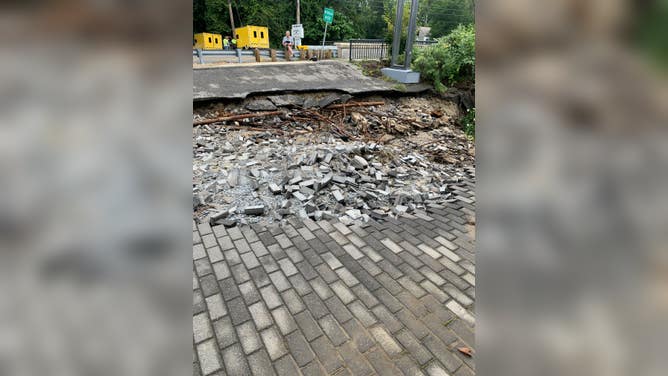 Schools were closed in town Tuesday as crews worked to assess and repair damage. Route 2 finally reopened Tuesday morning after it was buried in floodwaters Monday night. 
"We've towed hundreds of cars out of flooded areas," Mazzarella told FOX Weather Tuesday. "We had areas where people thought it was 6-8 inches of water and could drive through it. Next thing you know, they're standing on their roof waiting to be rescued."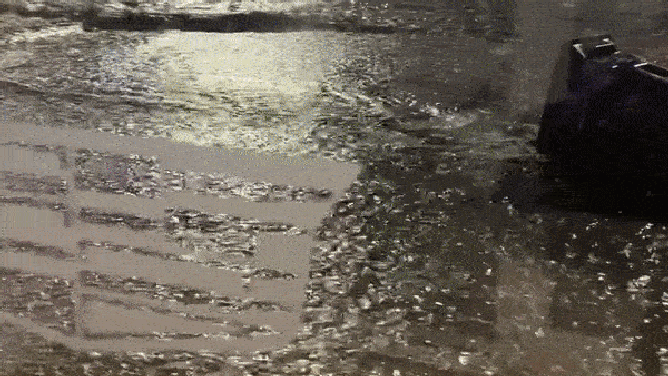 Flood waters swamp other cities in Massachusetts, Rhode Island 
In Hampden County, several cars were stuck in floodwaters with an exit on Interstate 291 flooded under 5 feet of water.  
Heavy rains triggered flooding in Rhode Island as well. Providence reported streets covered with water with cars trapped, with water flooding into some homes along Fairhaven Road.
Ongoing thunderstorms continue to bring heavy rain to the area, with several more inches of rain expected. A Flash Flood Watch is in place for parts of Massachusetts, Rhode Island and Connecticut early Tuesday morning.  
A brief break was coming later Tuesday, but more rain was coming Wednesday. And residents are keeping a weary eye on Hurricane Lee with its expected track off the New England shores this weekend that could bring additional rounds of heavy rain this weekend.