First nor'easter of season to lash East Coast with high winds, heavy rain and flooding
The Tuesday evening commute may be particularly impacted by high winds and heavy rain
A rapidly strengthening storm system will become a nor'easter off the East Coast this week, lashing parts of New England and the mid-Atlantic with high winds, heavy rain and flooding.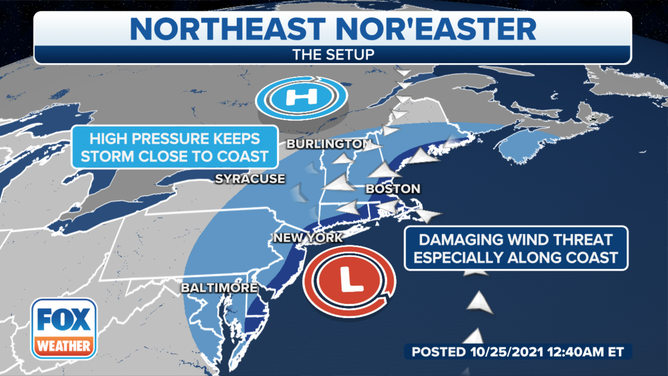 An area of low pressure was moving into the Northeast on Monday evening, triggering the development of a strong low-pressure system near the New Jersey coast Monday night.
High pressure in southeastern Canada will interact with this area of low pressure off the Northeast coast, creating a damaging wind threat along the coast due to the enhanced pressure difference between the high and the low.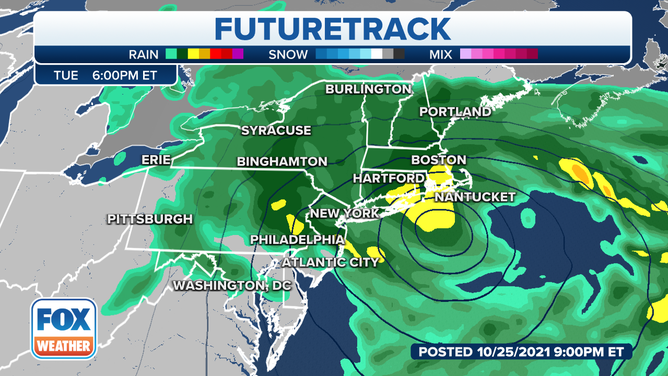 Monday night, areas of heavy rain will begin spreading across New England and the northern mid-Atlantic. Periods of heavy rain will continue through Tuesday and into Wednesday.
WHAT MAKES A STORM A NOR'EASTER?
Many areas from New Jersey to Maine will receive 2 to 5 inches of rain, with locally higher amounts of 5 to 8 inches possible in some spots.
The National Weather Service has issued Flash Flood Watches from New Jersey to Massachusetts, where the heaviest rain is expected from this nor'easter.
Rainfall rates may exceed 1 inch per hour at times, which could cause roadway flooding and ponding of water in low-lying areas.
The Tuesday evening commute may be particularly impacted by heavy rain.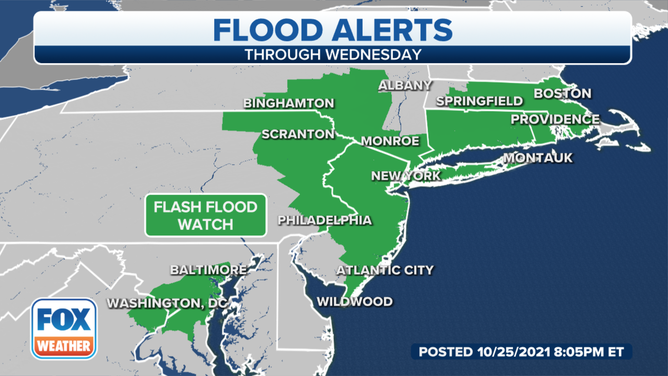 Additionally, wind gusts as high as 50 to 60 mph are possible from Long Island to coastal Massachusetts Tuesday into Wednesday.
These strong winds could blow down trees and power lines, leading to potential power outages. Travel may be difficult, especially for high-profile vehicles.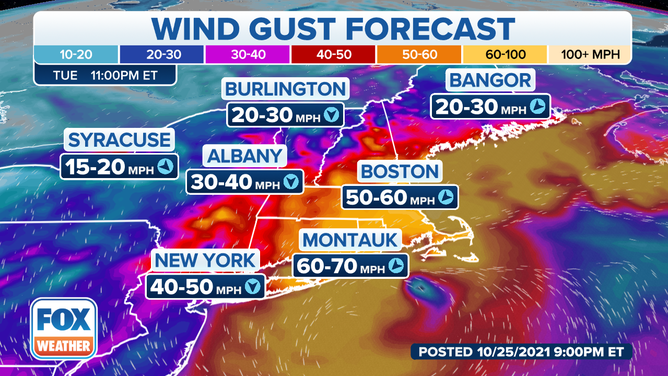 The winds are predicted to reach their peak intensity late Tuesday into early Wednesday, with the strongest gusts expected along the coast, though winds will still reach 30 to 50 mph farther inland.
WHY THE SCIENCE OF SUPERSTORM SANDY WAS BOTH NORMAL AND ABNORMAL
The National Weather Service has issued High Wind Warnings and Wind Advisories from Tuesday morning through Wednesday afternoon for portions of eastern, northeastern and southeastern Massachusetts, including Martha's Vineyard and Nantucket, and all of Rhode Island, including Block Island.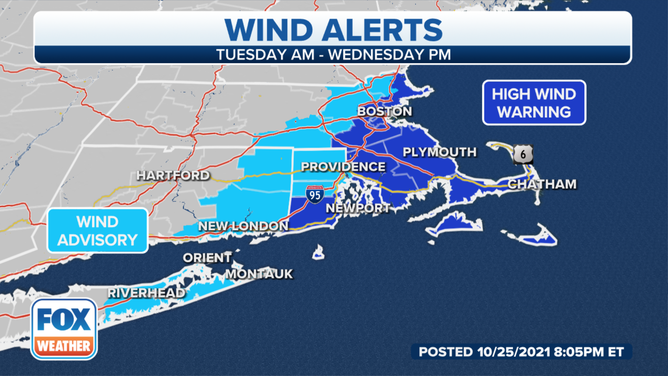 Already, New Jersey Governor Phil Murphy issued a state of emergency Monday for all 21 counties in the state. Murphy said his order allows resources to deal with the storm to be deployed across the state.
New York City Emergency Management also issued a travel advisory for the city from Monday evening through Tuesday afternoon, warning drivers of impacts to both their morning and evening commutes on Tuesday.
It's not out of the question this nor'easter could acquire some tropical or subtropical characteristics later in the week while it moves eastward away from the Northeast coast.
The National Hurricane Center has given it a 40% chance of development in the next five days. If it becomes a named storm, it would earn the final name on this year's naming list for the Atlantic: Wanda.