Firefighters gain some control of New Mexico's Hermits Peak, Calf Canyon fire
Fire suppression efforts coming from the ground and air
LAS VEGAS, N.M. - The Hermits Peak and Calf Canyon Fire burning outside Las Vegas, New Mexico, has now grown to more than 300,000 acres.
The Hermits Peak fire began as a prescribed burn on April 9 but became uncontrollable when winds picked up and scattered embers across the area. The cause of the Calf Canyon fire, which started on April 19, is still under investigation.
The two fires then merged into one large fire as the flames continued to spread.
HOW TO WATCH FOX WEATHER ON TV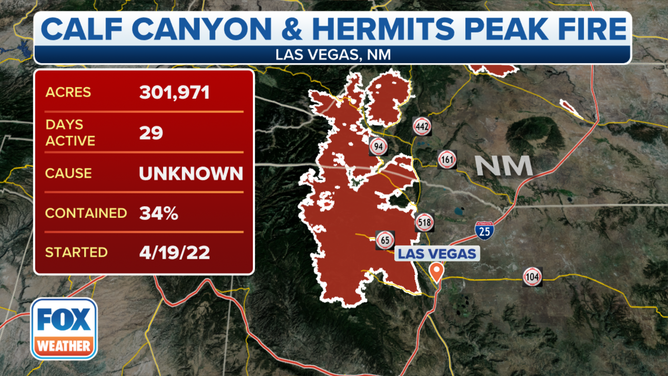 The fire has grown to nearly 302,000 acres, with containment up to 34% as of Wednesday morning.
Nearly 2,000 firefighters are working to extinguish the flames, with suppression efforts coming from ground crews and aircraft, if conditions allow.
Fire officials said the blaze has been broken into three zones – East, West and South.
HOW THE LAY OF THE LAND AFFECTS WILDFIRE BEHAVIOR
Fire crews, heavy equipment and aircraft are continuing firefighting efforts in the northwest corner of the fire and made some progress in preventing the flames from spreading rapidly.
The West Zone includes the areas of Mora, Holman, Cleveland, Ledoux and other communities to the west of the 434 corridor, according to officials.
In the East Zone, significant progress was made on the north and northeastern portions of the fire, adding additional containment lines and worked to cool down hot spots along the fire's perimeter.
In the afternoon, some rain provided precipitation over the South Zone on Tuesday, which fire officials said temporarily diminished fire activity. Crews then worked on the fire line in the Pecos River corridor and along the west perimeter to reestablish a previously compromised line.
WHAT TO DO IF A WILDFIRE PROMPTS A POWER OUTAGE
Residents within the fire's perimeter were told to remain on high alert for changes to evacuation statuses and road closures as the fire continues to spread. That includes those living and working in San Miguel, Mora, Taos and Colfax counties.
Thousands of residents were told to leave the area because of the fire, and nearly 200 homes have been burned so far.
For more information on evacuation orders, click here.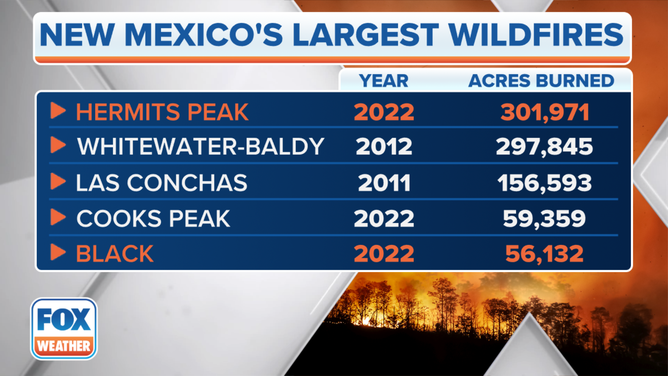 The Hermits Peak and Calf Canyon Fire is now the largest in New Mexico's history.
CLICK HERE TO GET THE FOX WEATHER UPDATE PODCAST
The Whitewater-Baldy Fire burned nearly 300,000 acres in 2012 and previously held the record of being the largest fire in the state's history.
The Las Conchas Fire, which occurred in 2011, burned 156,593 acres.