Fairview Fire kills 2, destroys homes and prompts evacuations in Southern California
After rapidly growing to 4,500 acres, the Fairview Fire burned nearby homes and prompted evacuations for parts of Southern California.
HEMET, Calif. – A fast-moving brush fire started in Southern California Monday, burning nearby homes, prompting evacuations and closing schools after rapidly growing within hours.
The Fairview Fire started around 4 p.m. Pacific time Monday near Hemet, California. Firefighters say when they first responded, it had only burned 20 acres but quickly stretched to 500 acres by 5 p.m. According to Cal Fire officials, the blaze increased to 4,500 acres and was 5% contained as of late Monday night. 
Cal Fire officials confirmed to FOX 11 Los Angeles two people died in the fire, and a third was injured with burns and hospitalized. Officials said the two victims were killed in the same area when they were trying to evacuate. Their identities have not been released.
The blaze has destroyed seven structures, including several homes. 
WHAT SHOULD BE IN YOUR EVACUATION 'GO' BAG DURING WILDFIRE SEASON
The wind and extreme heat are hindering firefighters' efforts and helping the flames quickly spread. 
Evacuation orders and warnings 
The Fairview Fire has grown to 2,000 acres..
(FOX Weather)
---
Cal Fire announced evacuation orders Monday evening for the following areas:
South of Thornton Avenue
North of Polly Butte Road
West of Fairview Avenue
East of State Street.
South of Stetson
North of Cactus Valley Road
An evacuation reception site is open at Tahquitz High School in Hemet. 
Officials did not say when the evacuation orders would be lifted.
WHAT DO LEVEL 1, 2, AND 3 EVACUATIONS MEAN DURING WILDFIRES?
Several areas are under evacuation warnings, including Bautista Canyon Road and North of the Two Streams Fork trailhead. 
An evacuation warning means there is a high probability of an evacuation order, and residents should be ready to leave.
Hemet schools closed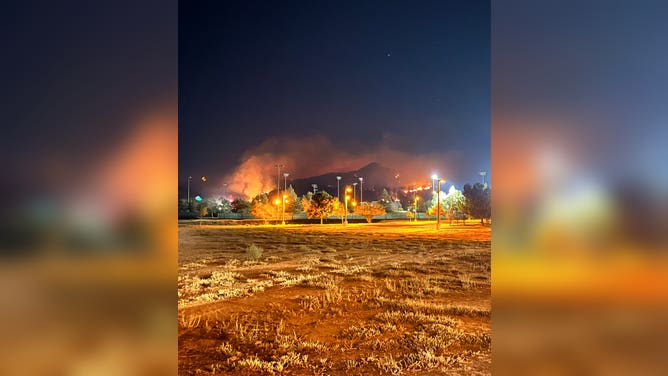 Due to the wildfire, all Hemet Unified School District schools will be closed on Tuesday.
"This decision was not made lightly, but after considering local authorities' advisement and evacuation orders, transportation impacts, the current level of fire containment, and the possibility of power outages with anticipated high temperatures, we feel that closing schools tomorrow is necessary to ensure the safety of students, staff, and families," the school district said in a statement.
School closures will continue until fire conditions improve. 
The cause of the fire remains under investigation.
Radford Fire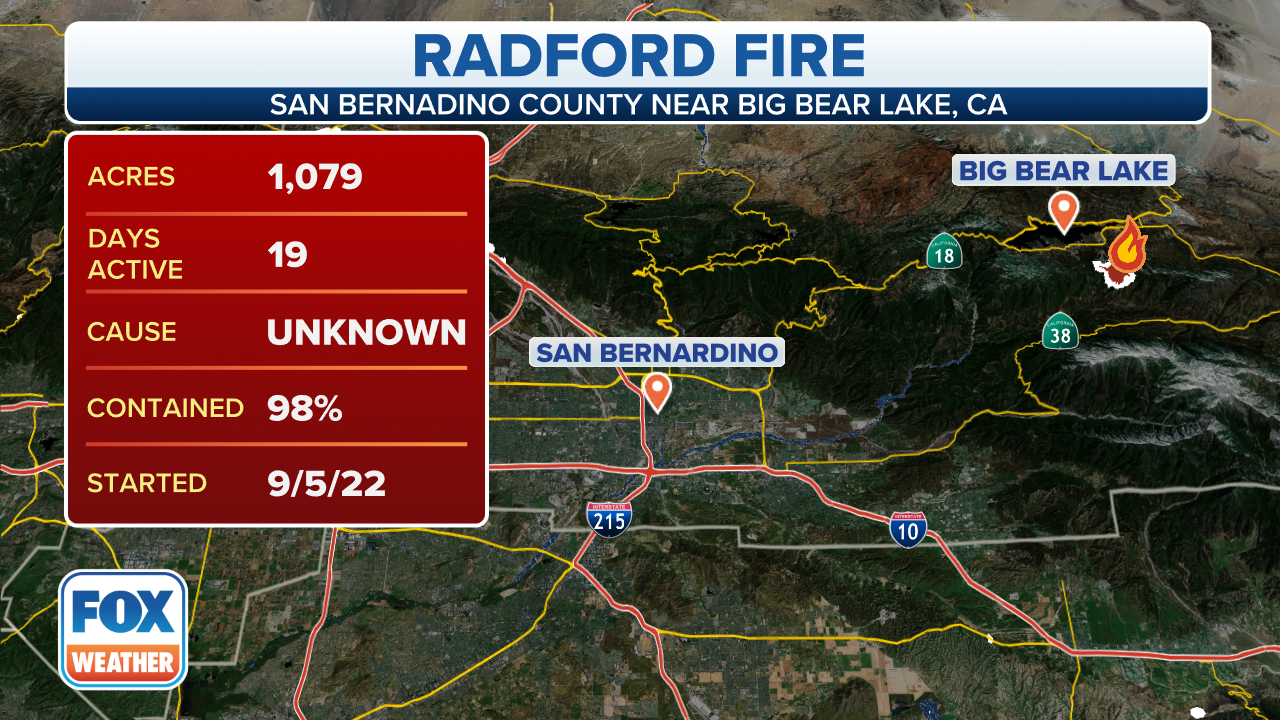 The Radford Fire started in San Bernardino County on Monday.
(FOX Weather)
---
Flames from another wildfire in San Bernardino can also be seen from Hemet. 
In San Bernardino County, the wildfire was reported Monday around 1:30 p.m. by a Forest Service Helicopter doing lightning reconnaissance. 
Fire officials said the Radford Fire is burning north of Highway 38 in the Barton Flats Area. 
The sheriff's office has ordered evacuations for the area between Glass Road and South Fork River Road.
The U.S. Forest Service and San Bernardino County Fire departments are responding to the 917-acre blaze.
Record heat scorching Southern California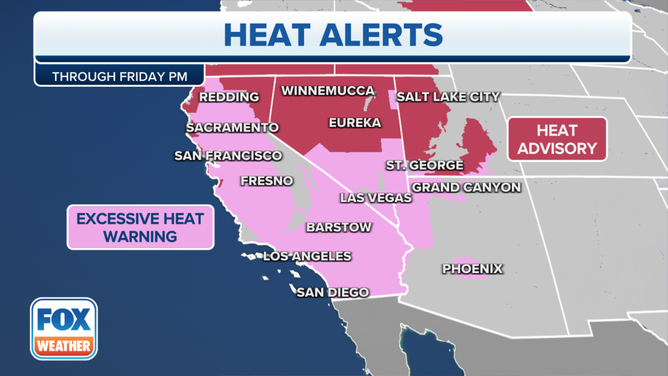 A record September heat wave continues to broil parts of the West and Southwest as parts of California approached 115 degrees over the Labor Day weekend.
Nearly 50 million people in the West remain under heat alerts, with 40 million under an Excessive Heat Warning, including a vast majority in California and southern Nevada.
HISTORIC HEAT WAVE SCORCHES WEST AS TEMPERATURES REACH 115 IN CALIFORNIA
Little relief is in sight for firefighters or residents as temperatures are not forecast to cool on Tuesday. High temperatures are once again expected to warm above 110 degrees for some areas across the West and Southwest.
Excessive Heat Warnings remain in effect for most of California through Friday evening.