Farmers recovering after derecho flattens some South Dakota cornfields
Greensnap, also known as brittle snap, is the condition where rapidly growing stalks are broken by solid and sudden winds associated with thunderstorm downbursts
MITCHELL, S.D. – A derecho swept across South Dakota earlier this week, unleashing strong winds, heavy rain, hail and eerie green skies.
The severe storms caused damage across the state, even impacting farmers and their crops. 
HOW TO WATCH FOX WEATHER ON TV
Chet Edinger has been farming for 30 years. Due to the weather risk, he has a rotation of corn and soybeans and more drought-resistant crops like wheat and sunflowers.
Edinger was checking the weather Tuesday morning and saw that the National Weather Service said a derecho was possible for the area, so he decided to buy additional hail insurance to help mitigate the financial losses. And while it helped cover his farm for any hail, none fell on his land. 
"We got straight-line winds," Edinger said. "We had up to 48 mph winds come through. When this storm came through, the eastern part of the state got even heavier winds at 70 to 90 miles an hour."
WHY THE SKIES OVER THE PLAINS TURNED GREEN DURING TUESDAY'S DERECHO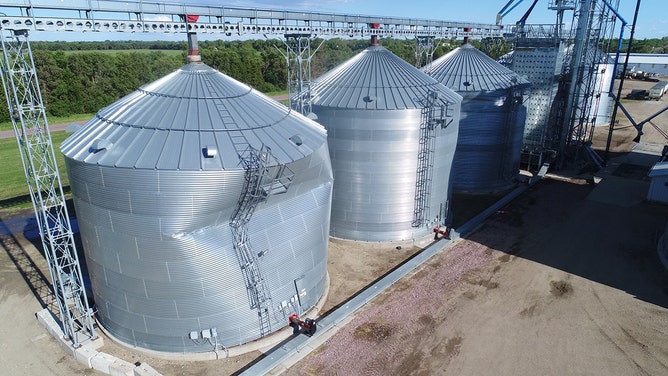 Adverse weather is a part of life in South Dakota, and farmers like Edinger learn to work with it over time. While windstorms are not uncommon, they watch and try to manage them.
Greensnap, also known as brittle snap, is the condition where rapidly growing stalks are broken by solid and sudden winds associated with thunderstorm downbursts, according to the Iowa State University Extension and Outreach.
Conditions that favor rapid growth, like adequate nitrogen, high temperatures and good soil moisture, will increase the incidence of greensnap. 
Several factors influence the occurrence and severity of greensnap, the Extension said. Timing, direction and velocity of winds, growing conditions, management practices and hybrid characteristics are all key. 
Heavy wind during cool morning hours will cause more greensnap than if the wind occurred during the heat of the day, the Extension reports.
"You can see some snapped-off corn … but overall, we came out pretty decent," Edinger said. "The farmers on the eastern part of the state got hit real hard. They were basically shoulder-high and are now knee-high. And those are tough to see."
Edinger considers his corn a "home run" crop. His production varies yearly and can yield half a million to a million bushels, depending on acres planted, weather and other variables.
"Swinging for the fence, you can hit a home run, but sometimes you strike out, and that's mostly weather dependent," he said.
Farmers have been dealing with heat and extreme weather in portions of South Dakota, which has impacted their crops.
"The heat was stressing us in June," Edinger said. "The one good news about this derecho that came through is it did drop an inch of rain to an inch and a half of rain across our farm. So that's going to help mitigate that stress."
'DESTRUCTIVE' THUNDERSTORM ALERTS: WHAT THEY ARE AND WHY THE NWS ISSUES THEM
Ideally, Edinger would like to see an inch of rain a week and temperatures below 90 degrees. But that's asking for a lot. 
"In South Dakota, we don't always get that," he said.
CLICK HERE TO GET THE FOX WEATHER UPDATE PODCAST
Be sure to download the FOX Weather app to track any storms in your area and receive potentially life-saving weather alerts issued by the National Weather Service. The free FOX Weather livestream is also available 24/7 on the website and app and on your favorite streaming platform. The FOX Weather Update podcast also provides weather information for the entire country.