Records fall like dominoes as millions in Midwest, Northeast sweat with summerlike temperatures continuing
The high temperature in Minneapolis reached 92 degrees on Sunday, which is now the highest temperature on record for the month of October. The extreme heat forced race officials to cancel the 2023 Twin Cities Marathon.
NEW YORK – More record-high temperatures are in jeopardy of being broken Wednesday as summerlike warmth continues to bake millions of Americans, but relief is coming by the end of the week as one of the first October storms sweeps across the nation, bringing cooler weather behind it.
The U.S. has seen several days of record-breaking heat, including in Minneapolis, which saw its highest October temperature on record when it hit 92 degrees on Sunday.
7 WEATHER CHANGES TO EXPECT IN OCTOBER
Locations where record warmth was reported on Monday, October 2, 2023.
(FOX Weather)
---
And more than a dozen records were broken Tuesday in the Upper Midwest and Great Lakes region, where temperatures soared into the upper 80s in many areas, including the 'ice box of America,' International Falls Minnesota where the afternoon high reached a sweltering 84 degrees.
Records could fall in the Northeast
It may be fall, but it certainly hasn't felt like it in the Northeast and New England, and the heat could break records over the next couple days.
The Midwest starts dropping on Wednesday.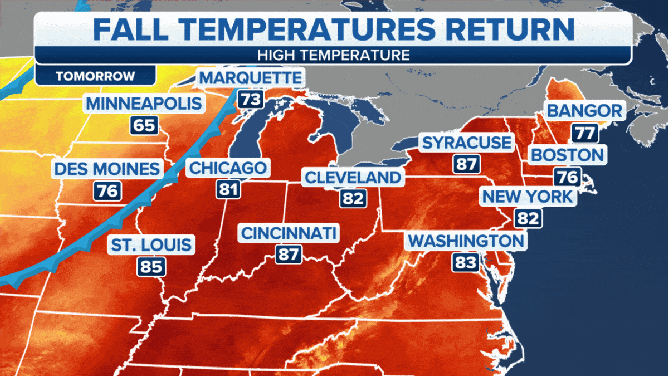 Minneapolis, which hit 87 degrees on Tuesday, will see temperatures plunge to 54 degrees by Friday.
In the East, however, temperatures will remain warm for the next few days until the cold front moves in and brings in crisp, fall air.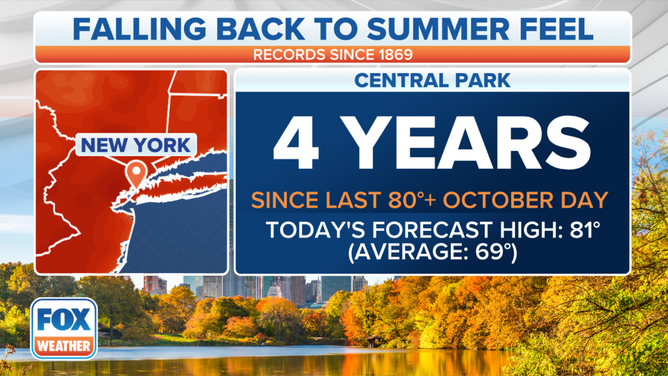 New York City hit 80 degrees on Tuesday afternoon, making it the first time that has happened in October in four years. The Big Apple should only reach the low 70s by Friday.
Boston hit 83 on Tuesday but won't get out of the 60s this weekend.
More records could fall on Wednesday.
(FOX Weather)
---
Before temperatures drop, though, record warmth is possible across the Northeast and New England.
On Wednesday, Binghamton, could shatter its old record of 78 degrees with a forecast high of 82 degrees.
Burlington, Vermont, could also break its old record of 82 degrees with a forecast high of 85 on Wednesday.