Severe Thunderstorm Watch issued for parts of Plains amid threat of storms with hail, damaging wind
Storms could produce damaging wind gusts and hail
A storm system moving through the northern part of the country on Wednesday could produce a chance of showers and storms from the Rockies through the upper Midwest.
Due to frontal boundaries and the existence of plenty of moisture, some storms will have the potential to turn severe with large hail and damaging winds.
NOAA's Storm Prediction Center said the greatest chance for severe weather will be during the evening from Wyoming through Minnesota.
HOW TO WATCH FOX WEATHER ON TV
Happening now
The Storm Prediction Center has issued a Severe Thunderstorm Watch until 8 p.m. Mountain for northern Nebraska, western and central South Dakota and northeast Wyoming.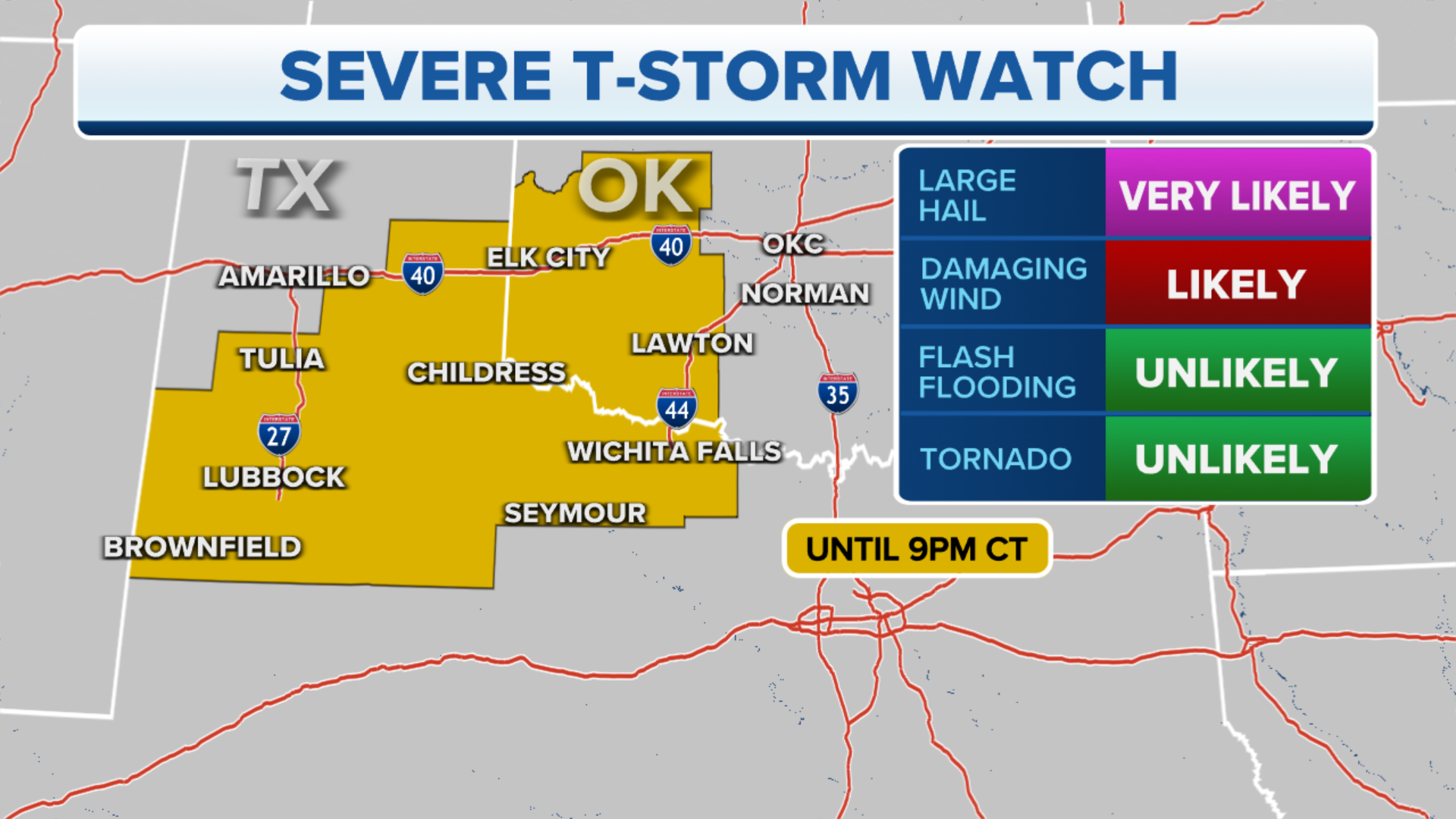 A Severe Thunderstorm Watch is indicated in yellow, while a Tornado Watch is indicated in red.
(FOX Weather)
---
The forecast
The SPC has highlighted an area that stretches from Minnesota and the Dakotas through the Central Plains and parts of the northern Rockies as having a chance of seeing severe weather on Wednesday. However, there's a higher chance from Grand Forks and Fargo in North Dakota south through Watertown and Pierre in South Dakota.
Wednesday's Severe Weather Threat
(FOX Weather)
---
As with any severe thunderstorm, there is the threat of damaging winds.
There's a higher chance for wind gusts higher than 75 mph in South Dakota. Communities that need to be weather aware include Mobridge, Aberdeen, Watertown, Campbell, Clifton, Pierre and Chamberlain.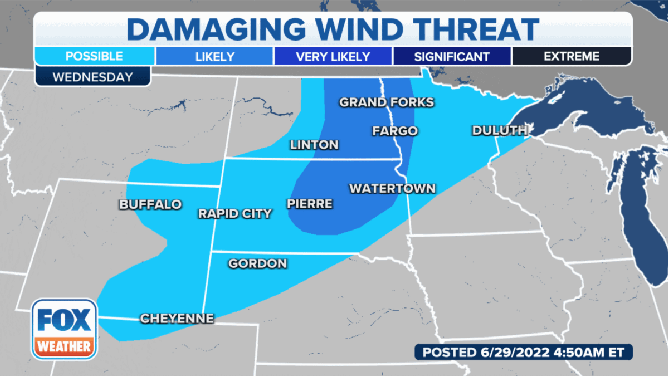 Hail is also a concern, but the SPC has highlighted areas of North Dakota and Minnesota where the threat of 2-inch hail or larger is possible. Those communities with the highest risk include Cando, Glenfield, Jamestown, Carlisle, Grand Forks and Fargo in North Dakota, as well as extreme northwestern Minnesota.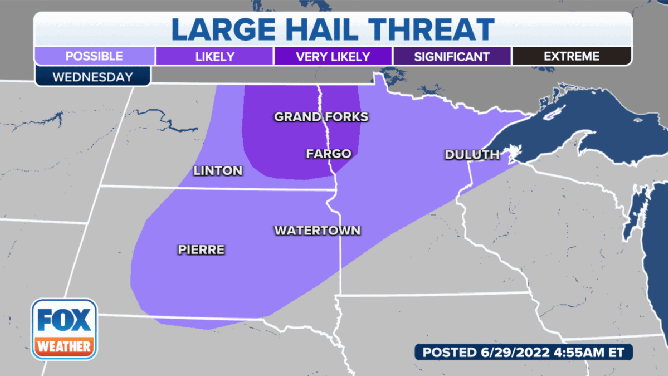 Because the storms will be widely scattered, meteorologists are not anticipating a significant outbreak or a substantial flood threat.
Forecast models show most rainfall accumulations will be below an inch as the clusters of storms move relatively quickly to the east and northeast.
Rainfall Accumulation Outlook
(FOX Weather)
---
The chance of seeing strong to severe storms will shift eastward on Thursday and could include cities such as Green Bay, Wisconsin; Des Moines, Iowa; Omaha, Nebraska; and Minneapolis.
Meteorologists warn the highest risks on Thursday will again be for hail and damaging winds.
CLICK HERE TO GET THE FOX WEATHER UPDATE PODCAST
Thursday's Severe Weather Outlook
(FOX Weather)
---
Be sure to download the FOX Weather app to track any storms in your area and receive potentially life-saving weather alerts issued by the National Weather Service. The free FOX Weather livestream is also available 24/7 on the website and app and on your favorite streaming platform. The FOX Weather Update podcast also provides weather information for the entire country.