Thousands dead after magnitude 6.8 earthquake strikes western Morocco
Strong earthquakes around the High Atlas mountains are rare, according to the U.S. Geological Survey. Many buildings were reduced to rubble in Marrakech.
MARRAKECH, Morocco – More than 2,000 people have been reported killed, and at least 2,000 others were injured after a powerful 6.8 earthquake rocked the African nation of Morocco Friday night, destroying buildings and leaving scenes of chaos.
The U.S. Geological Survey reported the strong earthquake occurred southwest of Marrakech, the country's fourth-largest city, and occurred at a shallow depth of around 16 miles underground.
Videos posted online show debris falling from buildings, blocking pathways, and survivors looking for victims amidst the rubble of several buildings.

Marrakech, the nearest big city to the epicenter, suffered damage and residents spent the night in the open, afraid to go home, Reuters reported. In villages to the south closer to the epicenter, state television reported dozens of homes and collapsed.
The Royal Moroccan Armed Forces reports it has deployed several search and rescue teams, as well as doctors and a surgical field hospital.
The United States government is working to ensure Americans in the country are safe and President Joe Biden released a statement that read, "I am deeply saddened by the loss of life and devastation caused by the earthquake in Morocco. Our thoughts and prayers are with all those impacted by this terrible hardship. My administration is in contact with Moroccan officials. We are working expeditiously to ensure American citizens in Morocco are safe, and stand ready to provide any necessary assistance for the Moroccan people. The United States stands by Morocco and my friend King Mohammed VI at this difficult moment."
Videos of a 12th century mosque in Marrakech showed damage to the structure and bystanders rushing for safety in case of a collapse.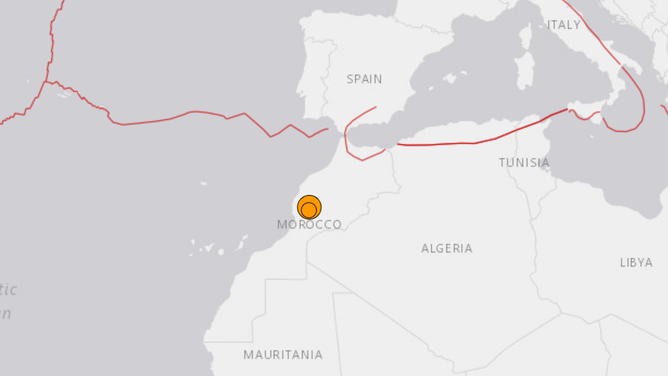 HOW TO WATCH FOX WEATHER ON TV
Turkey's Emergency Management Authority said it was prepared to send more than 250 personnel and other supplies to the kingdom.
Strong earthquakes in the region are uncommon, but not unexpected, according to the USGS. Since 1900, there have been less than half a dozen magnitude 5 or larger quakes.
They added that this earthquake occurred within the Africa Plate, which is located about 340 miles south of the plate boundary between the Africa and Eurasia plates.
The deadliest quake to strike the region is known as the 1960 Agadir earthquake. Health estimates stated between 10,000-15,000 were killed during the natural disaster.
At least one aftershock was estimated by seismographs to be a magnitude 4.9 on Friday evening.