Early-week winter storm continues to bring snow, ice from upper Midwest to northern New England Tuesday
A second winter storm will follow on this one's heels and sweep across a large portion of the US during the second half of the week
An early-week winter storm continues to track across the nation's northern tier on Tuesday, spreading snow and ice from the upper Midwest and northern Great Lakes to northern New England. A second winter storm will follow on this one's heels and sweep across a large portion of the United States during the second half of the week.
This first winter storm has dumped more than a foot of snow near the North Dakota/South Dakota border, while up to 17 inches has piled up in portions of western Minnesota and as much as 2 feet has buried parts of northwestern Wisconsin. The top snow total so far is 24 inches near Washburn, Wisconsin.
Duluth, Minnesota, broke its daily snowfall record Monday when 6.3 inches was recorded in the city. The storm also brought 9.1 inches of snow to Billings, Montana, Sunday into Monday.
SECOND WINTER STORM THIS WEEK WILL SPREAD SNOW, ICE ACROSS WEST, PLAINS, MIDWEST AND NORTHEAST
Heavy snow from this storm caused a major pileup in North Dakota on Monday that forced the closure of a stretch of Interstate 94. Firefighters were called to the scene to rescue pinned drivers.
The National Weather Service has issued various winter weather alerts from portions of the Dakotas and Nebraska into the upper Midwest, northern Great Lakes and northern New England. Minneapolis/St. Paul and Fargo, North Dakota, are among the cities covered by a Winter Storm Warning.
The worst driving conditions will occur where Winter Storm, Blizzard and Ice Storm Warnings are in effect, though snow and ice could still lead to slippery roads in the areas under Winter Weather Advisories.
WEATHER WIRE: MOST OF U.S. UNDER WEATHER ALERTS AS LARGE STORM CROSSES COUNTRY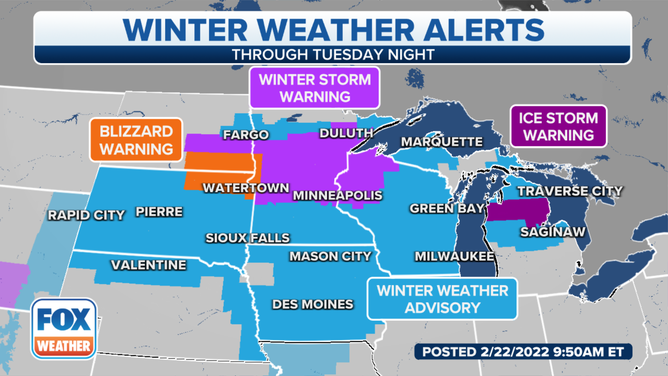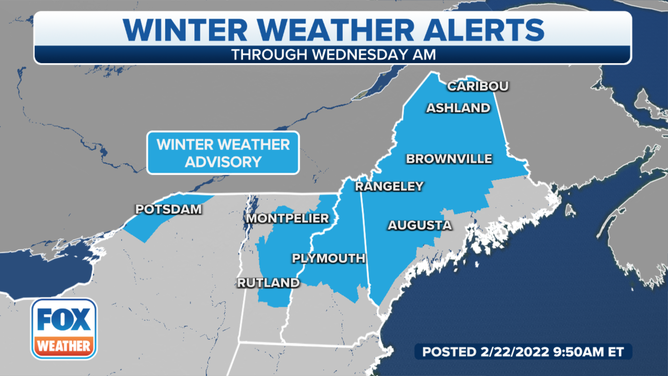 On Tuesday, the upper Midwest and northern Great Lakes will continue to see periods of heavy snow.
There will also be a band of sleet and freezing rain extending from northeastern Iowa into southern and eastern Wisconsin and northern Lower Michigan.
SNOW, SLEET, FREEZING RAIN AND HAIL: WHAT'S THE DIFFERENCE?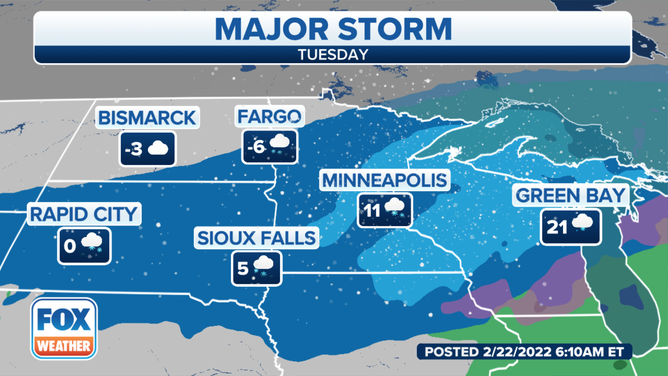 Later in the day Tuesday, the snow, sleet and freezing rain will also spread into parts of far northern New York, northern Vermont, northern New Hampshire and northern Maine. 
This winter storm should then wind down across most of these areas overnight into Wednesday morning.
The heaviest additional snow through early Wednesday will blanket portions of central and northeastern Minnesota, northern and central Wisconsin, the Upper Peninsula of Michigan and far northern Maine.
This could lead to slippery roads and hazardous driving conditions in Minneapolis/St. Paul through Tuesday evening.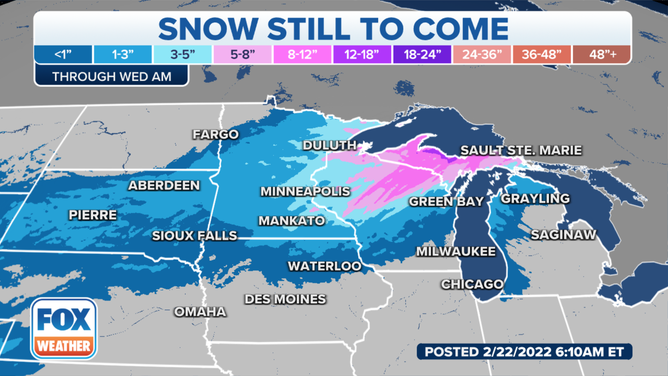 Freezing rain will also result in some ice accretion from northeastern Iowa into far northern Illinois, southern Wisconsin, northern Lower Michigan and far northern New England.
The ice will cause roads in these areas to become slippery, making for dangerous driving conditions into Tuesday night.
Areas under an Ice Storm Warning in northern Lower Michigan have the highest risk of seeing tree damage and power outages from the weight of the ice.
HOW MUCH ICE IS NEEDED TO KNOCK OUT POWER, DAMAGE TREES?