Spring looks warm and dry for already parched parts of US
La Niña will also likely lead to a more active severe weather season, NOAA says
Any hopes that a wet start to winter in the western U.S. will lead to a break from drought conditions will be dashed this spring, according to a seasonal outlook issued by the National Oceanic and Atmospheric Administration on Thursday.
Government meteorologists said the La Niña that persists in the Pacific Ocean will lead to a warmer and drier spring in already parched parts of the country.
Forecasters also said the weather pattern typically created by the presence of a La Niña usually leads to a more active spring severe weather season. That seems to be the case with severe storms tracking across much of the southern U.S. through early next week.
Here is a closer look at NOAA's seasonal outlook for the three-month period between April and June.
Temperatures
The temperature outlook calls for above average temperatures across the eastern two-thirds of the U.S. with the warmest weather expected in Southern Plains and parts of the Southwest. Below average temperatures are forecast across the northern Rockies and the Pacific Northwest.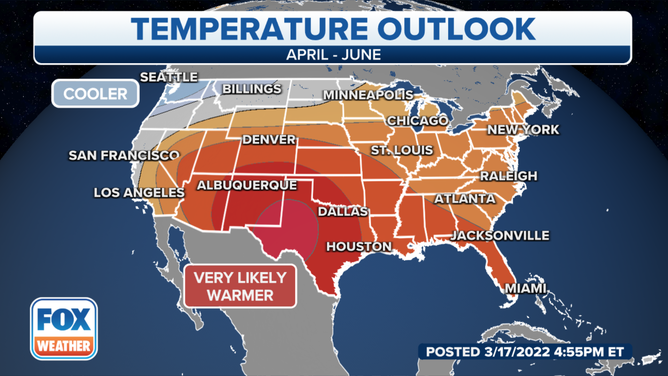 Precipitation
Precipitation for the same period looks to be below average across the western two-thirds of the nation, with the driest weather expected across the Southern Plains and the Intermountain West. Above-average precipitation is forecast across the Great Lakes and Midwest.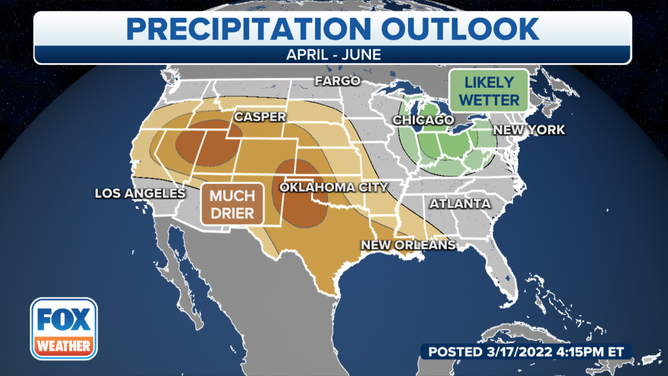 Drought
NOAA officials said about 60% of the Lower 48 is experiencing drought, which is the largest expanse since 2013. With the forecast of below average rainfall across already drought-stricken areas will allow that drought to persist. Drought is forecast to develop in parts of Arizona, Kansas and Texas. Improving conditions are forecast for much of the Atlantic and Gulf coasts and the western Great Lakes and eastern Midwest.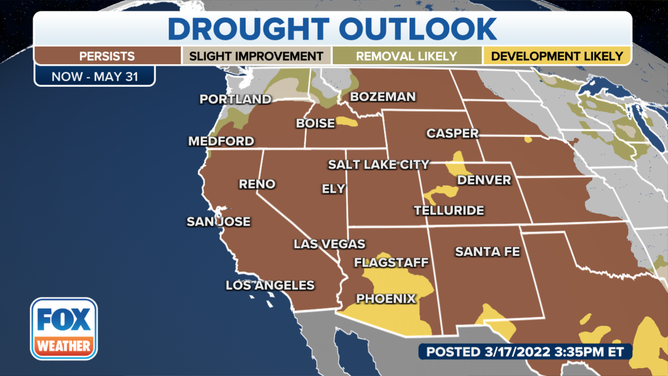 Flooding
The flood outlook showed elevated risks of flooding from the Northern Plains and Upper Midwest, south to the Lower Mississippi River Valley and east into the Ohio River Valley. These are areas that have already been hit with soaking rains during winter. The highest risk for spring flooding is in the Red River region of eastern North Dakota and northwestern Minnesota. Moderate risks of flooding exists across Indiana, Illinois and Missouri.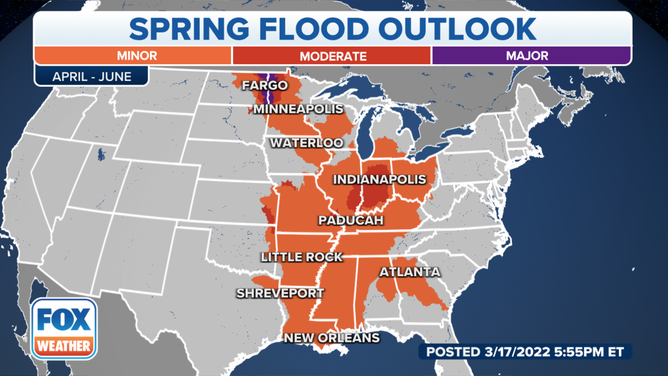 Download the FOX Weather app to get weather alerts and forecasts for your location anytime. You'll also have the FOX Weather livestream with you wherever you go. Get started at foxweather.com/app. There are also several ways to watch FOX Weather on your TV.