Florida shows significant drought improvement after weeks of heavy rain
The updated NOAA Drought Monitor showed 0% of the state in extreme and exceptional drought, but the Tampa Bay area is still under severe drought.
Florida seemed to be a storm magnet over the past couple of weeks. Rainy season hit early and hard, according to the FOX Weather Center. The heavy rains may make beachgoers complain, but the rest of the state is celebrating. Those persistent showers erased extreme and exceptional drought off the map.
NOAA updated the Drought Monitor Thursday, which showed 0% of the state in exceptional and extreme drought. About 8% of the state, the Gulf Coast, still showed severe drought conditions. Over 14% was still in moderate drought, and 26% was abnormally dry.
NEW TO FLORIDA? HERE'S WHEN THE SUNSHINE STATE'S RAINY SEASON GETS UNDERWAY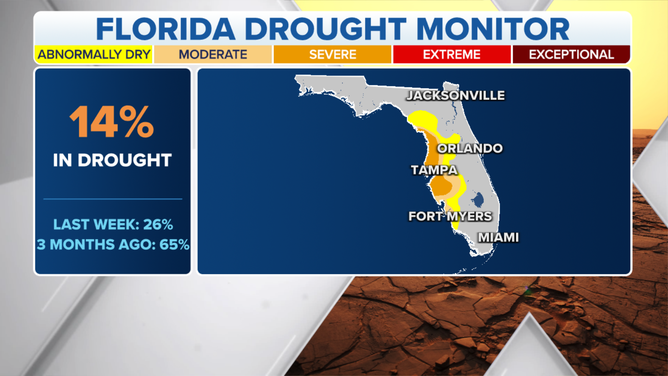 This means the occurrence of wildfires and toxic algae blooms decreases, according to drought monitor authors. In extreme and severe drought, Florida, in the past, has been plagued by those as well as a decline in groundwater quality with Lake Okeechobee extremely low, saltwater intrusion in marshes and an increase in mosquitos.
Looking at NWS stats, it should be no surprise that the Tampa Bay area still deals with low lake and river levels, burn bans, low hay yields with dry pastures and lawns and landscaping going dormant. Tampa has only received 7.34 inches of rain year to date. That's almost half of the 12.94 inches they normally see.
"If it's going to be a drought for us, it's almost always going to be the winter into the spring season," FOX 13 Tampa Bay Meteorologist Paul Dellegatto told FOX Weather.
MOST DEATHS DURING HURRICANES CAUSED BY FLOODING FROM RAINFALL, STUDY FINDS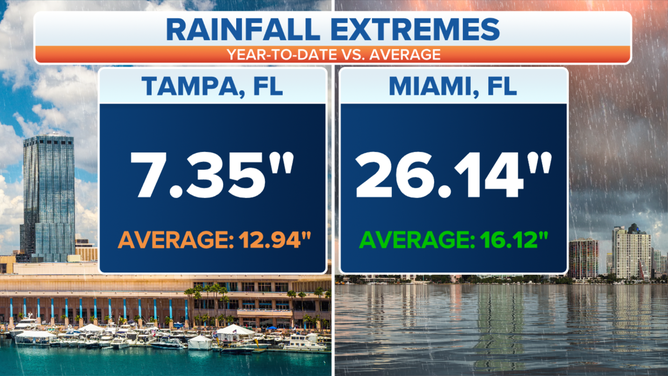 Meanwhile, Miami may be saying, "Enough." Year to date, the city has seen 26.14 inches of rain. That is almost double the 16.12 inches they normally see.
Last week, the Drought Monitor had 8.5% of the state in extreme drought and 25% under drought conditions. Three months ago, more than half the state suffered drought conditions.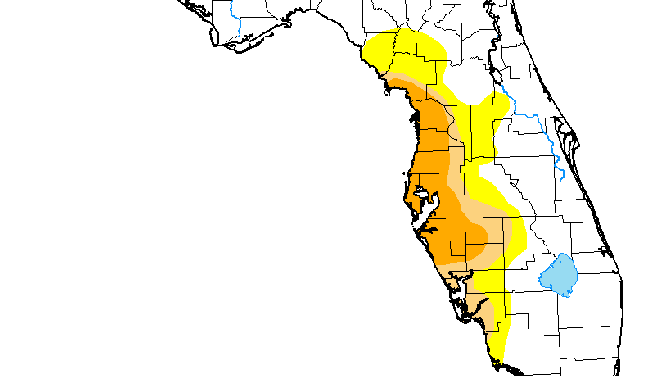 "Our droughts, unlike California, unlike places out West, are not long-term droughts," explained Dellegatto. "Once the rainy season gets going, you know, we can get eight, nine, ten inches of rain in 3 to 4 days with no trouble at all. In fact, yesterday, many of our viewers here in Tampa Bay had 4 to 5 inches of rain."
Dellegatto told FOX Weather that he would be set if he had a dollar every time someone asked him why it wasn't raining on his home.
"The messages to me are, 'Paul, why won't it rain in my house' to 'Paul, when is it finally going to stop raining?' That's how that's how our summers work," he said. "And the question really is, if this has happened in June, does it happen in July? But at some point it happens."
And with the newly formed Tropical Depression Two in the Gulf, many parts of the state will continue to see rain through the weekend. 
NOAA updates the Drought Monitor every Thursday.