Driest January and February on record for California
Snowpack on the Sierra Nevada Mountains is only at 68% of average snowfall.
California is parched after the first two months of the year. January and February 2022 were the two consecutively driest for the drought-stricken state. 
 "That's really concerning," said Sean de Guzman of California's Department of Water Resources (DWR). "Half of our annual rainfall comes during that December through February period, and we didn't get very much rain at all during the last two months." 
Only areas north of Eureka and south of Santa Barbara were not classified as "record dry." Still, they were "much below normal" for precipitation and scored in the lowest 10% of precipitation amount for Januarys and Februarys, according to the Western Regional Climate Center. Northern Nevada also suffered a record dry January and February as well.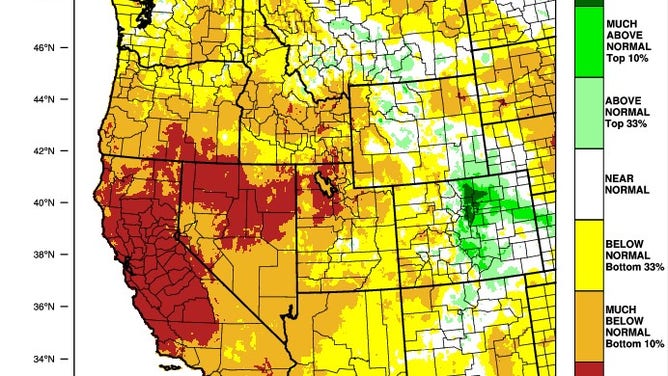 De Guzman recently surveyed the snowpack on the Sierra Nevada Mountains and found it was only 68% of normal. He is the manager of the Snow Surveys and Water Supply Forecasting at DWR.
"Snowpack in the region is a critical form of water storage," stated the Sierra Nevada Conservancy about the state's water supply. The snowpack in the Sierras supplies drinking water to over 75% of Californians.
The Golden State saw record rain and snow during December's Atmospheric River events, giving residents hope of finally wiping out the drought. Now Californians are hoping for a March miracle. 
RECORD DECEMBER SNOWFALL AT CENTRAL SIERRA SNOW LAB 
"It [drought] could end in one giant atmospheric river. That's what happened in 2017 and in various other years," said de Guzman. "But really, we have a long hole to dig ourselves out of." 
Snow is a natural water reservoir, only releasing it with the warming spring. The liquid replenishes reservoirs before the dry summer season.
SNOWFALL CONSIDERED CRUCIAL FOR LONG-TERM DROUGHT MITIGATION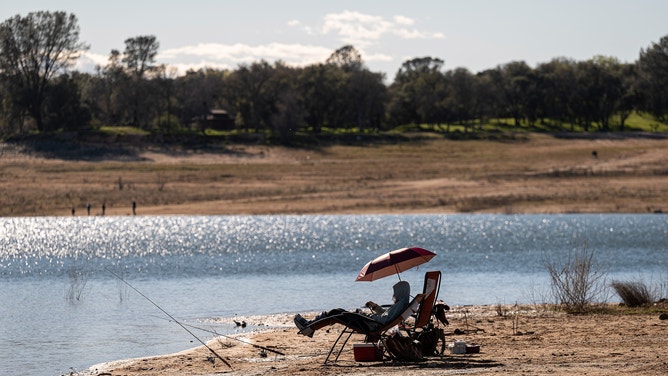 "Most of our reservoirs in California actually hit historic lows right in the middle of October of 2021," said de Guzman. "The Atmospheric River that came in at the end of October and even some of the storms in December helped refill and really alleviated some of those concerns…  And now our [reservoir] resources are right around 73% of average."
California just entered its third year of drought. The recent drought monitor from NOAA shows most ot the state in "severe drought." A study found that the West is experiencing a megadrought starting in 2000.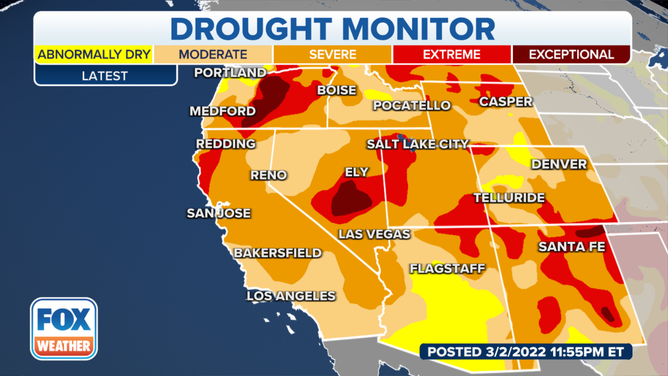 CALIFORNIA ENTERING THIRD STRAIGHT YEAR OF SEVERE DROUGHT 
The Sierras are looking forward to up to 14 inches of snow this week. But, that is not enough to get the snowpack back to 100% of average.
"We need above-average snowpack. We need above-average runoff, we need above-average precipitation, and we're nowhere near that at this point," said de Guzman.