Heavy snow snarls Denver's I-70 after 19 trucks get stuck on highway
Snow amounts are expected to range from 3 to 6 inches from the Denver metro area southward to Castle Rock, while up to 15 inches is possible in the foothills of the Front Range and on the Palmer Divide
DENVER – The snowiest day of the year for parts of Denver led to traffic delays Thursday morning, including the closure of a major freeway, as the region saw snowfall rates up to 2 inches an hour.
The storm affected more than 3 million people as the heaviest snow developed late Wednesday night and early Thursday morning across Denver's eastern and southern areas.
FOX 31 Denver reported the eastbound lanes of Interstate 70 had been closed at Floyd Hill Thursday morning due to poor road conditions. In addition, the Colorado State Patrol said 19 tractor-trailers were stuck in the eastbound lanes.  The freeway reopened just before noon. 
The highway's westbound lanes were also closed from Morrison to Floyd Hill, but officials said the lanes were reopened just before 8 a.m. local time. 
Colorado State Highway 59 was also closed in both directions early Thursday afternoon between I-70 and Kit Carson due to multiple crashes, the Colorado Department of Transportation reported.
About 3-5 inches fell in the heart of Denver, but 7.3 inches fell out at Denver International Airport. It's DIA's snowiest day of the winter season so far, besting the 5 inches that fell on Jan. 24.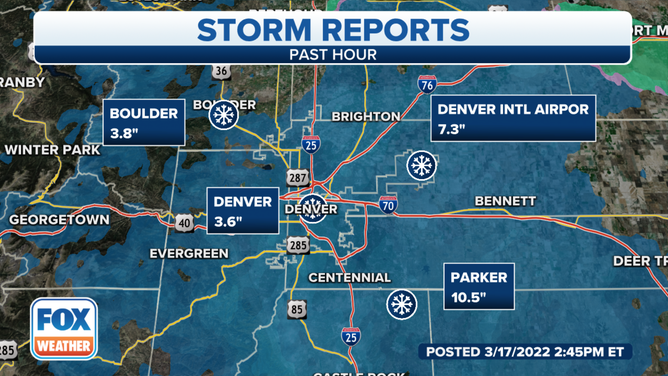 Drivers had been warned to expect impacts for the Thursday morning commute, especially in areas west and south of Denver. 
Roads were especially hazardous in the foothills west of the city Thursday morning as rain changed over to snow. Road conditions are expected to gradually improve later in the afternoon when the snowfall decreases in intensity.
Areas along Interstate 70 east of Denver to Limon, Colorado, saw snowfall rates up to 1 inch per hour Thursday morning. Snow will gradually wind down by Thursday evening.
Colorado and the Denver area have seen some impressive snow totals with this storm system so far.
Aspen Springs has picked up nearly 17 inches of snow since Wednesday, and Nederland has reported just over 14 inches.

Tiny Town picked up a foot of snow while Pinecliffe reported just over 11 inches.
HOW TO WATCH FOX WEATHER ON TV
March is the snowiest month of the year for most of eastern Colorado and northern New Mexico.