Torrential downpours across South causing problems for NASCAR's Daytona race
Total accumulations of between 1" to 5" are likely due to a slow-moving front.
DAYTONA BEACH, Fla. – A slow-moving frontal boundary draped across northern Florida, and the Gulf Coast could mean big headaches for NASCAR fans as Daytona's Coke Zero Sugar 400 weekend gets underway.
The FOX Forecast Center expects off and on showers and thunderstorms on both Saturday and Sunday, which could impact events.
Friday's qualifying round at the Daytona International Speedway was canceled due to weather, and Saturday's forecast is similar, with a good chance of rain during the afternoon and evening.
Tracking wet weather
 
---
The system producing the wet weather is the same front that triggered historic flooding in Mississippi and caused at least one death in Texas over the past week.
NASCAR USES SPECIALTY TRACK-DRYING TECHNOLOGY TO RID THE RAIN FROM RACETRACKS
The combination of abundant moisture, sea breezes and the front could lead to rainfall accumulations of upwards of 5 inches through the weekend.
Most parts of the Sunshine State are expected to wind up with between 2 and 3 inches, especially south of the I-4 corridor.
Rainfall forecast
 
---
Any storm that forms could be slow-moving and have the potential of turning strong or severe with gusty winds and plenty of lightning.
Cities in the heavy rainfall zone include: New Orleans; Biloxi, Mississippi; Mobile, Alabama; Pensacola, Florida; Jacksonville, Florida; Orlando and Tampa.
If Daytona's track can dodge the scattered storms, the race is expected to begin at 7 p.m. on Saturday.
With rain, FOX Sports reports the 2.5-mile track can take anywhere from 90 to 180 minutes to dry.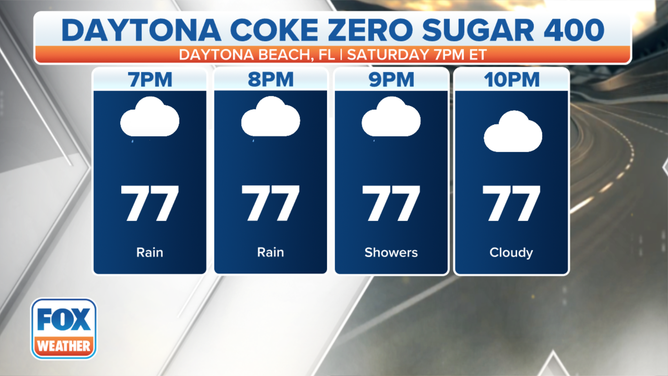 Previous wet weather events have forced organizers to delay or shorten some races, and NASCAR is well versed on the threats posed by rain.
HOW TO WATCH FOX WEATHER ON TV
Forecast models show the front will gradually weaken and lift northward on Sunday, but a decent chance of rain will continue through the early workweek along I-95, I-75 and I-10 corridors.
All eyes will be on the Space Coast Monday for NASA's planned launch of a mega moon rocket.
Due to the launch window opening at 8:33 a.m., meteorologists say the rocket could avoid most of the scattered showers and thunderstorms that usually develop during the afternoon. 
Launch teams will be keeping a close eye on the radar and have backup windows in the event of a scrub.
Artemis I Rocket Launch Forecast
 
---