Dangerously cold temperatures forecasted for parts of the northern US
Wind Chill values could be as low as 50 below zero for parts of Montana.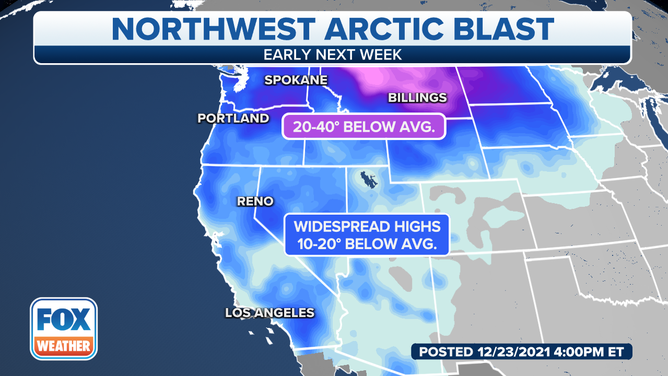 While the South sees record-breaking warmth, potentially record-breaking cold will be felt in the northern U.S. 
An arctic airmass, along with snow, is overspreading much of the northwest U.S. and Northern Plains to end the holiday weekend.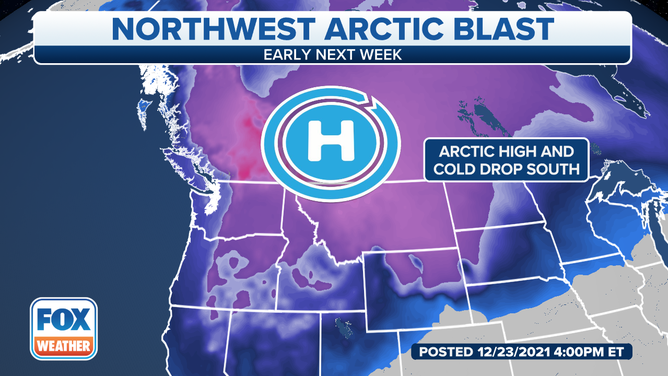 The frigid Canadian air is funneling in behind a strong cold front. This dangerously cold air will bring wind chills 40 to 50 below zero to some areas.
Northern Plains 
Sub-zero high temperatures are expected in parts of northern Montana Sunday, where other portions of the High Plains and North Dakota could only see daytime highs struggling to get out of the single digits.   


By early next week, much of Montana will experience several days of temperatures remaining below zero.
Wind Chill Alerts are in place until Monday evening for the northern part of the state, where NWS forecasters are expecting wind chill values 50 below zero. 
Officials in these regions are urging residents to take action to prepare property and livestock for these cold temperatures. 
Pacific Northwest 
Some predicted low temperatures later next week as the arctic air settles in could be some of the coldest seen in several years -- if not decades -- across the region, and last for several days.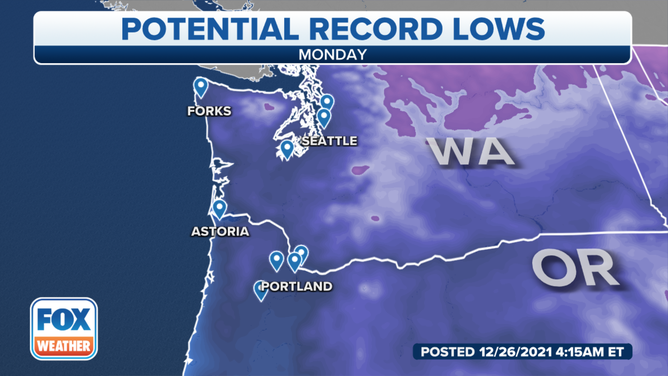 High temperatures next week will likely be stuck in the 20s around Seattle and Portland with lows in the teens to even single digits in the outlying areas in Western Washington, especially communities near the Canadian border where arctic air flows from the Fraser River Valley.  A few of the more extreme forecast models solutions show low temperatures reaching single digits in Seattle, which would be the first time that happened since 1989.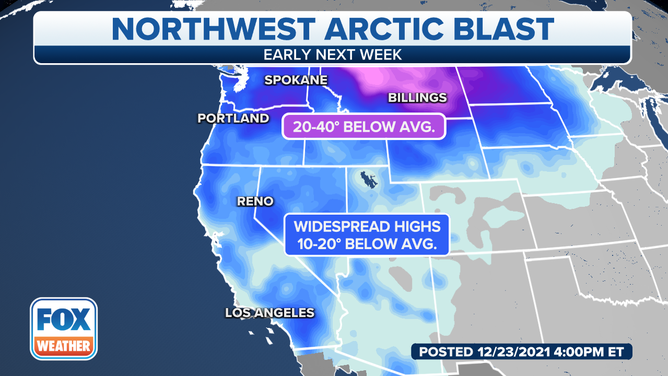 In Eastern Washington, low temperatures are expected to drop below zero, with areas near the Canadian border dropping to as low as -10 to -15 degrees.
"We are expected to see many days with temperatures this cold," forecasters with the National Weather Service office Spokane wrote. "Temperatures like this for this long haven't been seen since 2009."
And any relief will require a long wait, as arctic air is expected to remain entrenched across western Canada and the Pacific Northwest past New Year's Day and into the following week.