Summer's dangerous grip on Plains, Midwest continues as temperatures soar
The combination of heat and humidity will make some areas feel like 110 degrees
Millions of Americans from the Plains to the Midwest are again being advised to take precautions to stay cool and hydrated as oppressive heat and humidity continue.
HOW TO WATCH FOX WEATHER ON TV
Heat Advisories are in effect for millions of Americans on Tuesday, June 21.
(FOX Weather)
---
The National Weather Service has issued Heat Advisories that expand from Michigan's Upper Peninsula south through the mid-Mississippi Valley and into the Central Plans, as well as for parts of the Great Lakes region.
These alerts are in effect not only for the dangerously high temperatures, but the humidity will make it feel much warmer, with "feels-like" temperatures reaching between 105 and 110 degrees in many areas.
HOW THE WEATHER YOU'RE ACCUSTOMED TO AFFECTS NATIONAL WEATHER SERVICE HEAT WARNINGS, ADVISORIES
High temperatures on Tuesday, June 21.
(FOX Weather)
---
There will be some relief on Tuesday in some areas of the Northern Plains and upper Midwest that experienced temperatures above 100 degrees on Monday.
Minneapolis had a high temperature on Monday of 101 degrees, but the Twin Cities will likely reach about 90 degrees during the day on Tuesday.
However, the oppressive heat and humidity will continue in other areas while the dangerous heat continues and expands to the east.
Temperatures will generally be in the upper 90s across the region, with major metropolitan areas, like Chicago, getting very close to 100 degrees during the day.
Topeka, Kansas, and St. Louis will also flirt with the century mark Tuesday as the day continues.
And when you factor in the humidity, it will feel much hotter.
WHAT IS THE 'FEELS LIKE' TEMPERATURE?
It's going to feel much hotter in the region because of the humidity.
(FOX Weather)
---
It will feel downright brutal from parts of the Great Lakes and Midwest to the southwest into the mid-Mississippi Valley and parts of the Central Plains.
Topeka, Kansas, will feel like it's 107 degrees on Tuesday, and many triple-digit feels-like temperatures will extend through Cedar Rapids, Iowa, and Chicago.
St. Louis will also feel like it's over 100 degrees, so people without a way to stay cool inside their homes are advised to seek out cooling centers in their communities in order to stay safe from the dangerous heat.
WHEN SECONDS MATTER: CHILDREN EXPERIENCE HEATSTROKE SYMPTOMS WITHIN MINUTES OF BEING IN A HOT CAR
Record-high temperatures in jeopardy of being broken on Tuesday, June 21.
(FOX Weather)
---
With the heat and humidity comes the likelihood that several record-high temperatures are again in jeopardy of falling during the day on Tuesday.
Most records could fall in Michigan and along the Great Lakes, but others could fall farther south in places like St. Louis, Nashville and Memphis, Tennessee.
FIRESTARTER: LEAVING YOUR WATER BOTTLE IN THE SUNLIGHT CAN HAVE DISASTROUS RESULTS
Heat precautions
Extreme heat and humidity significantly increase the potential for heat-related illnesses, particularly for those working or participating in outdoor activities. The best time to be outdoors would be early in the morning or later in the evening.
If you need to go outdoors during the day, wear loose, lightweight and light-colored clothing and drink plenty of fluids.
CLICK HERE TO GET THE FOX WEATHER UPDATE PODCAST
Always "look before you lock" to ensure you have not left any children or pets inside a car. Temperatures inside a locked vehicle with the windows rolled up can be deadly.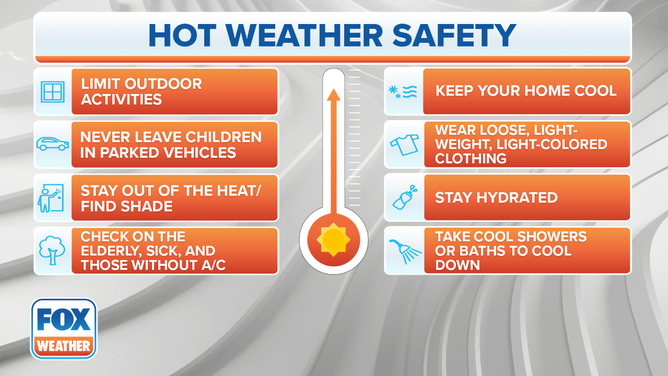 While fewer than 1,000 children have died over the past 20 years from heatstroke after being left in cars, medical experts say these deaths are entirely avoidable. 
Track the temperatures in your area with the FOX Weather app. The free FOX Weather livestream is also available 24/7 on the website and app and on your favorite streaming platform. The FOX Weather Update podcast also provides weather information for the entire country.