Clipper system to bring quick round of snow, ice to Great Lakes, Northeast
The National Weather Service warns the Wednesday morning commute could be slippery from snow and ice
A clipper system will sweep across the northern tier of the U.S. Tuesday and Wednesday, bringing a quick round of snow and ice to the Great Lakes and Northeast.
On Tuesday, an area of light to moderate snow will zip through the Great Lakes from Minnesota to northern Wisconsin and northern Michigan. That will be followed by lake-effect snow showers off lakes Superior and Michigan on Tuesday night that will affect parts of the Upper Peninsula of Michigan and northern Lower Michigan.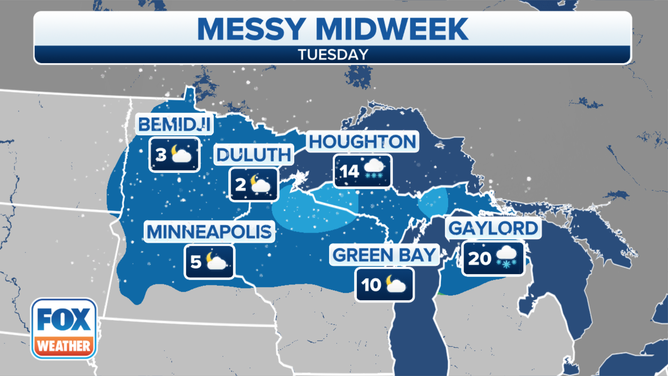 This system will arrive in the Northeast on Wednesday, spreading moderate to heavy snow across parts of New Hampshire and Maine, with a few snow showers back to the west in Vermont and upstate New York.
Additionally, spotty areas of freezing rain are possible in portions of central and southern New England, mainly north and west of Interstate 95. The National Weather Service office in Boston warned the Wednesday morning commute could be slippery if the freezing rain creates icy roads.
CHRISTMAS TRAVEL FORECAST: WHERE HOLIDAY TRAVELERS CAN EXPECT RAIN OR SNOW TO TRIGGER FLIGHT DELAYS THIS WEEK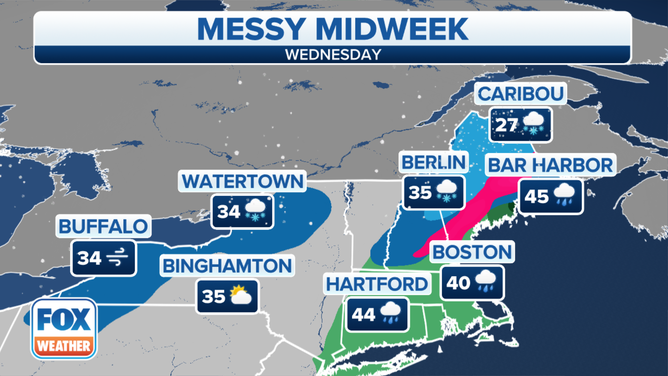 Snow will continue into Wednesday evening in Maine before tapering off to flurries by Thursday morning.
A Winter Storm Watch is posted in northern Maine, where the heaviest snow is expected with this system.
Winter Weather Advisories are in effect from central Massachusetts into southeastern New Hampshire and southern Maine, where snow and ice are still expected to cause hazardous travel conditions on Wednesday.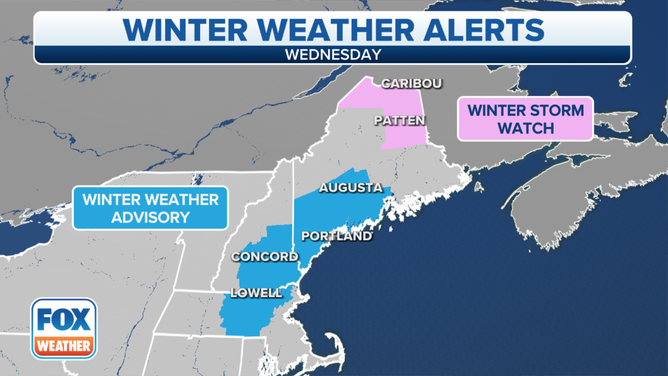 Northeastern Maine is forecast to receive more than 8 inches of snow from this system, with localized areas possibly picking up a foot or more.
Between 5 and 8 inches is predicted for much of central Maine, with 3 to 5 inches expected for parts of western Maine and eastern New Hampshire.
Lighter accumulations are forecast for other parts of northern New England and upstate New York.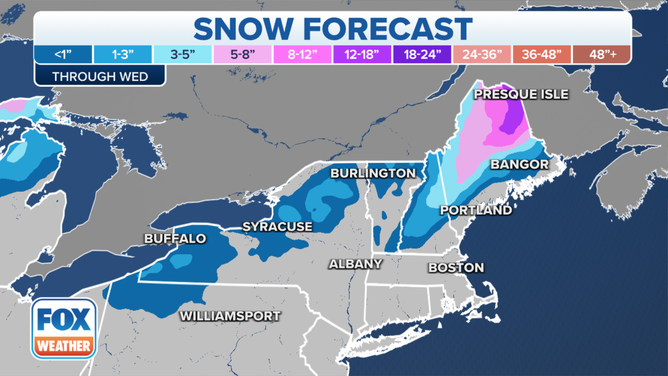 The best threat for a glaze of ice on Wednesday will be in portions of southern Maine and southeastern New Hampshire.
WHITE CHRISTMAS CHANCES TO REMAIN A DREAM FOR MOST OF THE U.S.
However, some patchy ice is still possible farther south into central Massachusetts and the northwestern suburbs of Boston.