Clipper system brings another round of snow, gusty winds to Great Lakes, northern New England through midweek
Between 6 and 10 inches of snow is possible in northeastern Minnesota and the Upper Peninsula of Michigan
A fast-moving clipper system will bring another round of snow and gusty winds to the Great Lakes and northern New England through midweek.
A Blizzard Warning was issued by the National Weather Service Tuesday afternoon for eastern North Dakota into northern Minnesota. While a good majority of North Dakota eastward through the Upper Peninsula of Michigan was put under a Winter Weather Advisory, a concentrated area in the Arrowhead of Minnesota along the Lake Superior shore was upgraded to a Winter Storm Warning.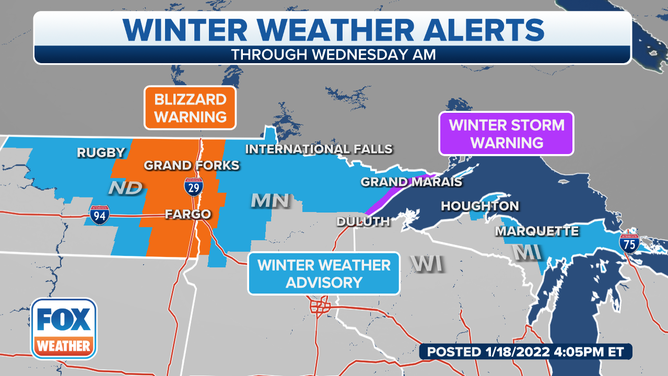 An area of low pressure over the upper Midwest Tuesday morning will move eastward across the Great Lakes Tuesday afternoon into Tuesday night, then into northern New England by Wednesday morning.
This system will produce locally heavy snow across parts of the upper Mississippi Valley and northern Great Lakes, near Lake Superior and the Upper Peninsula of Michigan, through Tuesday night.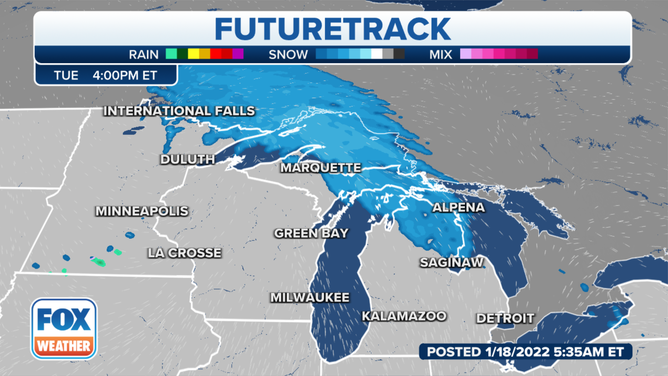 Gusty winds will also create areas of blowing and drifting snow across parts of the upper Midwest and Great Lakes.
Visibility could be significantly reduced through Tuesday night because of the predicted 25- to 35-mph wind gusts in combination with the snow, leading to dangerous driving conditions.
WHAT YOU SHOULD KNOW ABOUT BLOWING, DRIFTING SNOW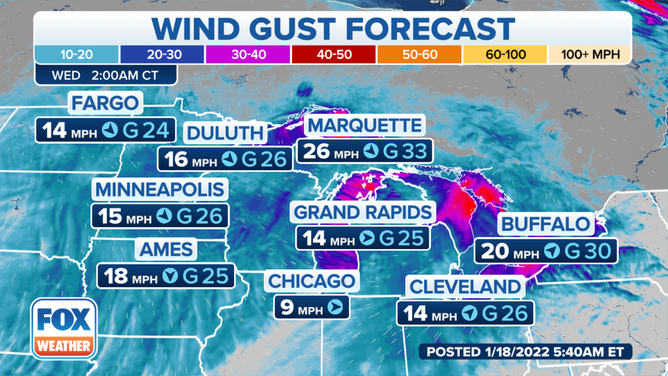 Between 6 and 10 inches of snow is possible near the shores of Lake Superior in northeastern Minnesota and the Upper Peninsula of Michigan, where lake-enhanced snow is expected.
Most other areas of the upper Mississippi Valley and Great Lakes in the path of this clipper system will see 2 to 6 inches of snow through Tuesday night or early Wednesday.
Both the morning and evening commutes could be greatly impacted by falling and/or blowing snow on Tuesday.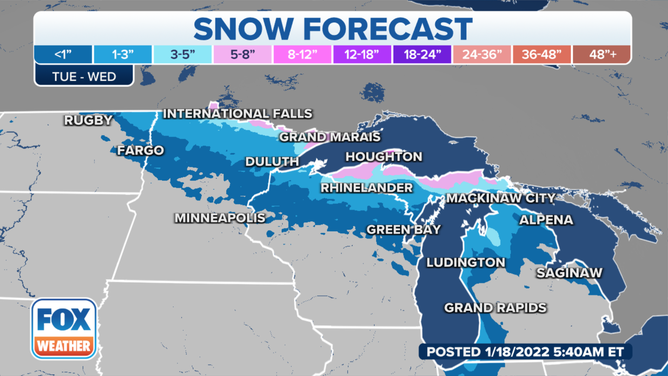 Light snow will then move into northern New England on Wednesday and continue through Wednesday night.
Many areas from northern New York into northern Vermont, northern New Hampshire and northern Maine will pick up 1 to 3 inches of snow from the clipper system.
Locally higher amounts greater than 3 inches are possible in portions of northwestern Maine, closer to the low-pressure system.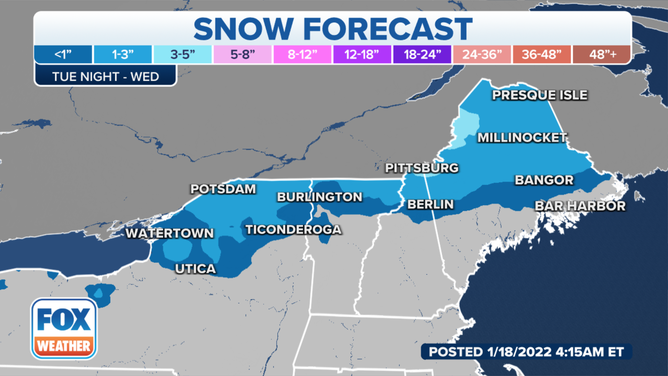 In the wake of this system, lake-effect snow will develop downwind of the Great Lakes from western and northern Michigan to western and central New York.