Christmas weather: Forecasts for 10 towns across America with festive names
109 million Americans expected to travel this Christmas
Christmas is a few days away, and millions of Americans are preparing to head over the river and through the woods to get to grandma's house in time for the holiday.
But if you're hoping for a white Christmas this year for snowball fights or building a snowman, you may be disappointed. 
FOX Weather is tracking warmer than average temperatures across the country this week. Many areas, especially in the Southeast and Central Plains, will see temperatures at least 20 degrees above average.
To help get you in the holiday spirit, here's a look at the Christmas Day forecast for 10 towns with festive names across the country.
You can keep up with the forecast for your destination by using FutureView in the FOX Weather app. Just tap the "Plan" button to get started. 
Don't have the app yet? Download it here.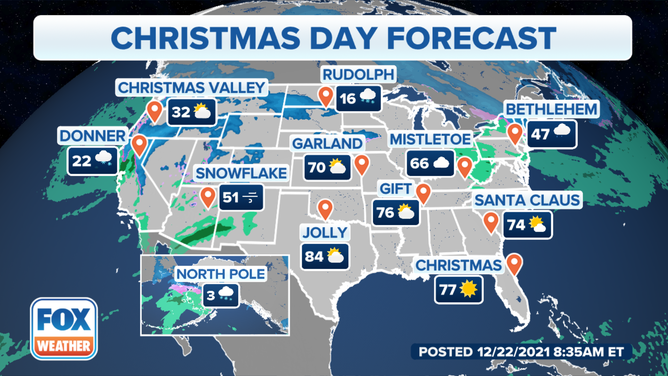 North Pole, Alaska
Snow showers
High: -3 degrees
Bethlehem, Pennsylvania
Rain showers
High: 47 degrees
Rudolph, South Dakota
Snow showers
High: 16 degrees
Donner Lake, California
Snow
High: 22 degrees
Christmas Valley, Oregon
Partly cloudy
High: 32 degrees
Mistletoe, Kentucky
Partly cloudy
High: 66 degrees
Santa Claus, Georgia
Mostly sunny
High: 74 degrees
Christmas, Florida
Sunny
High: 77 degrees
Jolly, Texas
Partly cloudy
High: 84 degrees
Garland, Kansas
Partly cloudy
High: 70 degrees
FOX Weather will continue to monitor the forecast and will provide updates as the week continues.