Capitol Hill snowball fight: Snow day in D.C.
Adults and kids alike enjoyed a snow day around the Washington, D.C. Metro area Monday.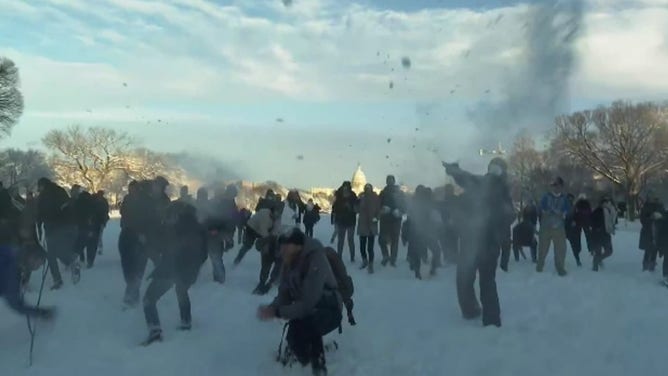 WASHINGTON, D.C. – A hundred people drew battle lines in Washington, D.C. Monday in front of the Smithsonian Castle on the Mall for a snowball fight.  Non-essential government employees had a snow day and were told to work from home but took time to blow off steam at "The Battle of Snomicron", as some snowball-laden warriors called it.
FIRST WINTER STORM OF 2022 DUMPING HEAVY SNOW ACROSS MID-ATLANTIC ON MONDAY
Monday brought the first snowstorm of the season to the Mid-Atlantic states, which blanketed areas in Maryland, Virginia and New Jersey under more than a foot of snow.  Tennessee, North Carolina and Alabama snow totals were not far behind.  Even Florida saw a few flurries.
SAY IT AIN'T SNOW: FLAKES FALL IN FLORIDA AFTER 40-DEGREE TEMPERATURE DROP

Washington received 6.7 inches of snow Sunday and Monday, which is more than they received in both the 2019/2020 and 2020/2021 winters combined, at 6.0 inches.  The average two-year snowfall is 27.6 inches.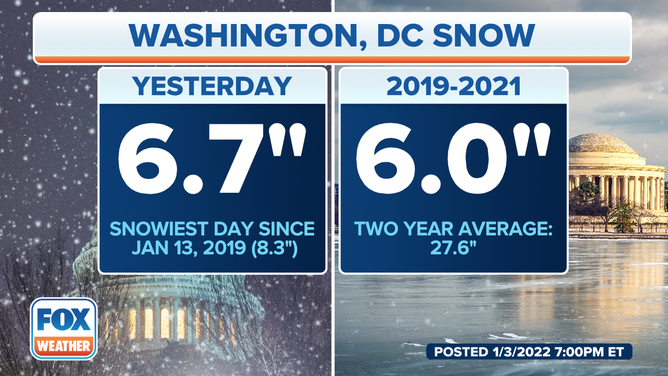 Middle school students in Bethesda, Maryland took advantage of the wintry scene and were sledding on this snow day instead of inside learning.
Road crews in Bethesda, however, were not enjoying the snow as much. Crews were seen repairing many large trees that fell across roads and power lines during the snowstorm.
Overnight freezing temperatures will keep roads icy, and some schools already canceled classes for Tuesday.
VIRGINIA STATE POLICE URGE PEOPLE TO STAY OFF ROADS DURING SNOWSTORM