Canada wildfires choke skies across 6 states, creating unhealthy air quality for millions
The NWS issued Air Quality Alerts across 6 states warning of unhealthy air quality. Smoke from Canadian wildfires reduced air quality across 10 states in total.
Smoke from out-of-control wildfires across Canada hangs heavy across the Northern Plains and Midwest Wednesday. The NWS forecasted air quality that is unhealthy for everyone across portions of five states. The drifting smoke had reduced air quality for 10 states across the U.S.
On the air quality map, the red alert areas from AirNow.gov show places where even healthy people could experience health effects. Anyone sensitive could experience serious health problems.
WHAT IS THE AIR QUALITY INDEX?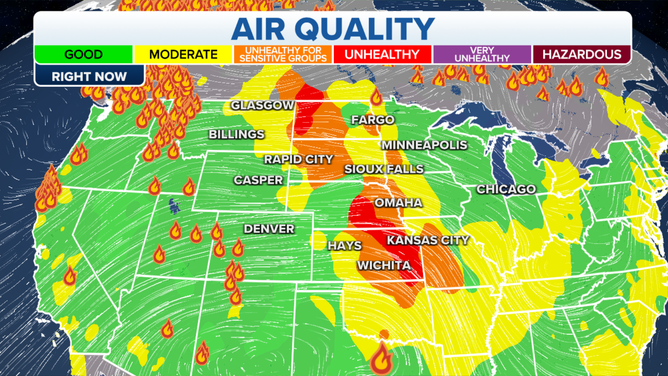 "When conditions rise to the red category, everyone is advised to avoid prolonged or heavy exertion and those in sensitive groups should consider moving activities indoors or rescheduling," reads the NWS Alert from North Platte, Nebraska.
That includes portions of North Dakota, South Dakota, Minnesota, and Kansas. The NWS issued Air Quality Alerts for Colorado, Missouri, Nebraska, Minnesota, Iowa and Kansas due to the drifting smoke.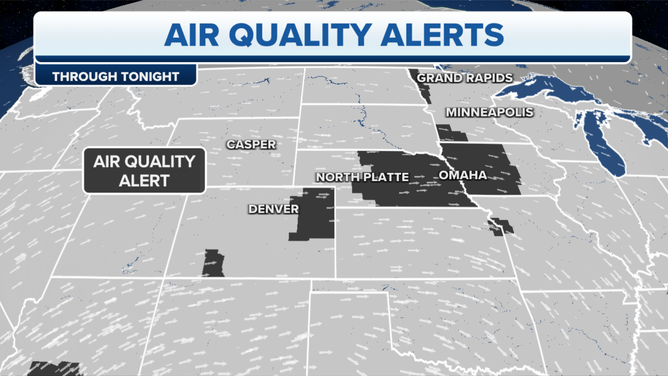 Departments of Health across these states urge the elderly, young children and anyone with respiratory problems to avoid excessive physical exertion and minimize outdoor activities.
WHAT TO DO WHEN WILDFIRE SMOKE SMOTHERS YOUR AREA, AND HOW TO KEEP YOUR HOME'S AIR CLEAN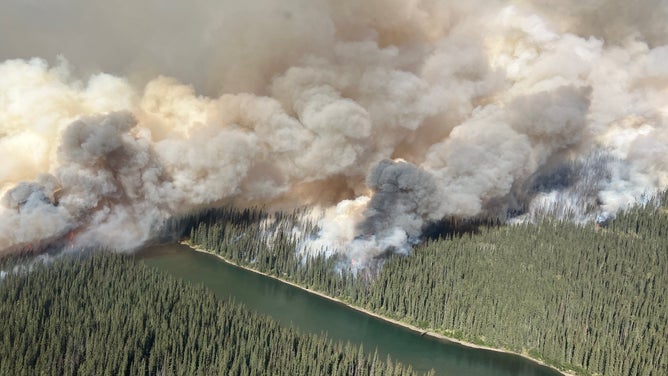 "Wildfire smoke is made up of a variety of pollutants, including particulate matter and ozone, which can cause respiratory health effects," stated the NWS Cheyenne office. "Although these people are most susceptible to health impacts, the Department of Health also advises that everyone should avoid prolonged exposure to poor air quality conditions."
Smoke tracker
Air quality will slowly improve for the Central Plains through the weekend. Heavy smoke will stick around through the Northern Plains and Upper Midwest though.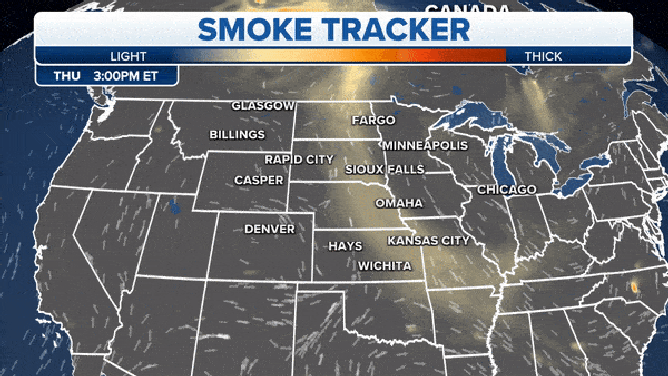 "Fine particle pollution from wildfire smoke can irritate eyes, nose, and throat, and cause coughing, chest tightness, shortness of breath, dizziness, or fatigue," warns the Minnesota Pollution Control Agency. 
"Smoke particles are small enough that they can be breathed deeply into lungs and enter the bloodstream. This can lead to illnesses such as bronchitis or aggravate existing chronic heart and lung diseases, triggering heart palpitations, asthma attacks, heart attacks, and strokes," the agency's statement continued.
Unprecedented wildfire season for Canada
The Canadian Interagency Forest Fire Centre reports that 1,054 fires are currently burning across the country. Almost 700 of those are out of control. The total number of wildfires for the year is over 6,100.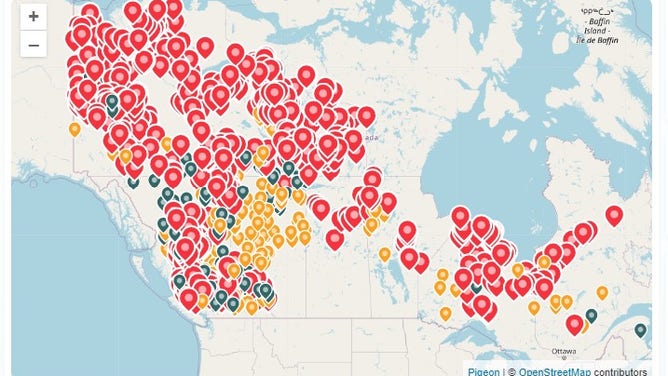 The number of wildfires is above normal, but the intensity and areal extent make this fire season unprecedented, according to Canadian officials. More than 40 million acres burned to date. That area would encompass all of Rhode Island, Delaware, Connecticut, New Jersey, New Hampshire, Vermont and Massachusetts.
The past nine years combined total 40 million acres. On average, the country only sees 5.7 million acres burned during an entire year.
WHAT'S BELIEVED TO HAVE SPARKED THE CANADIAN WILDFIRES?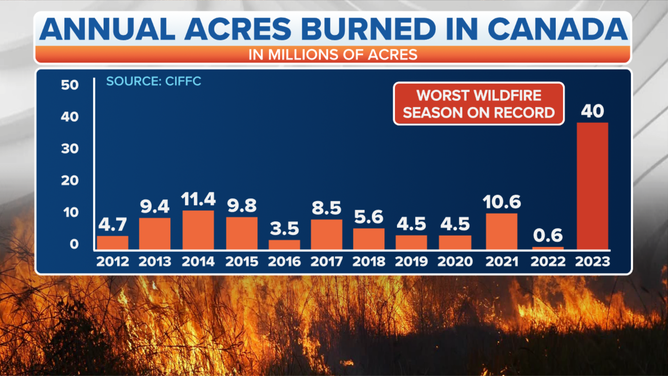 Weather created the perfect storm for wildfires
An unusually strong and persistent dome of high pressure sat over western provinces in May. That caused extreme heat and drought. The European Centre for Medium Range Weather Forecasts showed that much of western and central Canada experienced its warmest May on record in 84 years of record-taking. 
The heat then spread east into the Atlantic provinces, where below-average snow fell over the winter.
Lightning from thunderstorms ignites 45% of all wildfires, according to Natural Resources Canada. Even though lightning accounts for less than half of Canada's wildfires yearly, lightning-sparked fires burn 81% of the land yearly.