Skiers rejoice as California's Sierra Nevada to get first big snow of season; more snow coming across West
A large dip in the jet stream will begin to move in off the Pacific Ocean, dropping snow levels on Tuesday and resulting in more widespread precipitation and mountain snow across the West.
After drenching the Northwest with steady rains and blustery winds for Halloween night, a Pacific storm is now moving inland, spreading more rain and copious amounts of mountain snow across California and the Intermountain West.
Up to 10 inches of snow is likely across the Blue Mountains of Oregon and Washington on Tuesday. In California, this storm system will bring about the most pronounced pattern change this season and a significant cooling trend on both Tuesday and Wednesday.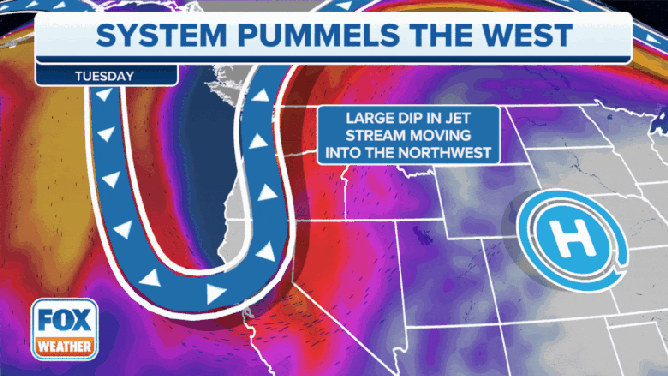 Rain and snow began Monday night and will taper off Wednesday, according to the FOX Forecast Center. Snow levels are expected to start off around 6,500 feet Tuesday morning, before dropping to about 3,500 feet by Wednesday morning.
Hazardous mountain travel in the Sierra Nevada is expected as this is the first significant snow of the season. As such, Winter Storm Warnings have been issued as major travel delays across the popular travel route are likely. Chain controls will be needed, and a significant reduction in visibility is expected.
West Winter Alerts
(FOX Weather)
---
Overall, 5 to 8 inches of snow is expected above 3,500 feet, with up to a foot of snow expected above 7,500 feet. Winter Weather Advisories extend into the Siskiyous and southern Cascades of Oregon as well.
California Snow Potential
(FOX Weather)
---
In the lowland valleys, rain will overspread most of California by Tuesday afternoon. About 1 inch of rain is expected across Northern California, with about a quarter-inch in the Bay Area and Central Valleys. Even the Los Angeles area could see measurable rain.
Rain and mountain snow then spread farther east into Utah, Nevada and Idaho Tuesday. In Nevada, what will initially begin as rain Tuesday will become snow later in the day. Valley snow totals will remain light, but up to 6 inches is possible in the Ruby Mountains by Tuesday.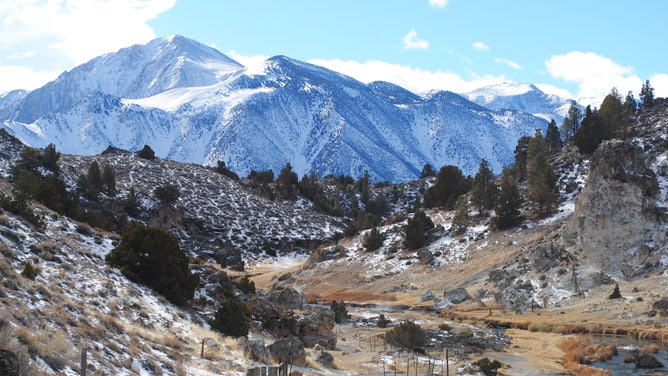 In Utah and Idaho, this is expected to be mostly a rain event with snow levels remaining up in the Wasatch Range, where 5 to 8 inches will be possible. Generally, up to 1 inch of rain is expected in the valleys.
In Montana, snow will move in Tuesday night and last into Wednesday. The Rockies of Montana are expected to see potentially high impacts to travel along the mountain passes, as snow levels are expected to drop to around 2,500 feet.
West Snow Forecast
(FOX Weather)
---
Marias and Lookout Passes look to be the most affected, with 5 to 8 inches of snow possible, which too will threaten to impact travel. This snow is expected to spread into the valley regions of central and eastern Montana Wednesday, and up to 3 inches of snow will be possible.
THESE ARE THE 7 SNOWIEST CITIES IN THE US
The quick burst nature of the snow will lead to reductions in visibility. Cold temperatures will settle in by Wednesday, with highs well below average.
For the central and southern Rockies of Colorado, New Mexico and Wyoming, this storm system will move in from Wednesday into Thursday.
Once again, precipitation will likely begin as a rain-and-snow mix before becoming mostly snow by Thursday. There is still some uncertainty regarding this aspect of the forecast, as the evolution of the system Tuesday and the exact depth of the cold air is still in question, but it is increasingly likely that bands of heavy snow will be possible along all the Rocky Mountain ranges, with areas of heavy rain for the Plains regions of Wyoming and Colorado.
West Rain/Snow Forecast
(FOX Weather)
---
The heavy snow is another big boom for ski resorts across the West looking to get a head start on the season's snowpack. 
WHY SNOWFALL RATE IS IMPORTANT TO UNDERSTANDING WINTER WEATHER
"The next seven-day potential is looking really good, especially for the higher terrain of Washington, Oregon, Idaho, pushing into the higher terrain of Wyoming – that is all the potential of feet of snow up by where all the ski resorts are," FOX Weather meteorologist Britta Merwin said. "These early storms are so crucial to building up that snowpack not only for the local economy and ski resorts but for the drought – the more snow, the better."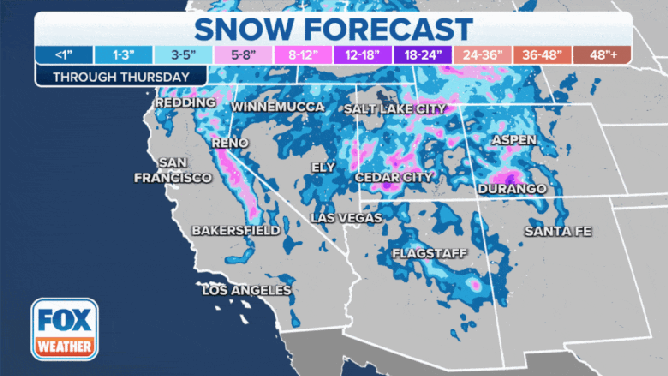 In New Mexico, rain will generally be the favorable precipitation type, with up to 1 inch likely. This system will move out of the region by Saturday morning.
It will be windy too, with widespread gusts in excess of 50 mph possible, as well as gusts as high as 70 mph possible in mountain passes.
These conditions will create areas of potentially critical fire weather conditions before the rains arrive, as dry vegetation is present. Temperatures will be on the cold side, with highs expected to be 10 to 20 degrees below average.