Deadly California atmospheric river triggers flood emergency, evacuations amid relentless rain
For the California coasts and valleys, several inches of rain once again brings widespread flood alerts and mudslide concerns, while new snowfall totals in the highest elevations could reach 100 inches and ridgetop wind gusts are blowing well over 100 mph. A ski resort near Lake Tahoe clocked a gust of 139 mph.
SANTA CRUZ, Calif. – Torrential rains and extreme mountain snows pummeled California at the hands of yet another potent atmospheric river, triggering an "extreme" risk of flash flooding for some regions. At the same time, new snowfall totals in the highest elevations could reach 100 inches, and ridgetop wind gusts have reached well over 100 mph.
Torrential rains triggered a dire Flash Flood Emergency in the central California towns of Springville and Porterville Friday morning, where spotters reported 1.5 and 3 inches of rain amid rapid snow melt.
Rising rivers have forced the evacuation of some communities in coastal Santa Cruz County while mudslides and heavy rains have covered several roads and highways in central California. Nearly 10,000 residents have been ordered to evacuate, which includes some residences along the Kern River outside of Bakersfield.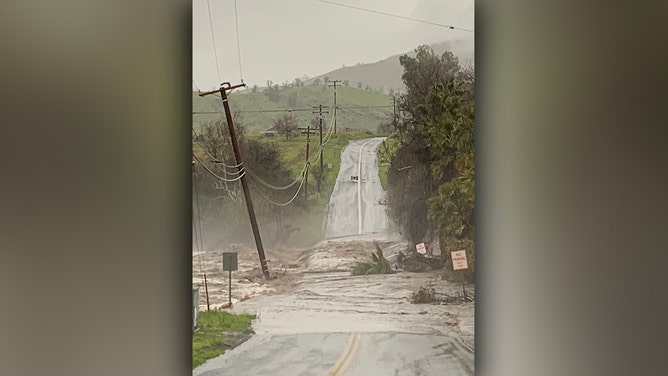 Emergency management officials confirmed at least two storm-related deaths and said the threats from hazardous weather will continue as rivers and creeks remain high. 
At least 34 counties are under a State of Emergency, which officials say will free up resources to respond to disaster areas.
In the town of Lone Pine near the state's Great Basin Desert, water has inundated the Southern Inyo Hospital, according to local fire officials.
In Redwood City, a tree fell across the front of a car as two people were inside, according to the San Mateo County Sheriff's Office. Both escaped without serious injury.

Strong winds and saturated ground is leading to power outages in the state. Just over 50,000 customers were without power during the height of the storm, according to PowerOutage.us.
Extreme risk of a 'potentially deadly and damaging flash flood day'
NOAA's Weather Prediction Center has now issued an "extreme" risk of flash flooding for the southern Sierra Nevada and the Central California coastal range south of Monterey as the latest computer forecast guidance suggests the atmospheric river will be even warmer and wetter than previously forecast. It's the highest risk NOAA and National Weather Service officials can issue, occurring with only about 4% of storms.
WHY RARE 'HIGH RISK' FLOOD DAYS NEED TO BE TAKEN SERIOUSLY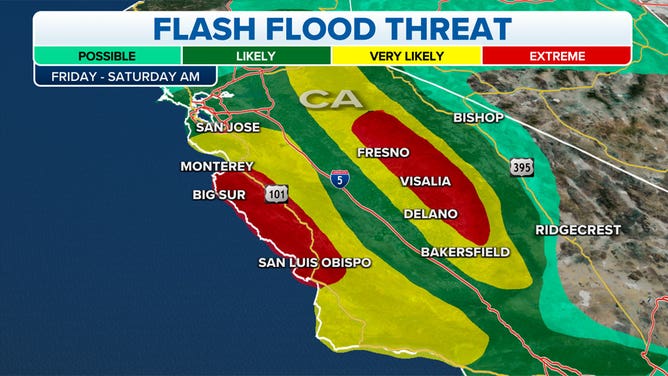 Heavy rain and mountain snow pushed into Northern and Central California on Thursday, with significant rainfall spreading south into Southern California on Friday. 
The FOX Forecast Center warned that areas of flash flooding are "very likely" to "extreme" in the Sierra and the coastal mountains and foothills by Friday, including the areas of Big Sur, San Luis Obispo, Visalia and Fresno.
California's central and southern coastal regions and valleys could see 2 to 3 inches of rain, with some higher amounts through the weekend.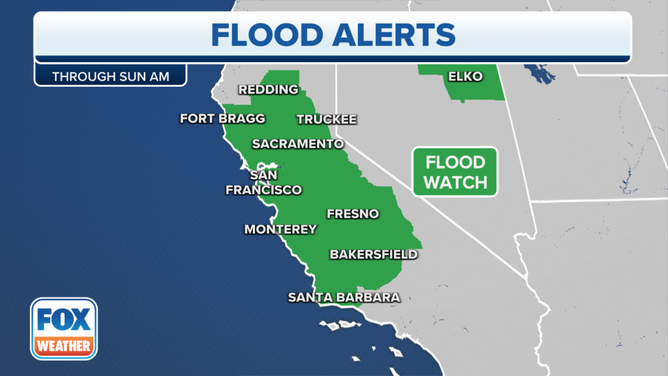 The lower elevations of the mountains could see 4 to 9 inches of rain instead of snow this time as snow levels rise to about 7,000 to 9,000 feet, with some spots in the Sierra foothills receiving as much as 12 inches of rain.
'Unprecedented flooding' possible in areas where reservoirs are nearly full
State agencies are warning residents about the potential runoff from torrential rains, which could lead to mudslides, flash flooding on roadways and swift-moving drainage canals and rivers.  
In the extreme flash flooding risk areas, NWS forecasters expressed concern for "potentially unprecedented flooding in areas where reservoirs are already near full" and isolated major flooding possible over Monterey County. In nearby Santa Cruz County, the San Lorenzo River near Felton reached moderate flood stage Friday. 
The California Department of Water Resources has announced it will be opening up Oroville Dam's main spillway for flood control as the heavy rain arrives, FOX Weather's Max Gorden reported.
The NWS warned that these "extreme" excessive rainfall threats in past storms had averaged nearly four deaths per day and millions of dollars in damage. These kinds of storms account for two out of every five flood-related deaths in the continental U.S. and about 80% of all flood-related damage.
Warmer storm brings dual flooding threat of heavy rain, snowmelt
In lower-elevation mountain communities that are still digging out from feet of snow at the hands of colder storms two weeks ago, warmer air will combine with the heavy rain and lingering snowpack to add melting snow to the flooding threats.
"That's because an atmospheric river brings warmer weather," FOX Weather meteorologist Stephen Morgan said. "This moisture is tapped from the tropics, the subtropics, and so it's just naturally warmer. And that's important because some of these snow levels with recent systems, we saw snow at about a thousand feet, so some people saw graupel along the beach. But the snow level is going to be more than perhaps 8,000 feet through the Sierra. And that's significant. More than just the foothills are going to see rain."
It's left those still digging out from snow now worried about a lot of rain.
"Everybody's trying to get the snow off their roofs," Cindy Powers of Running Springs told FOX Weather. "Everybody's scared of the snow melting and what that's going to cause … we just don't know what to expect, so we're bracing for this new storm."
'QUITE CATASTROPHIC': CALIFORNIA MOUNTAIN RESIDENTS PLEAD FOR MORE HELP AS FEET OF SNOW REMAIN
Over 100 inches of snow looms for higher Sierra Nevada elevations – again
In higher elevations of the Sierra and Siskiyous mountain ranges, snow totals will once again be measured in several feet. In fact, you can pick a number between 1 and 100 inches and find a snow forecast for that amount in the varying elevations of the Sierra.  
Winter Storm Warnings signal as much as 2 to 4 feet of new snow is expected above 7,000 feet, and 6 to 8 feet of snow or more above 9,000 feet in the central and southern Sierra. The NWS said several of the Sierra's highest passes, including Carson, Sonora and Tiaoga, could see over 100 inches of new snow by the end of the weekend.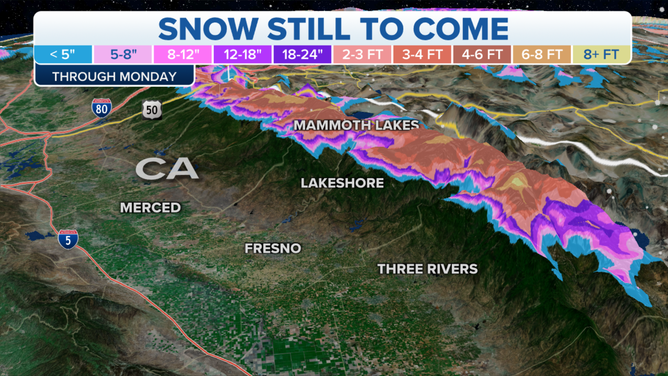 Donner Pass, the height of Interstate 80's busy journey through the Sierra, could see 3 to 4 feet of new snow in an area where around 300 inches of snow already sits.
"Our snow amounts across the Sierras right now are of historic proportions," Placer County Sheriff Brian Estes told FOX Weather on Monday. 
Along the lower elevations of Interstate 80, heavy rain was causing flooding issues where runoff down the hillsides was blocked from draining by snow-covered shoulders.
Meanwhile, parts of Interstate 5 were closed in Northern California between Weed and Yreka Thursday night due to heavy snow.
Damaging wind gusts could knock out power
As if the heavy rains weren't enough, damaging wind gusts will spread their reach across much of the state through Friday, adding power outage threats to the weather woes.
Widespread gusts across parts of central and southern California are expected to reach 50 to 55 mph into Friday afternoon, with gusts to 60 mph along the coast and 65 to 75 mph along the mountain foothills.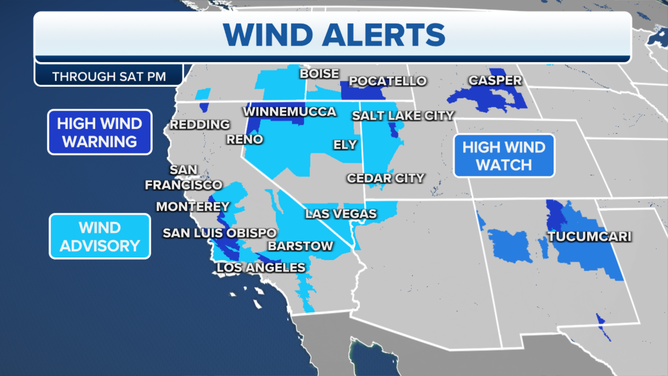 Go even higher, and you'll find hurricane-force winds, with gusts of 70 to 80 mph common along the high Sierra, including Donner Pass, leading to blowing snow, near-zero visibility and tree falls. The mountain ridgetops near Lake Tahoe could see gusts between 100 and 120 mph or more, according to the region's Winter Storm Warning. A wind gauge along the top of the Palisades Tahoe Ski Resort clocked a gust of 139 mph Friday.
And the extended forecast shows perhaps even more stormy weather later in the weekend and early next week.
RIDICULOUS PHOTOS SHOW AFTERMATH OF 12 FEET OF SNOW IN CALIFORNIA'S SIERRA NEVADA
Atmospheric river impacts linger into the weekend, then more storms?
While the heaviest rain will continue to fall Friday, rain and mountain snow will linger into the weekend.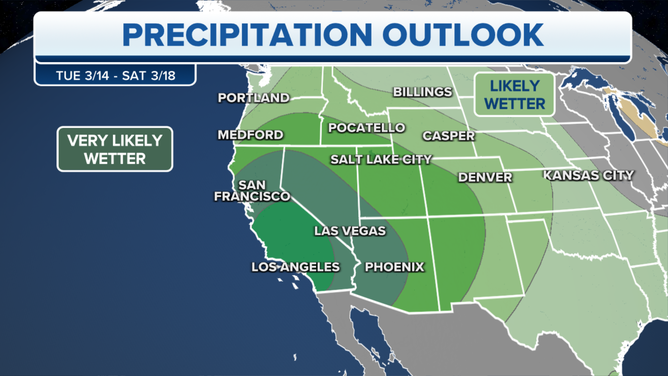 The current storm fades into early Saturday, but more storms loom for Sunday and then possibly again early next week.  
Another 3 to 5 feet of snow could fall in the Sierra, with 1 to 3 inches of rain in the lowlands.