Cajun Navy volunteers jump into action after devastating disasters
The Cajun Navy is growing beyond Louisiana and has responded to the deadly tornadoes in Kentucky and wildfires outside Boulder, Colorado
NEW ORLEANS - There's a growing group of volunteers in Louisiana who are among the first to lend a helping hand in the wake of a disaster.
They're known as the Cajun Navy, and people who have lived through natural disasters likely understand what the group is all about.
FOX Weather multimedia journalist Mitti Hicks went to Louisiana to learn more about the Cajun Navy and better understand how the group's efforts reach beyond the Pelican State's borders.
Cajun Navy founder Rob Gaudet says he will never forget the feeling he had in 2016 when he realized people were trapped due to flooding in Louisiana.
"The authorities couldn't respond to everybody that needed to be helped," he said. "And what I saw was people requesting to be rescued on Facebook."
He said he realized at that moment that people couldn't wait. So, he rounded up thousands of volunteers that year to help others in need.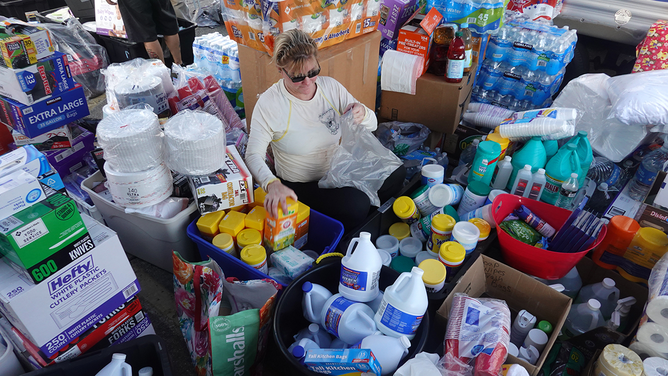 "Over 40,000 people needed to be rescued, and there's just no way for first responders to take care of all those people," he said. "And so, people reached out to us."
People needed help rescuing their pets and getting out of dangerous rising waters.
Since then, the work hasn't stopped, and now the group is a vital community resource.
"We're going help you in whatever way we can to help you recover, and that's what's missing in disaster response," Gaudet said. "Technology, social media, mobile technology and the internet is allowing citizens to respond in ways that have never been done in human history."
The Cajun Navy now reaches beyond Louisiana. They've recently responded to the deadly tornado outbreak in the nation's heartland last December and the massive wildfire near Boulder, Colorado.
"For us, it doesn't matter rain, sleet, snow, cold wind," incident commander Jay Carter said. "We're there. We're there to help. All you gotta do is call out and let us know what you need, and we'll find a way."
Volunteer Kevin Harper is from Mayfield, Kentucky, where a deadly EF-4 tornado tore through in December.
"When I found these guys out in Mayfield, that is my hometown. I gravitated to them," he said. "I've been now [on] three deployments with them, and I fell in love with ding what I'm doing."
The Cajun Navy will be releasing a new app this summer that will allow people to call for help if they need it.
"We're building our own platform for disaster response that can work anywhere around the globe," Gaudet said. It's called Trust Light. Think Uber for disasters. If you have a need, you pin it, and someone that is qualified to respond can just come help you. We're using this app, so anyone anywhere can act as their own Cajun Navy."