Buffalo records second-snowiest January day as lake-effect snow brings near-whiteout conditions
Snowfall rates in Buffalo reached 3 inches per hour Thursday morning
BUFFALO, N.Y. – Lake-effect snow from Lake Erie pounded western New York on Thursday, bringing near-whiteout conditions to the city of Buffalo for much of the day.
Buffalo went on to shatter its daily snowfall record for Jan. 6, with 17.8 inches measured at Buffalo Niagara International Airport through midnight. The previous record for the date was 7.3 inches set in 1974.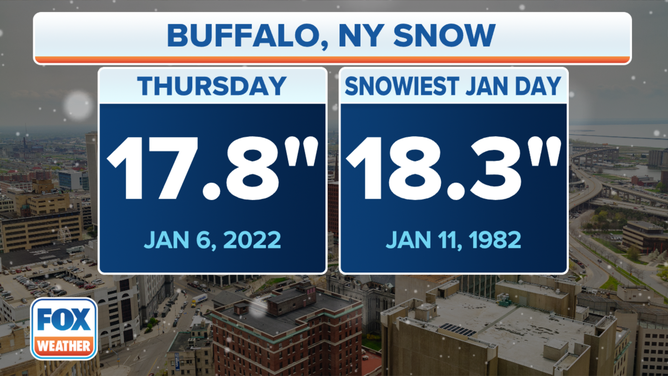 The all-time January one-day snowfall record is 18.3 inches from Jan. 11, 1982, so Buffalo came up just a half-inch short of tying its all-time snowiest January day. However, the National Weather Service said Thursday now ranks as the city's second-snowiest day in January.
The powerful lake-effect snowband that impacted the Buffalo area brought near-whiteout conditions with snowfall rates up to 3 inches per hour.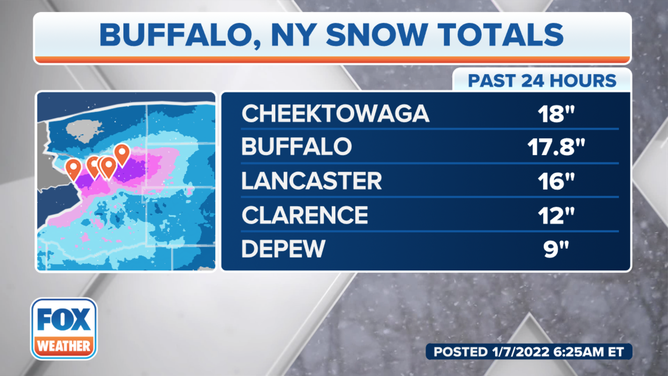 The snowband reached its peak intensity between 9 and 10 a.m. Eastern Thursday morning, according to the NWS.
Video shared on social media early Thursday morning showed the intense 2- to 3-inch per hour snowfall in the city of Buffalo.
Lake-Effect Snow Warnings were posted Thursday for the Buffalo area, where the NWS expected storm totals would range from 12 to 18 inches.
Additional Lake-Effect Snow Warnings were in effect Thursday northeast of Lake Ontario, where another snowband from that lake produced heavy snow in the Watertown, New York, area. As of Friday morning, 19.6 inches was measured in Watertown.
HEROIC NEW YORK COP CROSSES ICY LAKE TO SAVE DOG
The two lake-effect snowbands positioned themselves southeast of lakes Erie and Ontario by Friday morning.
Winter Weather Advisories were issued for areas southeast of Lake Erie, where 4 to 8 inches was expected to fall Friday morning through Friday night. The Lake Ontario snowband weakened significantly, so residents southeast of that lake were only forecast to see 1 to 3 inches of snow.