Emerald Fire evacuations lifted in Laguna Beach, California
The fire burned 145 acres and is 20% contained.
LAGUNA BEACH, Calif. – Evacuation orders were lifted Thursday afternoon in parts of Laguna Beach, California after an early morning a brush fire broke out and quickly spread due to strong Santa Ana winds in the area.
The Emerald fire was reported just after 4 a.m. local time in the Emerald Bay area near the Pacific Coast Highway, and crews quickly scrambled to try and contain the flames.
As of 5:35 p.m. local time, the fire had burned around 145 acres and was 20% contained.
The Orange County Fire Authority said that no structures have been burned and no injuries have been reported
SUPER BOWL LVI IN LOS ANGELES MIGHT BE HOTTEST BIG GAME ON RECORD
It's still unknown what started the fire and that remains under investigation.
After the fire broke out, evacuation orders were issued for hundreds of residents in the Irvine Cove, Emerald Bay and North Coast areas. 
Evacuation warnings were issued for the Boat Canyon area of Laguna Beach.
Orders were lifted but Orange County Parks and California State parks in the area remain closed.
Because of the situation unfolding in the city, all schools in Laguna Beach were closed on Thursday.
Another wind fueled brush fire broke out in Wittier, California in Los Angeles County. The four acre Sycamore Fire destroyed two homes and damaged another. Fire crews stopped forward progress.
HOMES DESTROYED BY CALIFORNIA'S SYCAMORE FIRE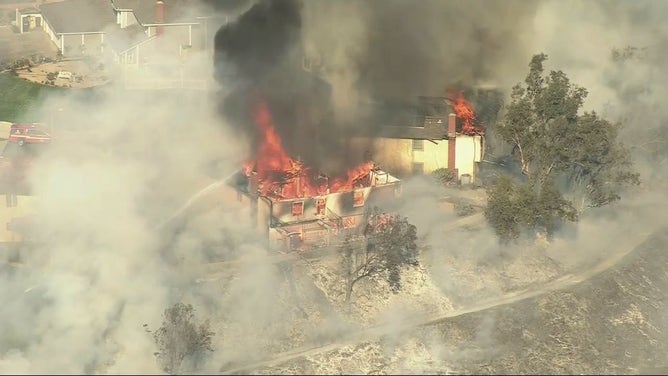 At a news conference Thursday, Orange County Fire Chief Brian Fennessy said this fire is an example of how conditions have shifted to a year-round fire season in California.
He also warned that the next few days would also see conditions that would allow for the rapid spread of fires if any were to ignite in Southern California.
WHAT ARE THE SANTA ANA AND DIABLO WINDS?
The Santa Ana winds blow into Southern California, bringing hot and dry air from the east side of the Santa Ana Mountains to the coastal communities.