Millions under heat alerts from Philadelphia to Boston as temperatures soar into the 90s
Northeast heat wave expected to last through the end of the week
Millions of Americans from Philadelphia to New York City and into New England and Boston are under heat alerts as temperatures climb into the 90s through the end of the week.
Humidity has also moved into the region, making it feel even hotter.
HOW TO WATCH FOX WEATHER ON TV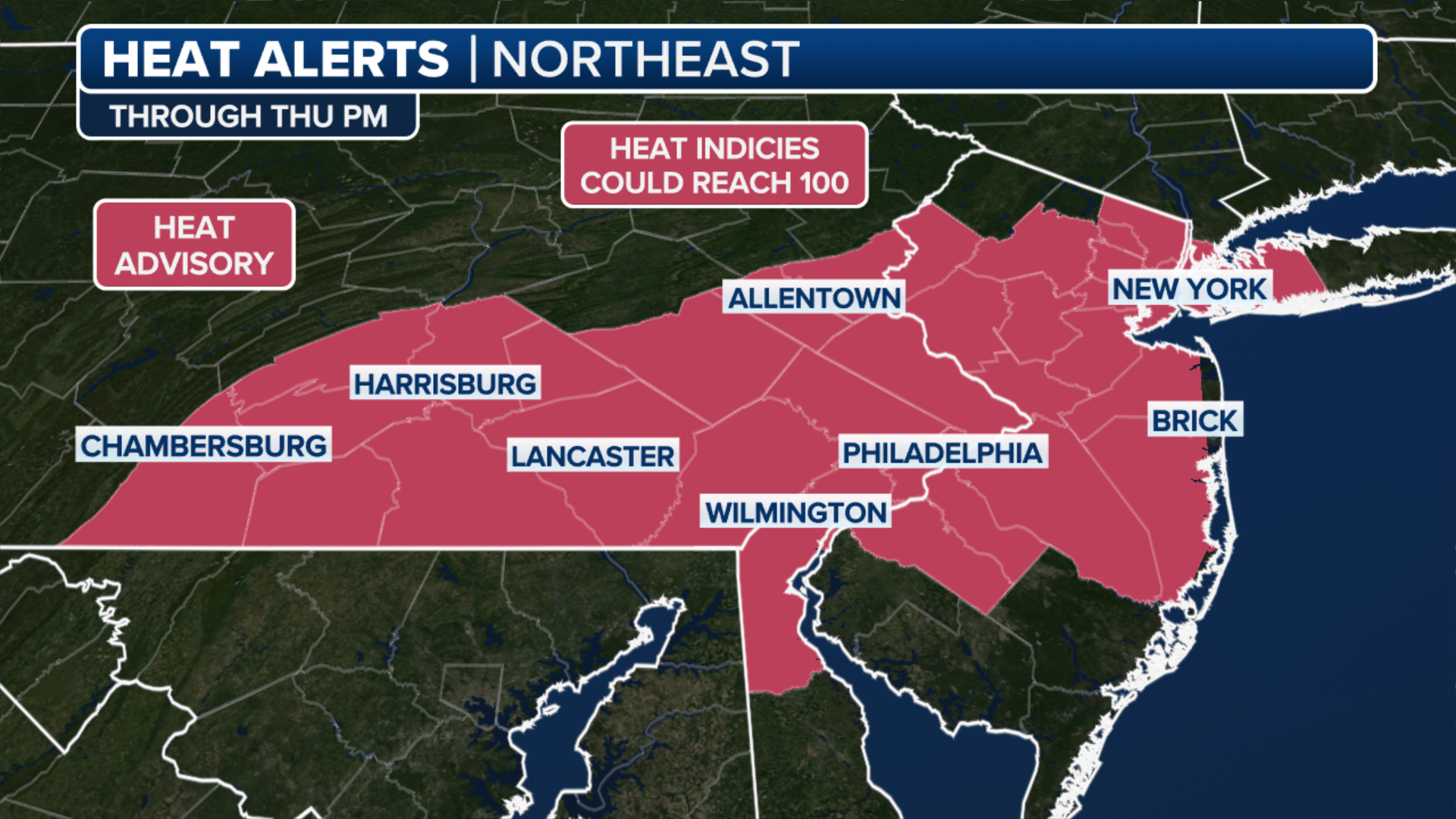 Heat Advisories are in effect in the Northeast and New England.
(FOX Weather)
---
The National Weather Service has issued Heat Advisories from Delaware and Philadelphia across central and northern New Jersey, the New York City Metro area, all of Connecticut and Rhode Island, as well as central and eastern Massachusetts, including Boston.
The Hudson Valley in New York is also under those heat alerts.
People living and working in those areas should take precautions to prevent heat-related illnesses like heatstroke and heat exhaustion.
Drink plenty of fluids during the day, and try to remain indoors.
HOW THE WEATHER YOU'RE ACCUSTOMED TO AFFECTS NATIONAL WEATHER SERVICE HEAT WARNINGS, ADVISORIES
High temperatures on Tuesday, July 19.
(FOX Weather)
---
Temperatures will be in the 90s across the area on Tuesday, and it's expected to get hotter as the week continues.
New York City will see a high temperature of 94 degrees, and Boston will also feel the heat with a forecast high of 92 degrees.
In northern New England, temperatures are expected to remain in the upper 80s, which is still hot for the region.
Burlington, Vermont, will see a high temperature of around 87 degrees, and Bangor, Maine, will be around the same at 88 degrees.
WHAT IS THE 'FEELS-LIKE' TEMPERATURE?
Humidity will make it feel even hotter in the Northeast and New England.
(FOX Weather)
---
When you factor in the humidity, it's going to feel much hotter on Tuesday.
New York City will feel like it's 96 degrees, and Boston will feel like it's 94 degrees.
Burlington and Bangor will also feel like it's near 90 degrees.
In the mid-Atlantic, temperatures will also feel like the 90s. Washington will feel like it's 94 degrees by Tuesday afternoon, and Richmond, Virginia, will feel like it's about 95 degrees.
STYLISH VS. PROTECTION: WHAT TO KNOW WHEN CHOOSING YOUR NEXT PAIR OF SUNGLASSES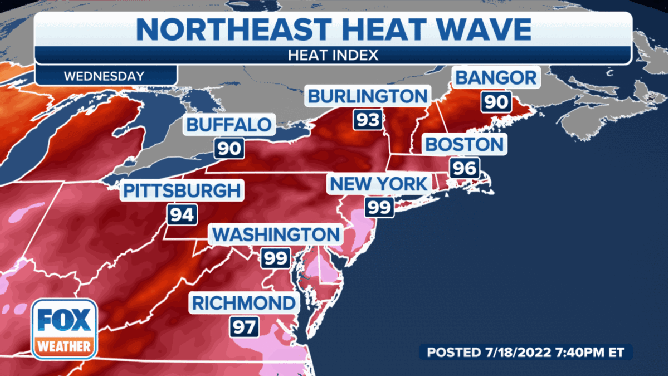 The humidity will be sticking around for the next few days, too.
Heat index values will approach and even go above 100 degrees in many areas.
New York City will feel like it's about 100 degrees on Wednesday and about 105 degrees on Thursday.
Boston will also be feeling the heat. It will feel like it's about 96 degrees on Wednesday and near 100 degrees on Thursday before some relief arrives on Friday.
WHEN SECONDS MATTER: CHILDREN EXPERIENCE HEATSTROKE SYMPTOMS WITHIN MINUTES OF BEING IN A HOT CAR
Heat precautions
The best time to go outdoors during a hot summer day is in the early morning or late in the evening when temperatures tend to be cooler than during the afternoon.
If you need to go outdoors during the heat of the day, experts advise you to wear loose, light-colored clothing and drink plenty of fluids.
CLICK HERE TO GET THE FOX WEATHER UPDATE PODCAST
The dangerous heat can kill people or pets left in vehicles without running air conditioning. Make sure to "look before you lock" to ensure you have not left any children or pets unattended. 
Be sure to download the FOX Weather app to track the temperatures in your area. The free FOX Weather livestream is also available 24/7 on the website and app and on your favorite streaming platform. The FOX Weather Update podcast also provides weather information for the entire country.