Blizzard Warning, flooding concerns continue for Hawaii
Blizzard and High Wind Warnings are in effect through Monday morning
The first week of meteorological winter brought record warmth to over 1,200 U.S. locations – except Hawaii. To the Aloha State, winter brought a so-called "Kona low" complete with battering rains, snows and blizzard conditions.
Heavy rain, strong winds and blizzard conditions will continue the next couple of days for the Hawaiian islands.
HAWAII 'KONA LOW' PROMPTS BLIZZARD CONDITIONS, HIGH WINDS AND FLOODING RAINS
So far, the strong storm dropped an estimated 2 to 3 inches of rain per hour on the Big Island.  
The Pacific Disaster Center warned Hawaiians to take precautions, as they are forecast to get up to 25 inches of rain by Tuesday.  
Maui County Public Schools canceled class Monday due to the weather. A Flood Watch is in effect through Tuesday afternoon.
Add on the higher-than-usual astronomical high tides, and the Maui County Emergency Managers notified residents of coastal flooding, inundated beaches and tough-to-navigate harbors. The managers said the surf could be 20 to 28 feet high on the northern and western facing beaches of Maui and Molokai.
High winds knocked out power to over 6,000 homes and businesses in the Volcano and Lower Puna areas of Hawaii, Hawaii Electric said. It hopes to restore power by Tuesday.
The Hawaii Department of Transportation has a running list of street closures due to flooding, downed trees and debris slides. Don't drive unless you have to, they warned.
On the Big Island, up atop Mauna Loa and Mauna Kea above 8,000 feet, Blizzard Warnings and High Wind Warnings are in effect through Monday morning.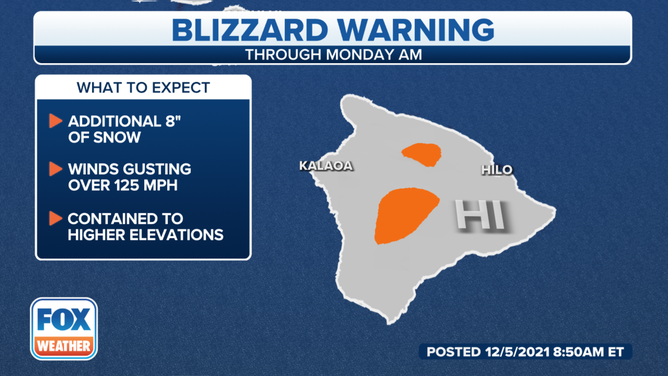 The National Weather Service is forecasting sustained winds from 60 to 100 mph, with localized gusts up to 135 mph, over the summits of Mauna Kea and Mauna Loa, along with up to a foot of snow. So the intermittent whiteout conditions are not too surprising.
This was the first Blizzard Warning in Hawaii since March 2018.
Heavy rains and gusty winds up to 50 mph will continue for the Big Island, Maui and Oahu on Monday. NWS-Honolulu forecasters said in their forecast discussion that the storm move out on to Kauai by Tuesday.
The weather service also said the islands' typical weather, dominated by trade winds, should return for the end of the week.